The new Yamaha T700 is a great looking bike. Dakar inspired for sure. Mix that with someone that knows how to wield a camera and you're onto a winning combination. Meet Wil Collins our new favourite motographer
TRACKS:
Hi Wil - we're absolutely loving the pics of your T700. What's the story? Is this your first bike?
WIL:
Cheers! It's a brilliant bike, but not my first. Started riding field bikes, c90's etc back in '98, then eventually got my first road bike in 2001. Mostly sportsbikes, Honda NS125, VFR400, VTR SP1, with a few trail bikes thrown in in the form of a WR450 and a EXC400. Then I realised I was broken, and sportsbikes were not for me. The SP1 made way for a '11 Speed Triple, which then made way for my previous bike and a bit of a change, a 2016 Triumph Thruxton R. Amazing bike, looked great, sounded better. I toured on it, tracked it and even tackled a few greenlanes on it. Slowly mind.
Then the best news I've ever had popped up and I became a dad!
We quickly realised that our car situation wasn't working, so downsized by getting rid of my Mini Cooper S and swapping her Car for a big family Kia. The Thruxton was a great bike, but I didn't want to ride it through the year. Much too nice a bike, so I started looking about at Africa twins, older Tenere 660's and even the Scrambler 1200 XE, to try and keep the classic look but a bit more usability. Then Yamaha released info on the Tenere 700 and after looking at it hard, and having a few issues with dealers, I got a test ride on one and deposit was placed! Haven't looked back since.
TRACKS:
How are you getting on with it? It looks like you are on a bit of a learning curve when it comes to riding dirt?
WIL:
It's a brilliant bike, and I got it to do everything. I quite enjoy a bit of quick road riding and it does that well enough, that is enough to surprise some people at the Bike Shed Festival last year.
It's comfortable, enough. It is quick, enough, and I think that's its shining quality. It isn't the best touring bike, or the fastest on dirt or the most comfortable, but it does them all without any fuss.
The fact that it's such a simple bike in the same time that the 790 adventure R has several different types of TCS says a lot for what Yamaha were aiming at. Strap a bit of luggage to it, cable tie some spare cables to the throttle and clutch and off you go, a very capable round the world bike! My issue has been the off road stuff. I had a go for a year or so at enduro in the army, but that was on HD 350's and after 6 hours then you drop it in the sand, it's not a great place to be.
I've been pretty keen on learning since I got back off road, trying to get out as often as I can and tackle most anything, even if it's slow, wobbly and often on my arse. I'm the first one to admit that I'm much more of a road rider, but learning has always been a massive part of me so this year is a year of constant improvement.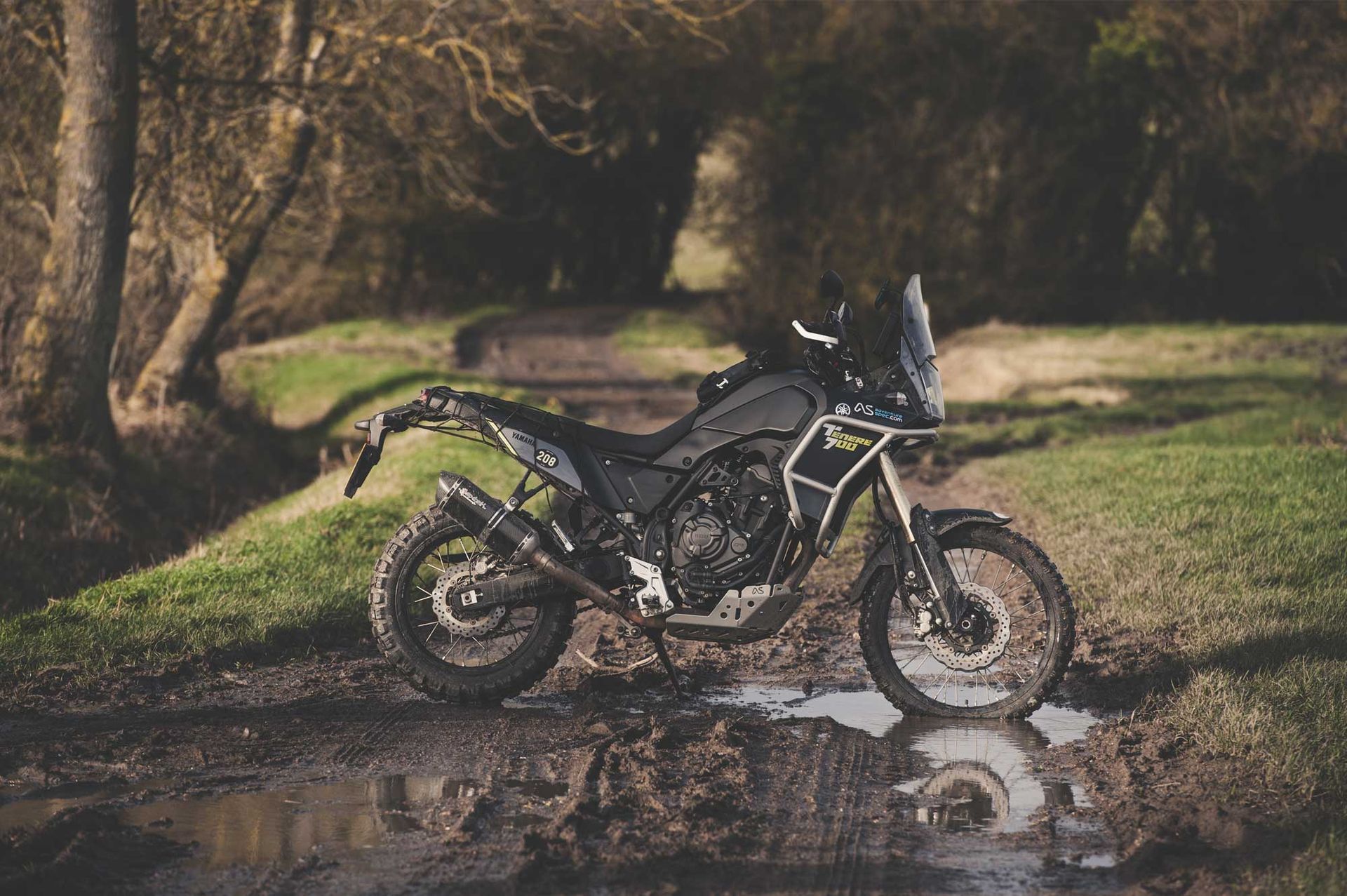 TRACKS:
Could you talk us through some of the mods you've made and the gear you are using?
WIL:
When it comes to modifying bikes I've always been a fairly balanced between form and function.
A bike has to have the right silhouette. This goes as far as the line of the exhaust and length compared to the rear axle. In the same breath, as I notice things I don't like, I then set about changing them and so far that's the direction I've been going with the T7.
First up was a Kriega US10 on the rear, but thanks to some very awkward mounting options and the rear seat bending when strapped down, that came off and made way for the US5 you see in the tank. Anything bigger gets in the way, and this holds a few tools, wallet, keys, spare visor and maybe even a chocolate bar.
Next up was the BarkBusters, but I didn't change those out of choice. 3 days in to ownership I was doing low speed figure of 8's on concrete and dropped it, a few times, and shattered the stock hand guards. So these went on sharpish as I didn't want to have to buy levers as well.
Other protection comes in the form of the Adventure Spec crash bars and skid plate. Thankfully I haven't had the chance to test them yet, but they look good following the lines of the fairing and are very light, keeping the lightweight adventure bike vibe up.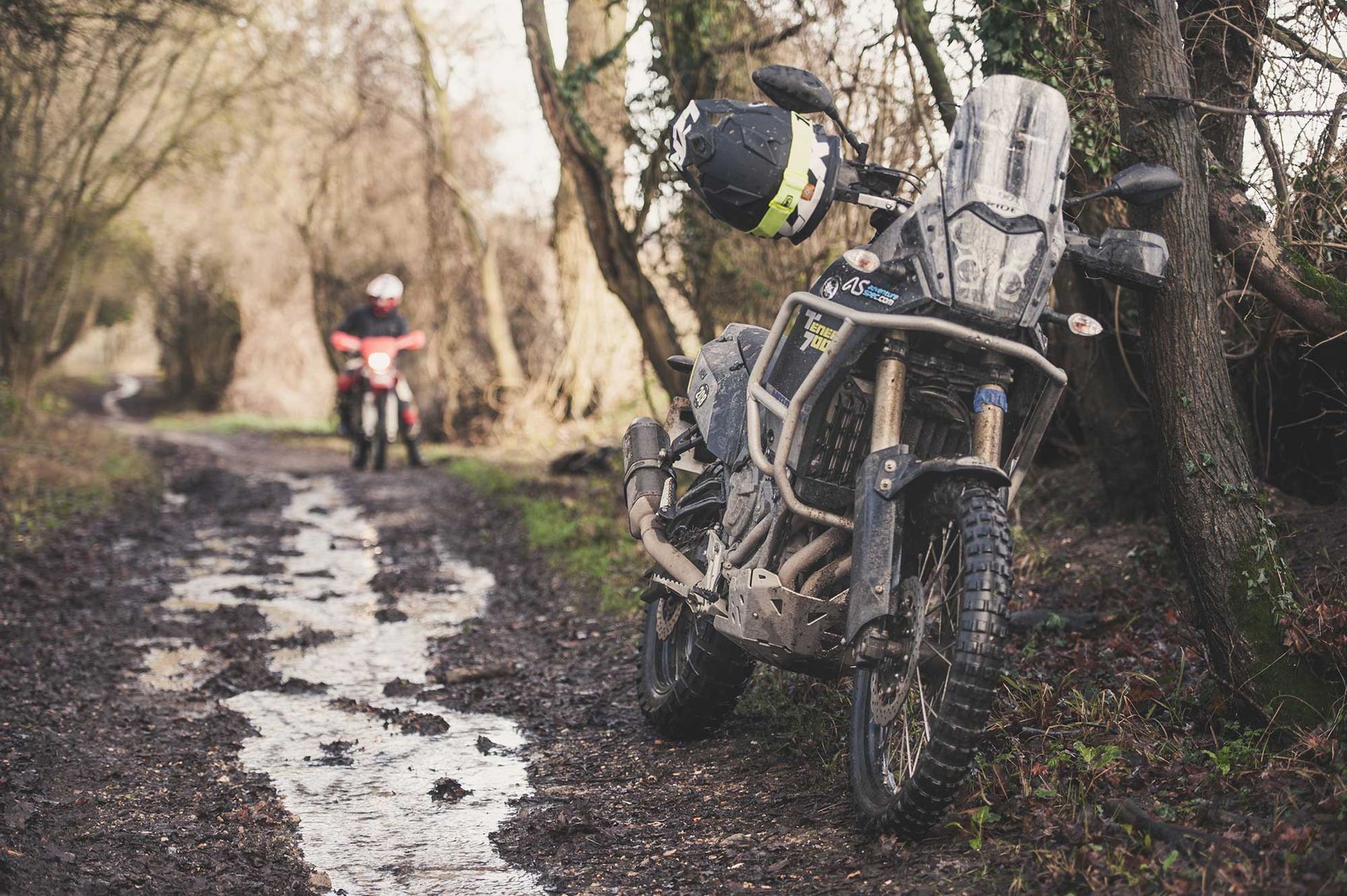 I had originally mounted an old Ultimate Addons case on the bars, but found it way too low when standing and I kept getting lost, so when they contacted me I jumped at the chance to get the cockpit sorted with a cross bar mounted phone holder, and the built in 12v charge point makes it perfect for keeping me pointing roughly the right direction.
Another bonus I came across was when I won a competition by Lextek exhausts for any can of my choice, going with this carbon one. Unfortunately there is only one other bike with a Lextek system on, so they don't currently have any link pipes or anything to fit it, so I employed a good friend in Guy Horner at MotoEdit to make up a link pipe to fit. It sounds great and is loud enough for the toad but still not crazy for trails as to piss people off.
Future plans? A tail tidy for sure to clean up the important Dakar inspired silhouette and some Kriega panniers and OS base to make touring a bit easier but keeping the weight down. 'Light is Right'
TRACKS:
You're obviously handy with a camera. Are you a pro shoot and rider?
WIL:
Thank you, and sadly no. I'm not a professional, however much I would love to be. I've been shooting for a while now, originally with inline skating and moving to bikes as my interests diversified. Now I mainly shoot friends, bike and my family. I do however still run a small side business should anyone enquire which helps out a bit every month.
I try and keep up my learning with it and progress my images and style as I go. Every day is a school day and as I said, I'm never happier than when I'm learning, be it on the bike or behind a camera.
Having come across the Shoot & Ride moment last year was a great thing for me as it encouraged me to get back out there after a bit of a creative block. That and a 52 week challenge this year has me pretty keen this year to really connect with people and document what makes our awesome community just so awesome!
TRACKS:
Thanks, can't wait to see more T7 pics!
WIL:
Thanks for the chat and don't you worry, plenty more to come from me!
---
T700 HARD PARTS
Our T700 Hard Parts balance strength and weight. They include crashbars, skidplate, side and top luggage racks, tail tidy and more. Colour match your parts to your bike.