Hi!

The Scottish Highlands are well known for some epic biking roads. 

Sit at any fuel stop north of Fort William and you will be passed by hundreds of big ADV tourers heading off on their North Coast 500 adventure. 

But not many trail bikes. 

In fact we didn't see any when we were up there a few weeks ago. 

Which begs the question, does that mean there are no trails?

And that Scotland is no place for a lightweight adventure bike? 

There's only really one way to find out, put your money where your mouth is and go find out. 

Which is exactly what five friends and I did at the start of June. 

One week. 

1,300 miles. 
 
No TET. 

No GPX route. 

No route at all actually. 

An adventure experiment. 

The result of which could either be arse numbing pain, or the holy grail. 

Here's what we took. 
Clive's CRF300L + Adventure Spec Magadan Panniers & Pouches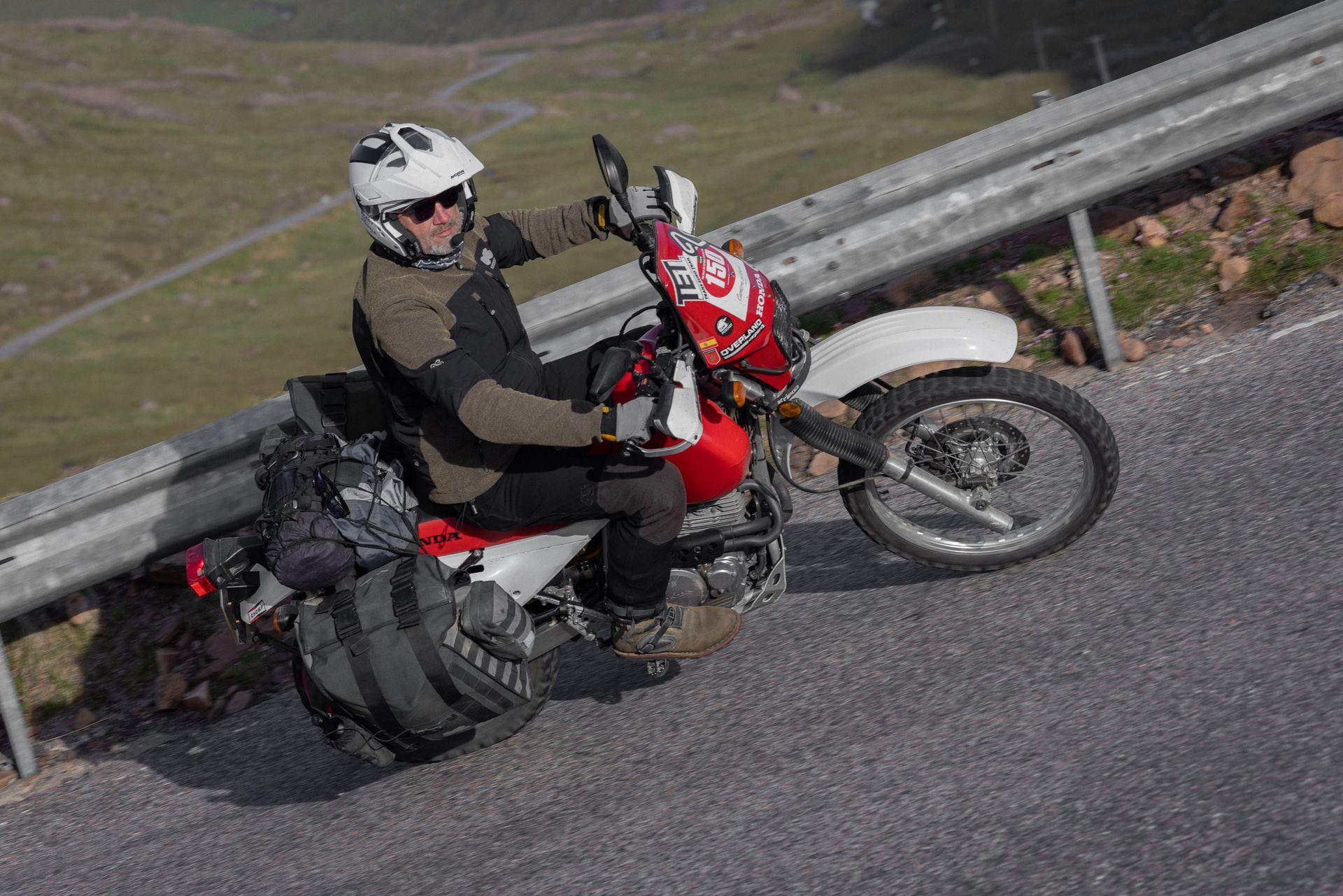 Noel's Honda XR650L + Adventure Spec Magadan Panniers & Pouches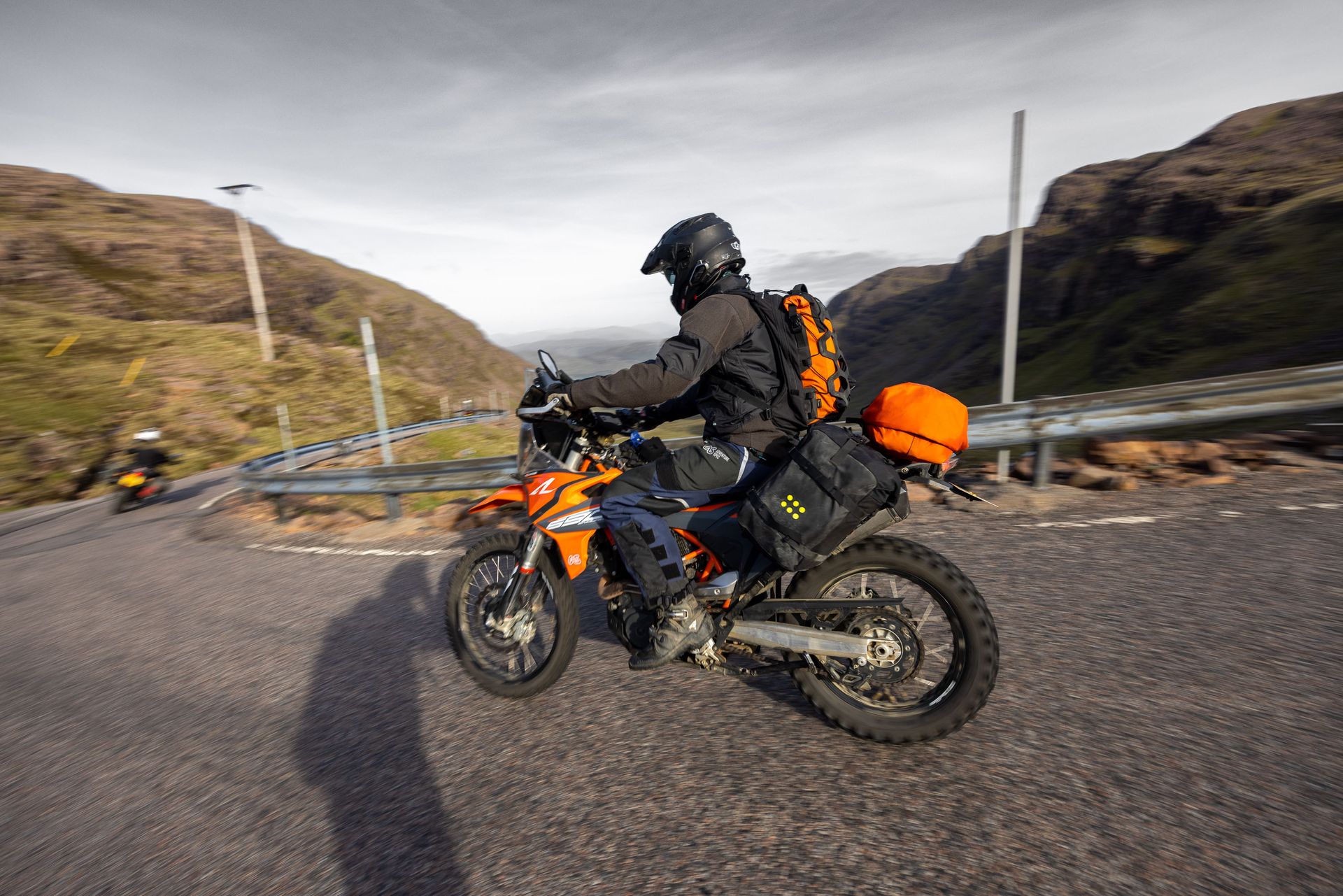 Wil's KTM 690 + Kriega Luggage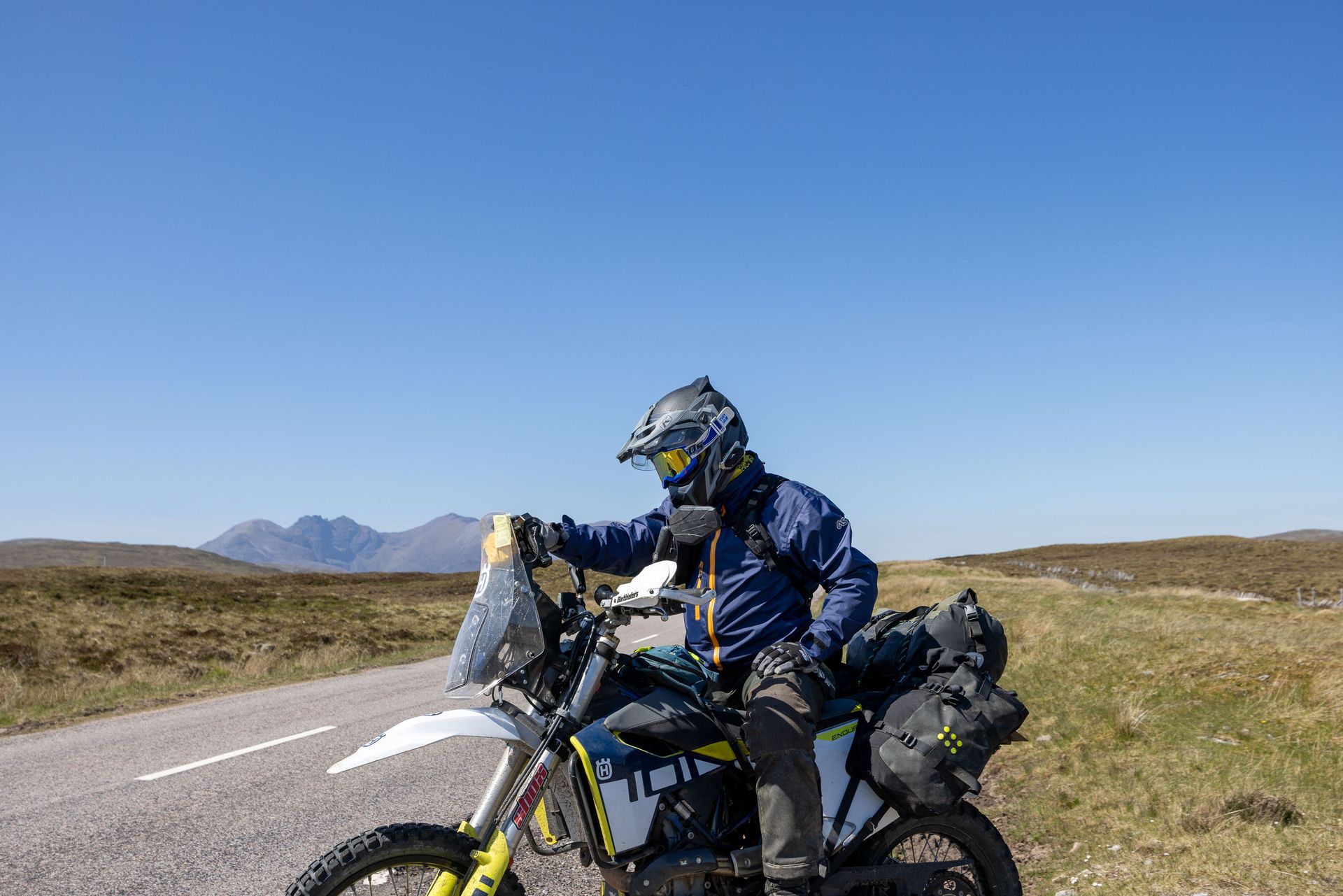 Rupert's Husqvarna 701 + Kriega Luggage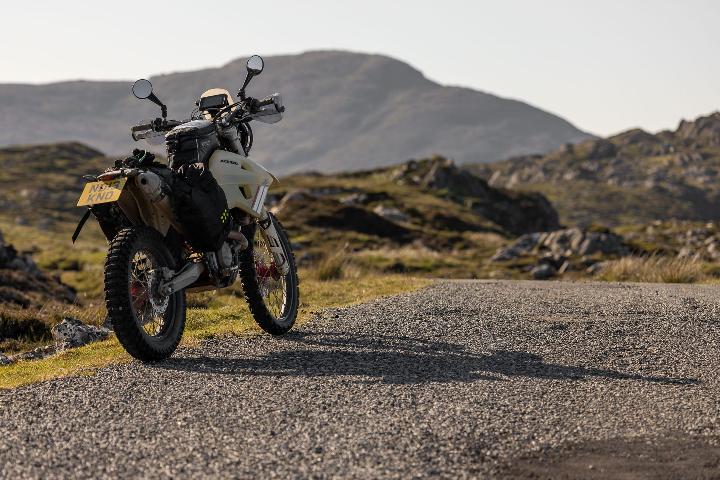 Greg's KTM 450 + Kriega Luggage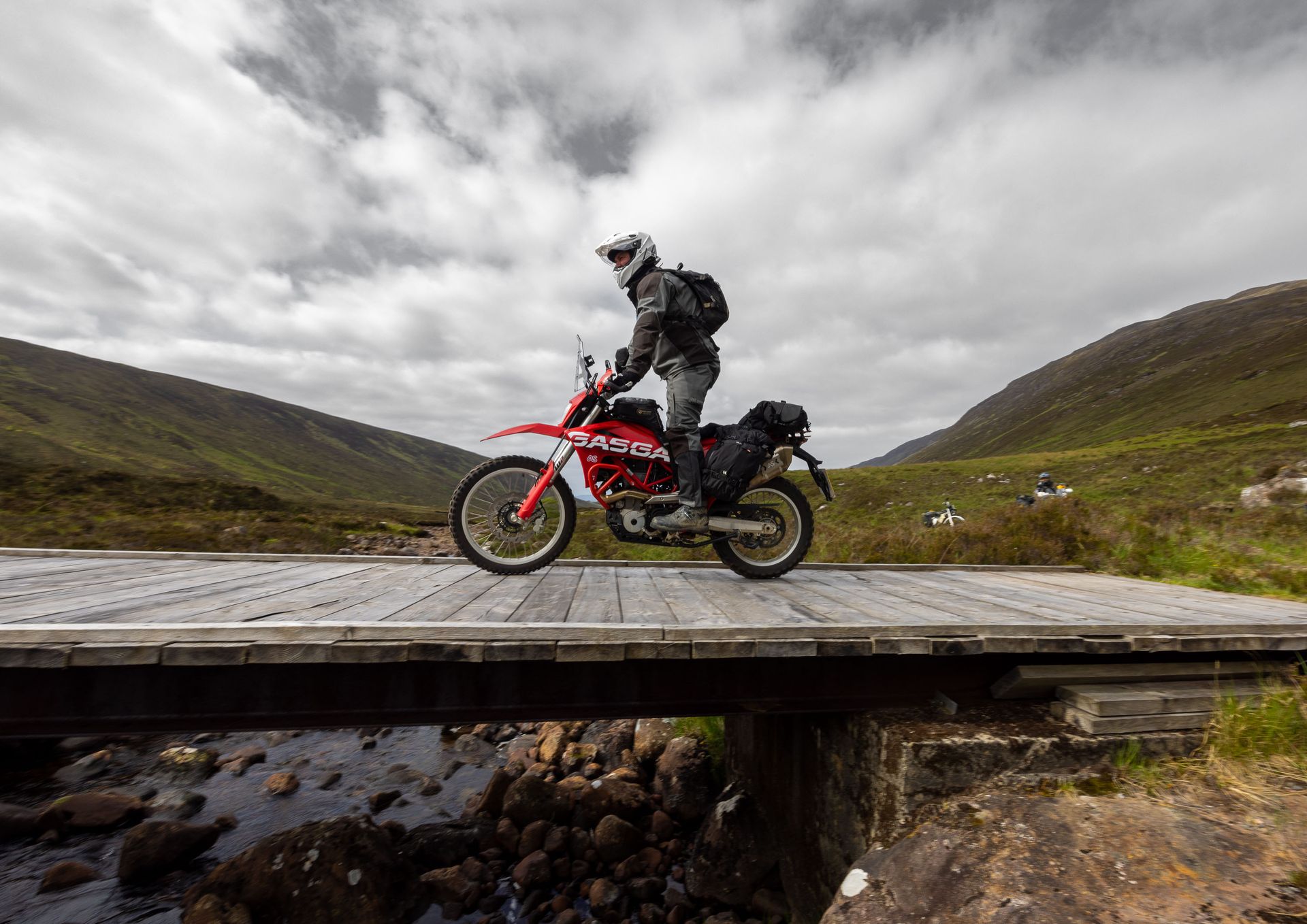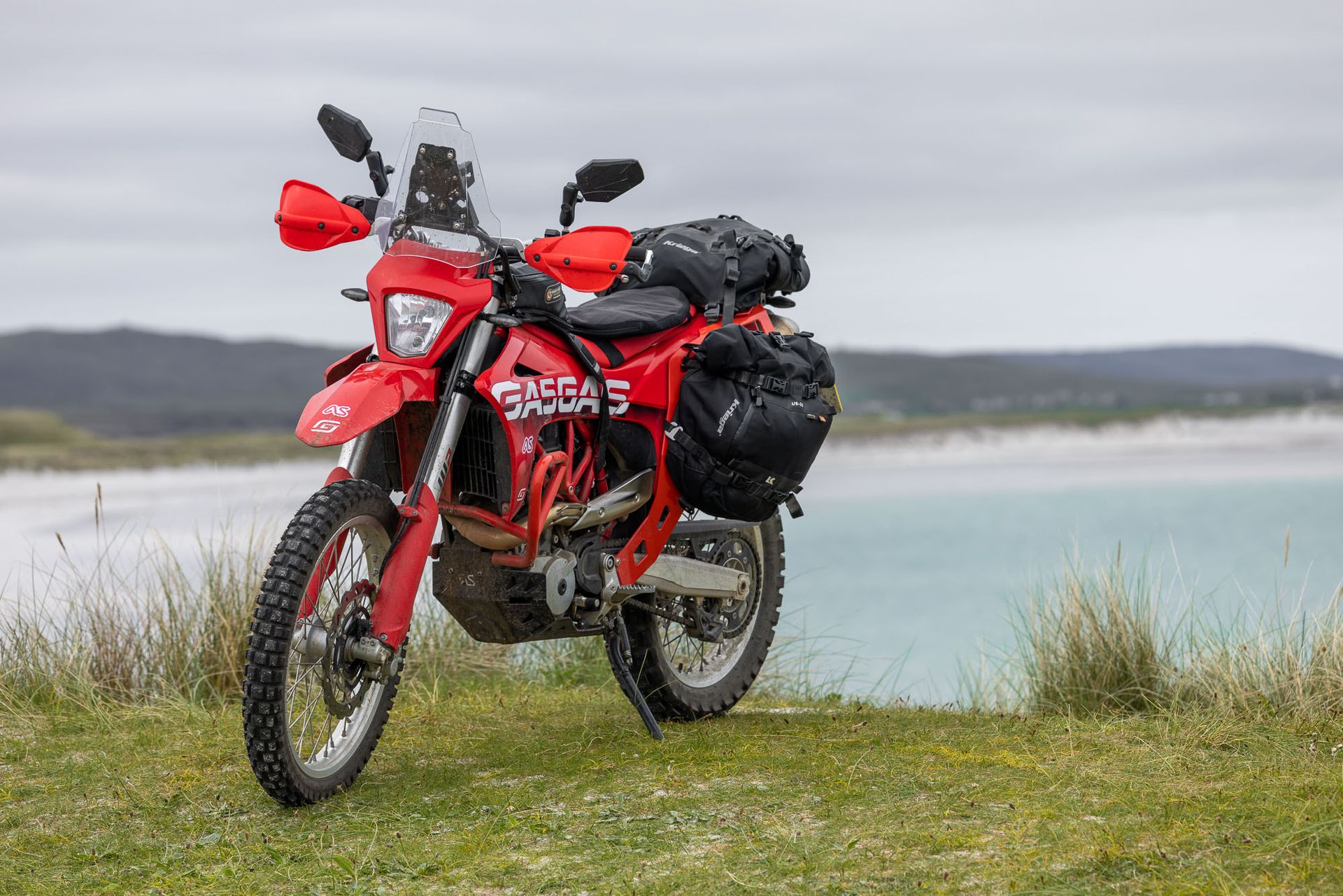 Davy's GasGas 700 + Adventure Spec Hard Parts + Kriega Luggage

Davy was on the new Adventure Spec GasGas 700 fully kitted out with parts that we will be launching later this summer (get a sneak peak here). 

They include...

Fairing + nav mounts. 
This is our alternative to a full on rally spec nav tower. Not quite as beautiful as the carbon fibre alternatives, but light, strong, easy to install and less of a hit on your wallet. 

Engine protection.
Skid plate, crash bars, oil filter guard. The essentials if you are heading onto the dirt, which we did more of than expected in Scotland.

Luggage racks.
Notoriously difficult to pull off with finesse on the 690/700/701. Our lightweight solution is styled to hug the bodywork and provide versatile mounting points. For this trip Davy mounted his Kriega US 30s which were totally bombproof for the whole trip. Zero bouncing around. 

All the bikes that departed made it back home safe and sound. 

The riders, less so. 

On a beautiful remote Scottish trail near Applecross, Noel swapped out his big old XR650L for the lighter, more powerful GasGas 700. 

Within 3 minutes he was on his back in agony having broken his foot. 

He was enjoying the 700 so much he flipped it while pulling a wheelie, trapping his foot under the skid plate as it landed. 
Ouch. 

Noel still made it to the end after a couple of days rest, which was a real achievement considering the state of his foot. 

And despite the fairly heavy crash, all the Hard Parts on the GasGas 700 did what they were supposed to do with no damage to the bike at all. 

Noel was wearing The Supershirt and Linesman Pant and came away with only his foot injury. 

Oh, AND the whole thing was caught on camera. 

Sorry Noel. 

The film will be out later this summer. 

By which time hopefully Noel will be back on his feet again. 

But maybe no wheelies for a little while. 

In the next email I'm going to tell you what we discovered in Scotland on our lightweight trail bikes. 

🦶

Greg Villalobos
---
This story was first published in our email Newsletter. Subscribe now for the most ADV email you will get all week!