The Trans Euro Trail in the UK offers a great variety of challenges and passes through some truly beautiful parts of the England and Wales. The trails vary from flat gravel to steep rocky hill climbs, with the odd ford or two thrown in to add a bit of extra challenge.
We set off to follow the route over a two week period starting in the northern part of England, near Newcastle and finishing in Dover on the south coast. We opted to ride two KTM enduro bikes, a KTM 300 TPi and a KTM 350 EXCF travelling light and often using all of the daylight hours to cover as much ground as possible in a day.
During our ride we camped out in snow, had wet feet for days on end, fell off a couple of times, had to tow one of the bikes 15 miles to diagnose and solve a problem and generally had a laugh all the way round.
During the ride, we opted to use Adventure Spec clothing. Here's our review of how we got on.
---
Linesman Jacket
John: I really like the feel of this jacket; it looks very smart and not as "storm trooper-ish" as other riding jackets. The soft shell material initially gave concerns, however it is surprisingly tough, all the high wear areas have additional protection in the form of the Kevlar abrasion fabric, it also has a small amount of thermal property which is great as you only need thin layers underneath unless you are riding on very cold days. I often rode in rain and although its only shower proof it felt very weather resistant and dried pretty quick too. In relation to body armour I shift between the internal armour and separate elbow protection/ pressure suit, on this ride I chose to ride with just elbow pads, my rucksack has a back protector fitted. The jacket was able to cope with or without the armour and didn't lose its shape. The arms can be unzipped which leaves you with a gilet, which on a warmer ride I would have used this option. In Brief: looks smart, it's very comfortable and tough. What would I change? More water repellence, maybe if I used a wash in repellent.?
Steve: The Linesman Jacket has become my 'go to' jacket for trail riding and adventures since I got it in 2017. It's comfortable, fairly windproof and showerproof. I use it with armour, which although makes the jacket feel a little heavy, it does give a sense of protection, something that I've tested on a few occasions! I like the pockets arrangement and the fact that it still looks like new straight after a wash.
---
The Mongolia Trail Pant
John: These over the boots pants are very comfortable, the trousers seemed to fit just right, the articulation in the knee was especially good that meant that my internal knee protection was always in the right place. On this trip we had very cold weather with some heavy rain and this was the stress point for these trousers, they are so well vented that I had cold goolies. I was wearing the base layer but it was barely above 8℃ so was outside the design spec. As these trousers are not waterproof, they are meant to be worn with waterproof over trousers, I soon changed my wardrobe to fit the weather and I was toasty. However, on the one day we had fair weather I was so happy for the natural venting and the additional zip vents which for once are very easy to open and close one handed. The cool crotch is exactly what you need in hot climates, as an expedition medic I know all too well what happens when people sweat and have pressure areas from the seat, and I believe that these trousers would minimise this condition. The boot area comes with Velcro, a buckle and locking thread plate, I removed the thread plate which meant I could adjust the buckle easier. The closure is on the outside of the leg, (unlike other brands that are not a motorcycle specific designs) means the lower leg closure won't get ripped open if you catch it on a foot peg. In brief: I will be wearing these trouser this summer and for overland trips especially in warmer countries.
Steve: The Mongolia pant was something I've been waiting to get my hands on for awhile now and it didn't disappoint. The attention to detail and the quality of the manufacture has produced a piece of riding kit that instantly feels right when you put them on.
The positives: At the waist, the trousers are shaped well, with a fly zip, a double press stuff closure backed up by a buckled belt. The two side pockets hold enough stuff and are positioned well. The vent zips all work in a way that means you can use them when on the bike. The knee area is big enough to take armour underneath, which works for me as I prefer separate knee armour. The Velcro closure system at the bottom of the leg works well and is backed up by the buckle system. The buckle does feel a little bit bulky when you first put them on, but that soon wears off. They fit over my boots really well and never caught on the pegs.
Negatives: For the UK, the stretch panel in the crotch area and between the knee and the pockets can be cold and let water in faster than the rest of the fabric.
Summary: Like the Linesman Jacket I like these and will continue to use them as my riding trousers.
THE MONGOLIA TRAIL PANT
An over-the-boot riding pant/trousers designed for adventure, trail and dual sport riding.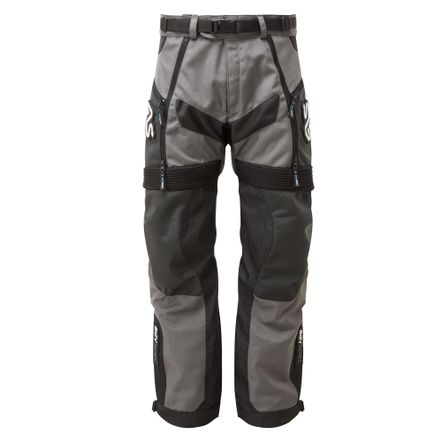 ---
Singletrack (formerly Trail) Waterproof Shell
John: Did I like this jacket? Hell yes! I often trail ride with a lightweight jacket and separate body armour, this was ticking all my boxes. I used this jacket in the coldest part of the trip in snow, wind and rain with the base layers, Baltic Hybrid mid layer and a light weight down and it felt great, lite, flexible and waterproof, having a fat neck; 18 inch I often struggle with jackets not closing, not with this jacket, in fact the jacket is designed to go over other layers and it did this so well, the body is slightly larger but the arms are not overly sized, which means it fitted me perfectly. We hammered these jackets, brambles, falling off, screwed up in a rucksack and it survived, but not without battle scars. What would I change? The abrasive Kevlar is the same on the linesman jacket and I would like to see it extended from the shoulders down past the elbows to join up with the existing lower arm patches.
Steve: Another great piece of kit. The design works well with the Linesman Jacket.
Positives: The pockets are in the right places, (it took me a while to get my head around the chest pocket position). It worked well in the rain and kept me dry and was very windproof. The cuffs fit over gloves and yet do not flap around. The neck area feels a little bulky but there is nothing to do about that really. It has underarm ventilation, which I never used and the heavy duty fabric on the shoulders and elbows offers good protection. The longer cut back works well and I liked the hood under a helmet process as it kept me warm during heavy rain.
Negatives: The full length zip has a gutter behind it, this had been sewn too close to the zip and as such caught every time I used the zip which got a little frustrating at times.
THE SINGLETRACK JACKET
A waterproof over jacket that features Kevlar reinforced panels in key abrasion areas.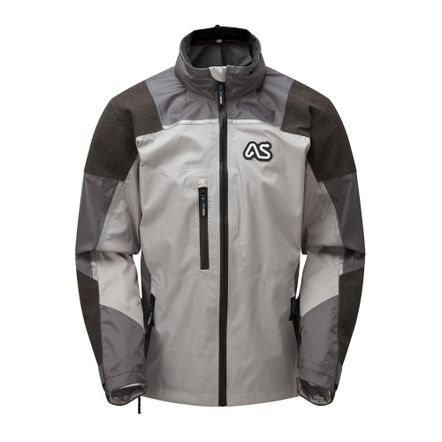 ---
Baltic Hybrid Jacket-Mid Layer
John: I'm wearing this jacket now. I seem to wear this mid layer all the time. I think that says so much about a product if you constantly chose it over others on the hanger. Its been washed many times, it still looks and feels great, it has the right amount of insulation for a mid-layer, the pockets are deep and warm, and it looks smart. I even wear it for meetings. The arms are a stretchy material and the jacket can fit over a pressure suit with ease and the stretchy material means it's not restrictive. What would I change? Nothing.
THE BALTIC HYBRID JACKET
A lightweight mid layer for long days on the bike and cool evenings at camp.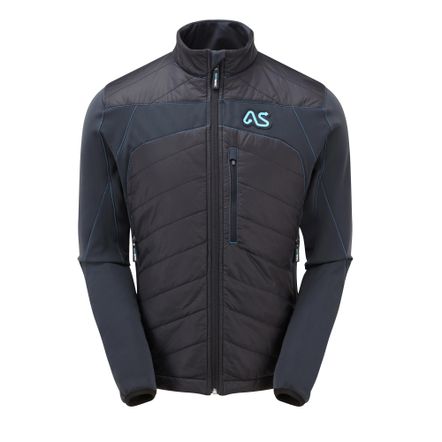 ---
Baltic Insulated Jacket
Steve: I liked this jacket, it packed into its own internal pocket, which meant it had a smaller pack size, it was warm for its size and weight and the hand warmer pockets were good with a fleece lining.
I don't like the elasticated cuffs as I prefer to get the cuffs over gloves or bury my hands in the sleeves at night but that is a purely personal thing. I wore it for the whole trip in the mornings and evenings and used it as part of my pillow system at night. The dark colour doesn't show up dirt too much and it didn't smell after so much use so that's a good thing! I took the hood off it as I prefer a woolly hat, but in much colder climates I would take it.
---
Core Base Layers
John: Betty Swollocks? Not me, this base/ compression layer is fantastic. It is not the warmest I've worn but this is an action layer, meaning it wicked the sweat and provided an additional amount of thermal insulation without making you overheat under exertion. Often if you wear thermal layers over a period of time; they become stretched and gather in the crease areas which then become uncomfortable. The Core Layering system didn't do this, it remained the same shape as the first time I wore it. I wore the Core shirt and leggings for two weeks! Did it smell? Well I asked my wife it they smelled on my return and she said "not really" when I told her I had lived in them for two weeks she was shocked that it didn't reek. She did wash her hands pretty quickly though. In short, I will be wearing this base layer for mountain biking and hiking as well as overland trail riding from now on. What would I change? The boxer style shorts were great, but the elastic did role up, this might be due to my body shape or how it was stitched.


Steve: These were a new idea to me. The stretchy style of fabric took some getting used to and at first, I found them quite cold to wear but as the days of riding passed by, I settled into them and was impressed with the lack of body odour smell and their durability. We both wore them for 13 days/nights straight, they showed no sign of being grubby and they felt warmer as time went by. Now they've been washed I'm keen to try them again for another trip.


John:
 All the AS kit works, this new line of riding clothing in my opinion is going in the right direction; a layering system that can be altered for any weather condition. For those who have played and have worked in the outdoors this layering system is familiar. So how did it stand up? Well we stress tested this kit and it's still going.
Is it the perfect clothing? There is no such thing but as AS have demonstrated a commitment to creating this adventure line of clothing for overland and trail riders I think we are going to see a lot of this equipment on the trails and expeditions. There are cheaper and more expensive pieces of clothing out there, but this kit is designed by riders for riders and I think it will tick the boxes for a lot of adventurers around the world. Watch this space!


Steve:
 It's nice to see a manufacturer that is both looking at the reality of riding in all conditions and weathers and then responding to it by actively designing and producing some great kit. I've used a lot of bike kit over my years of riding and always found it wanting in terms of variability, too hot in southern Europe, too cold in northern Europe etc etc. The layering system works extremely well but does require the rider to change their mindset from the 'one jacket does everything' and because we're British, we'll just adapt to the conditions ourselves and accept the shortfalls of kit designers because we're rough and tough bikers!
I'm hoping the quality of the kit and the attention to detail that AS are putting into their designs will set a standard in the motorcycle industry for years to come.