AS: 
Hi Robin. What a time you had at this years Eco Race! We loved watching it unfold for you on Instagram, as well as read your interview on ADV Rider. How does it feel being home having ticked it off your bucket list?
ROBIN:
It has been an incredible journey on so many levels. Making the decision to take on the race being one itself as there's a lot to consider – 3 weeks away from family with very limited phone network coverage and the financial cost for a start. As soon as you talk about Paris-Dakar it creates many talking points for your family and friends, not least being the dangers associated with such distances on a motorbike in such a short time. Lots of questions had to be answered and the whole process included soul searching and pre-planning.
I decided to do AER (Africa Eco Race) in May 2019 and I've been rallying for around 10 years. There is a lot to do to get to the start line of AER; the bike's preparation to meet the regulations, mechanical support, personal fitness, finance and logistics all need fairly sustained attention from the time you enter the race.
I engaged Desert Rose Racing (DRR) and Adventure Spec (AS) as soon as I had decided to enter the AER. I needed to be sure that I had mechanical support and DRR agreed to run service for me on the event with a dedicated mechanic. I also wanted to have careful consideration to the gear I was wearing when temperatures would range from 0C to 40C in the desert, layering accordingly. AS have supported me with recommendations and equipment through many rallies and their advice has always been excellent. I made some decisions about how I wanted to layer and AS guided me to the Atacama range of clothing.
Regarding the race itself, I lost a little time on the first special stage so pushed on during the second day, taking extensive short cuts off-piste. To cover 400km of special stage or more in a day, plus liaisons you have to press on and all of this was hard on the bike. Morocco is very rocky and one stage ultimately loosened all of my front wheel spokes over around 300km to the point that the wheel almost fell apart. I had a few other mechanical problems including getting a 76km tow from Per Ennochson courtesy of a melted piston and bottom end bearing failure and had to spend a night in the desert – so it wasn't all plain sailing despite the detailed preparation.
Fuel autonomy is also a very real consideration for everyone on the Africa Eco Race. Your vehicle must have fuel autonomy of 250km to enter. When you factor in potential navigation errors and dune crossings, making it to the refuelling truck which the organisation have placed in the Special Stage at 249km in the middle of literally nowhere is nerve wracking.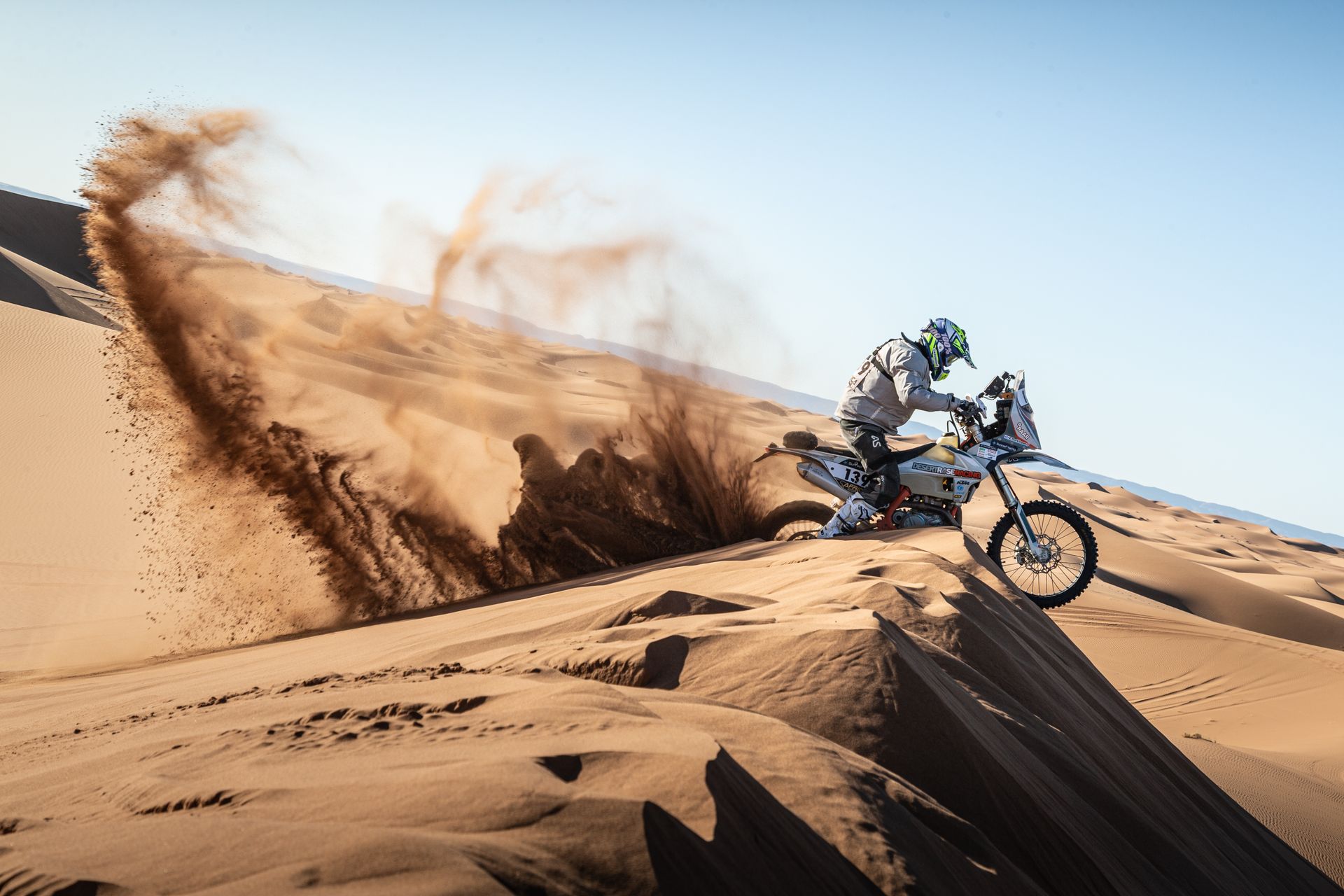 AS: 
I think a lot of our community would be super interested about some of the gear you used. Maybe we could start with the bike. Why the KTM 500EXC? How did you set it up?
ROBIN:
The two classes on my radar were either 'up to 450cc' or 'over 450cc but under 700cc'. Having used rally replicas (KTM 450RR) in the past I knew that they would be tougher going in the soft sand of Mauritania in the later stages of the rally. I discussed this with Patsy (Quick) my team manager who agreed that the 500EXC would be a good choice instead since it's nimble, fast and light – twitchier and with a lower top speed but good in technical sections and faster with tired hands. Hence, I opted for my 2019 500 EXC.
On reflection this was a bad choice. My recent bikes have all had Excel A60 rims fitted to them and the standard 500 EXC wheels simply weren't up to the beating. The bike had only done Hellas Rally and 1 gentle training week in Morocco from new with nightly servicing but having the bike pinned at 110-130km for sustained periods of 30 minutes was just too much for it too. After the failure of my engine in Mauritania I had to nurse the bike along with the fear of killing it again very much on my mind. I think its important to emphasise that the 500EXC is a fantastic bike and very reliable but this race is almost unique in its severity and distances.
My EXC has a frame mounted Nomad tower fitted to it and I use Baja Design Squadron headlights in two different patterns which I feel are the best units for desert racing compared to any stock lighting. I also have an Alberto Dottori Carbon sump guard that can hold 2 litres of water and a rear auxiliary tank that holds 5 litres of fuel fitted to the bike. It has a powerparts factory seat which is slightly more padded than the stock seat, bar risers, Scott steering damper, foam grips and Cycra handguards.
I also carry as much as possible on the bike including a first aid kit, emergency flares, light stick, medical supplies, tool kit and energy gels. I wear 2 pairs of goggles on my helmet too, one with a mirror or blue lens and one with a clear lens. This is for 2 reasons; 1 – I've had issues in the past with a pair of goggles failing mid-stage and I want to be able to swap goggles quickly without losing time if that happens. 2 – If I end up riding before dawn or after dusk I want to be able to switch goggles quickly without changing lenses.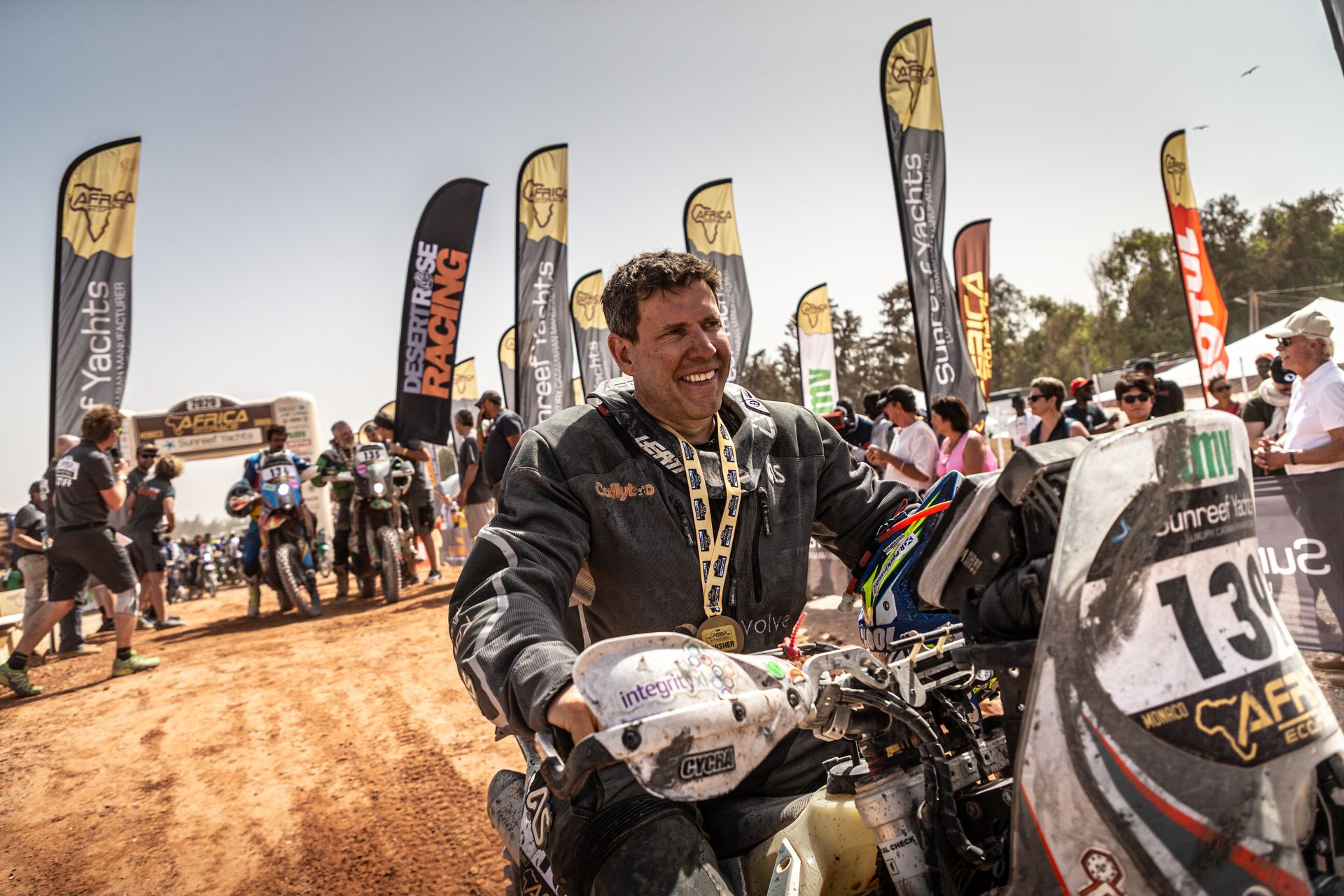 AS: 
Roadbook navigation seems to be gaining in popularity. What was your nav setup? Was it a real challenge during the race?
ROBIN:
[A bit of info about your kit - why you chose that setup etc. Advice on anyone looking to get started in roadbook etc]
I use a back-lit F2R roadbook holder alongside an ICO Rally Max 2 and an ICO Rally Max G for my navigation gear. So I have two trip meters with the Rally Max G able to show my compass heading (CAP). The Rally Max 2 is a wheel sensor based trip and the Max G is GPS based. On the Africa Eco Race you also have an ERTF device which tracks you and provides information relating to speed zones and masked waypoints. ERTF are popular in the larger desert rallies but often not required in the smaller European events. I didn't have a CAP repeater for the ERTF which is an optional extra to the ERTF. I didn't have a CAP repeater but would definitely have that in future as reading the ERTF in its mounting location on the bars was difficult, particularly in bright sunlight.
If you're looking to get in to roadbook rallies, I'd recommending starting out with what you are comfortable with both cost wise and commitment wise in terms of gear and events. There are various roadbook training events and small 1-2 day rallies like the Kielder 500 which are fantastic for novices and seasoned veterans alike – I don't think you can do too much training on roadbook navigation! You can get handlebar mounted roadbook holder brackets that will fit most bikes so you don't have to have a rally bike to start out with either. With some of the raid classes an adventure bike with some off-road oriented tires can also be used.
I chose to buy an electronic roadbook holder when I started rallying as this is really a must if you're serious about competing. You can start out with a manual roadbook holder where you wind it on by hand but I suspect you would quickly move to an electronic holder that can be controlled from your handlebars as it just isn't that practical winding a roadbook by hand. The F2R units are great and aren't too expensive so if I was going to buy a couple of things to start out it would be that and an ICO wheel sensor trip meter.
The navigation in AER is tricky and intimidating even when you're familiar with how to do it. The roadbook is very good but at times, for example, it will just have a box with '78.7km C 234' then the next box might say '112km' and show an image of a small pile of stones (turns out these are about 3 feet high) without a CAP heading, then the next box says '131km C 127' so you can be travelling long distances in featureless terrain on compass headings. When you factor in the risks with running out of fuel it means you need to be on your game or you'll be out of fuel or worse, out of fuel and lost.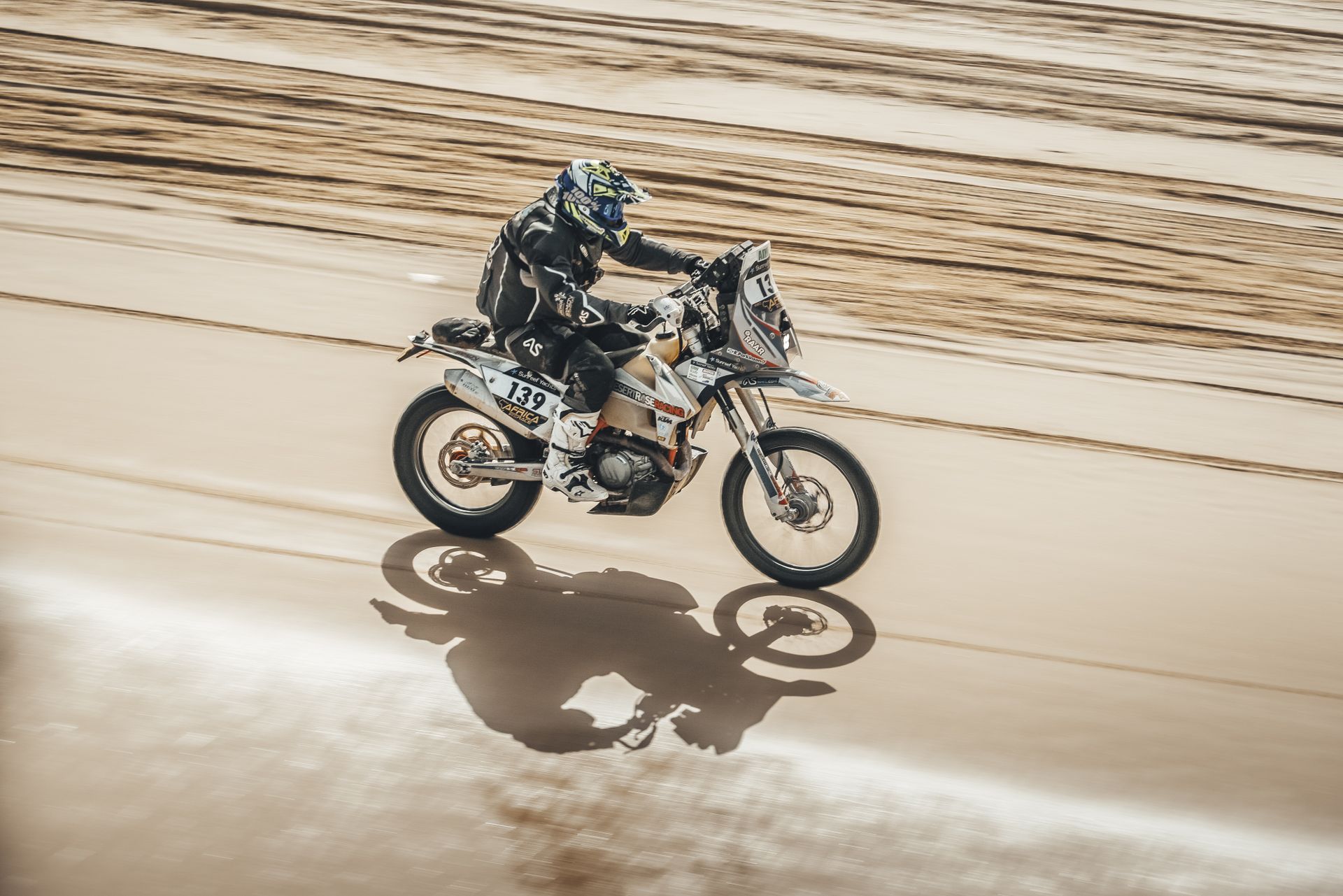 AS:
You used a lot of Adventure Spec clothing for the rally. It certainly looked the part in the pics, but how did it perform?
ROBIN:
When I told AS that I was doing the AER they were very helpful. I've taken advice from AS throughout my rally 'career' and this was no exception. The team there quickly guided me towards the Atacama range of clothing for which I considered my layering carefully. I wear running t-shirts (1 or 2 depending on the temperature) as a base layer when it's cold, with a Leatt 5.5 pressure suit on top, then a race shirt, then the Atacama Mesh jacket with the Atacama race shell on top. For liaison I would tend to have the neck brace collar attached to the race shell which I would remove and stow for the Special Stages. I remove layers depending on the temperature but as a rule of thumb, the further south we got the less base layers I wore. I wore the race shell on top until I felt it was too warm to do so but it's tricky to stay warm, remain hydrated and also not freeze on the pre-dawn / dusk liaisons. I had limited storage on the bike so stowing clothing wasn't really an option.
The AS Atacama gear is perfect for this type of event. The race shell has modular, replaceable collars which proved invaluable to me as I was wearing a neck brace and this allowed me to keep the wind off on liaison. When removed it was a cool jacket to wear, though a little warm in the tighter slow dune sections. The mesh jacket vented really well so when it was warmer it was perfect. If there is anything I'd change it would be to add venting zips and a stowing pocket for the race shell, an extra pocket on the pants in order to separate items, an ID card pocket on the sleeve of the mesh jacket and perhaps some brighter colour options for the Atacama pants and mesh jacket as it's nice to be able to match sponsor corporate colours.
That said, overall the gear performed perfectly for me. No broken zips, clips or tears and I was hard on it with several fairly heavy 'offs'.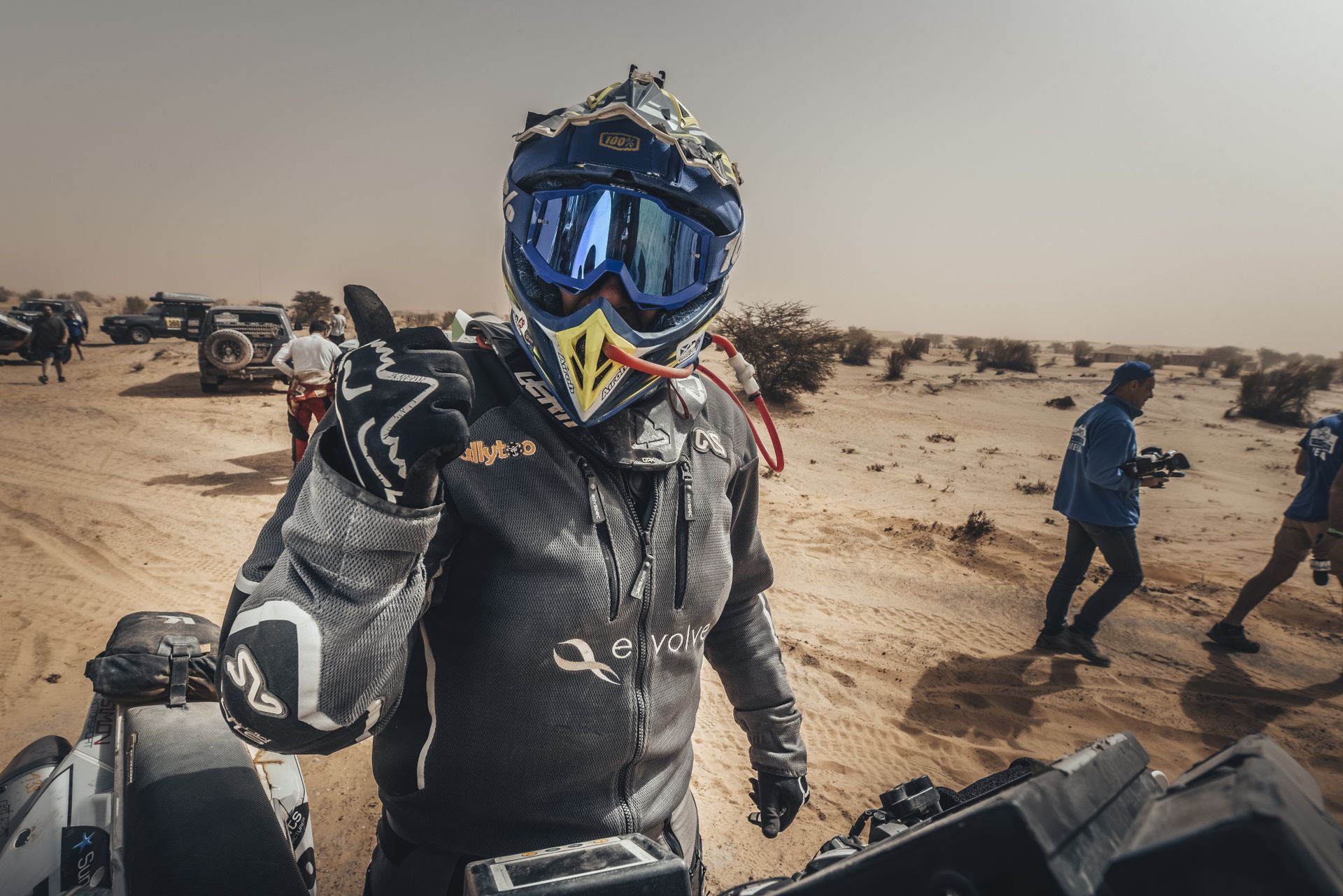 AS: 
So, if Dakar Rally is an option for the future, what do you have in the pipeline closer to home? Does riding round Scotland still hold any appeal?
ROBIN:
I love riding anywhere to be honest. I do a reasonable amount of touring on my Honda CRF1000 and love driving through the Scottish highlands. Options to ride off-road are limited in Scotland unless you know landowners so I always appreciate the offer to ride off-road there. It's a beautiful country. What always surprises me is how varied other countries are too. When I was racing the Hellas rally in Greece we went across mountain peaks and meadows which was a big surprise as I always thought Greece was predominantly sandy beaches! How wrong I was! Similarly, the forests in Morocco were a surprise too! I'd like to do the Illyria raid as it goes through some countries that I'd love to see in Eastern Europe. I really enjoy the UK events like the Kielder 500; the UK has a load to offer - time is my biggest enemy!
AS: 
Thanks Robin, best of luck with the next chapter in your Rally story! 
---
Discover more of Robin's Eco Race adventure:
---
THE ATACAMA RACE JACKET
The Atacama Jacket is a tough lightweight outer jacket designed for rally and extreme adventure riding. It has a cutaway collar that is designed to be used with a neck brace. Internal shoulder, elbow and back pockets will accommodate protective armour.