I know what you're thinking, "What is the 2020 KTM 790 Adventure R like to ride down the middle of a stream in Hertfordshire?" As luck would have it, I have the answer.
It was a gloriously sunny and warm day in May when Wil and I decided to do the double act of Oakridge Lane and Violet's Lane (both are legal watery lanes). Sadly it turned out to be a dreary and windy day - in June - when we actually got round to riding them.
After a quick warm up on a nearby (conventional) byway, we made our way to the beginning of Oakridge. A swift recce on foot then straight in before second thoughts could creep in. And it was great. A bit rocky at first (going south to north, if you're familiar with it), but it soon calmed down and we made smooth progress. Until we didn't. A dead tree was blocking the stream halfway along. But it wasn't huge and it didn't take too long to remove enough of it to squeeze by. The rest of the lane was uneventful (although enjoyable). The deepest part was immediately before the slippery climb out and needed a bit of attacking, but the 790's traction control was more than up to the task (even though the stock Karoos were found a bit wanting).
Now this is an expensive bike, and at the time of writing it hasn't even had its first service. Is it a bit silly to ride it along a stream? Possibly. But at no point did I feel I was risking anything. The bike is unbelievably capable. I could have done the lane on my Husqvarna FE450, but I'd argue the 790 was the better choice. The air intake is significantly higher, the traction control and suspension makes me seem like a much more capable rider, and the A to B nature of the day's route was better suited to an adventure bike. I don't think I could have done the lane as confidently on the bike the 790 replaced - a 2016 DCT Africa Twin. The only thing I would add is a better steering stabiliser to calm things down on the rockier sections - and in fact I have. The FE450 gave up the Scott damper reluctantly.
After Oakridge we took in as many lanes as possible on our way across the county to a disappointingly dry Violet's Lane. All it had to offer us were some "fragrant" muddy ruts (okay, the sand/shale sections were fun).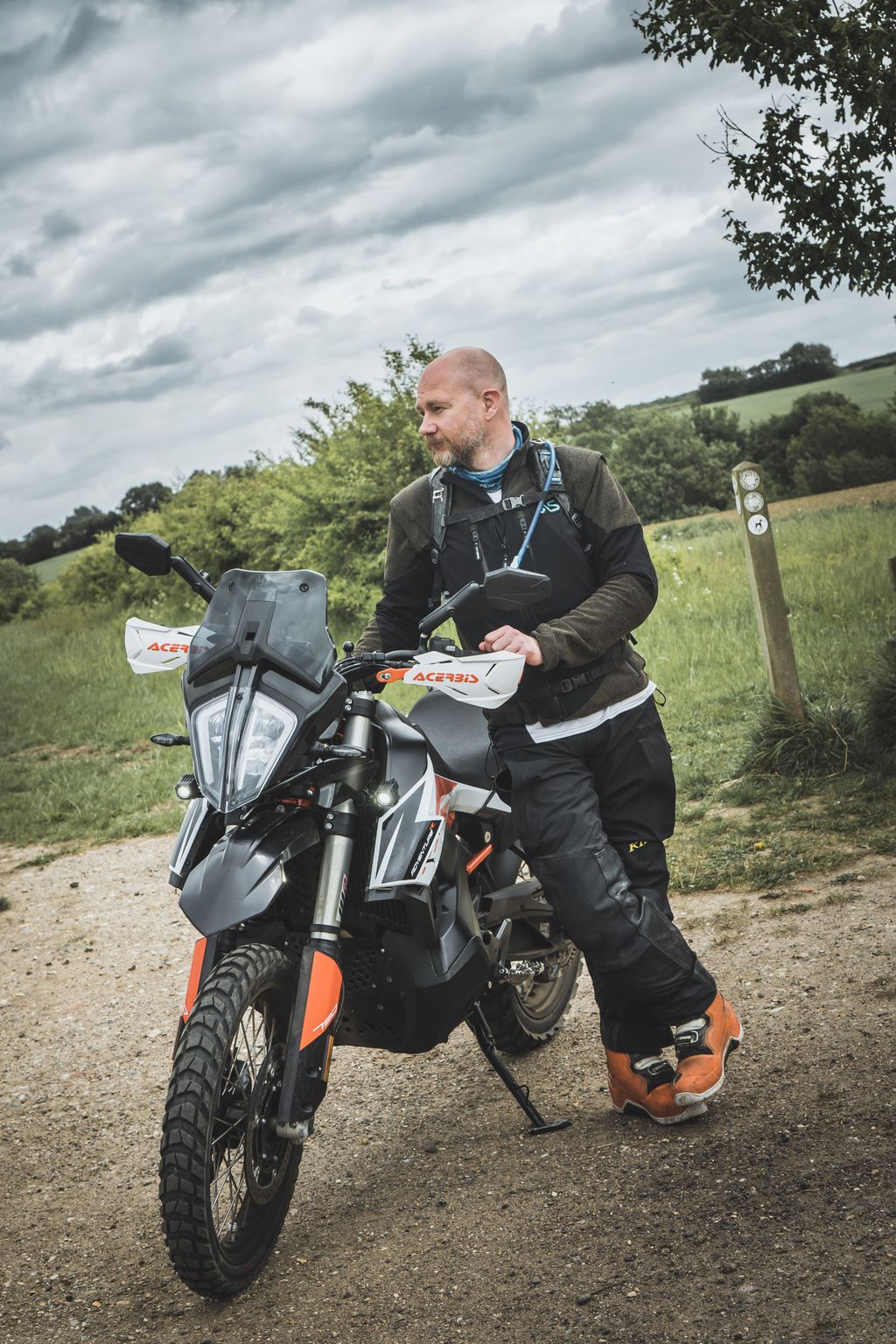 Now that's a good trailside look! 
Rider gear-wise I was sporting the Linesman jacket. It won't have escaped your attention that it says Adventure Spec at the top of the page, and there's no way you're getting away without hearing a bit about their jacket. I've had it for over a year, and it served me well on its home territory of the TET in Spain in 2019. I've got a Klim Badlands jacket, but I find it a little limited. The best way to explain that is layering. The Linesman is light. I wear it with a Forcefield (armoured) shirt and an MX jersey. If things get too hot, I can whip the jacket off and stow it easily, and if they get too wet (it can handle showers, just not torrential stuff), I can throw on a cheap kagool. I like that flexibility. Would I change anything? It'd be nice if I didn't need to carry the kagool, but I suspect that would make the Linesman more substantial, and probably less breathable.
A choice of colours? Yeah, that'd be good. The jacket is pretty distinctive (in a good way), and there's a danger of looking a bit like a clone. Also, while I'm at it, what I would like from AS is some waterproof over boot pants. I've had a pair of Klim Traverse pants for ages. They're decent - I even had them repaired after an unfortunate incident with a hot header pipe - but the ankle fastening is woeful (they enjoy a good flap). I'm on my third method to try and fix the problem (a length of velcro). 
Oh, and one final request. Light, windstopping, quick-drying gloves, please. Klim makes some almost perfect ones (I have two pairs), but they're clearly made with two kinds of velcro that hate each other. Staying fastened really isn't their thing....
---
THE LINESMAN JACKET
A Kevlar reinforced soft-shell trail and dual sport riding jacket. Windproof and breathable, it features large rear vents, chest pockets with vented lining, rear zippered pockets and removable sleeves for additional cooling. The Linesman Jacket is an outer layer designed for riders who are looking for a light, comfortable and refined jacket.