Adventure-Spec KTM 790 / 890 Adventure/R Bash Skid Plate
Adventure-Spec KTM 790 / 890 Adventure/R Bash Skid Plate
---
The Adventure Spec KTM 790 / 890 skid/bash plate provides upgraded protection to your engine and exhaust system. It is made from tough 5000 series aluminum and weighs 2.5kg. Plastic skid rails help it slide over trail debris. Available in a variety of colors. Pair it with our KTM 790 / 890 crash bars for a complete protection package.
---
KTM 790 / 890 Adventure R & Husqvarna Norden 901
Adventure Spec Bash/Skid Plate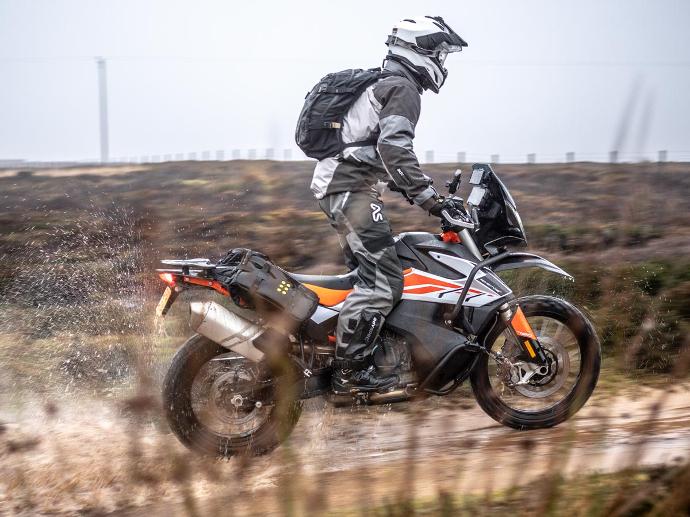 KTM 790 & 890 Fit

This bash/skidplate fits both the KTM 790 and 890 models.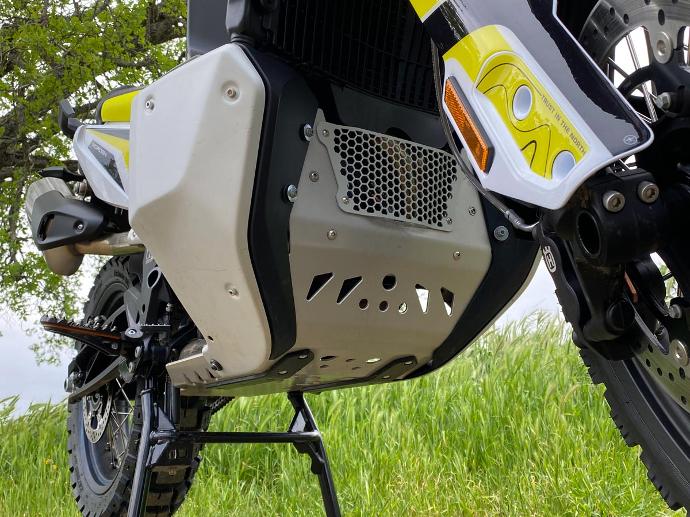 Norden 901 Fit

It also fits perfectly on the new Husqvarna Norden 901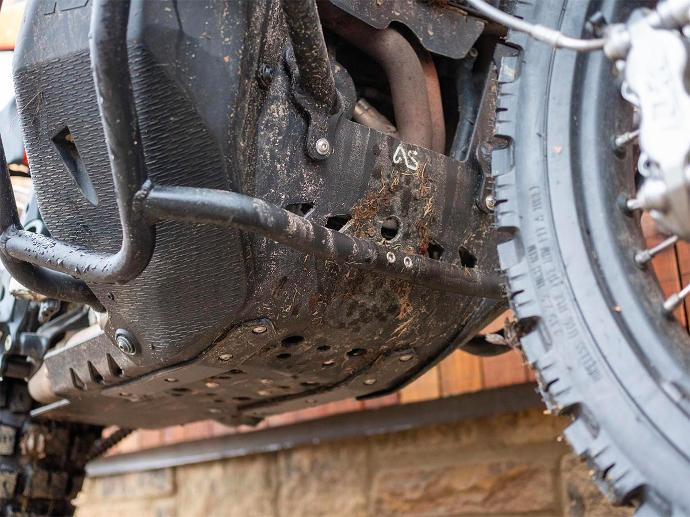 Upgrade your protection

Drastically increases protection from OEM bash/skidplate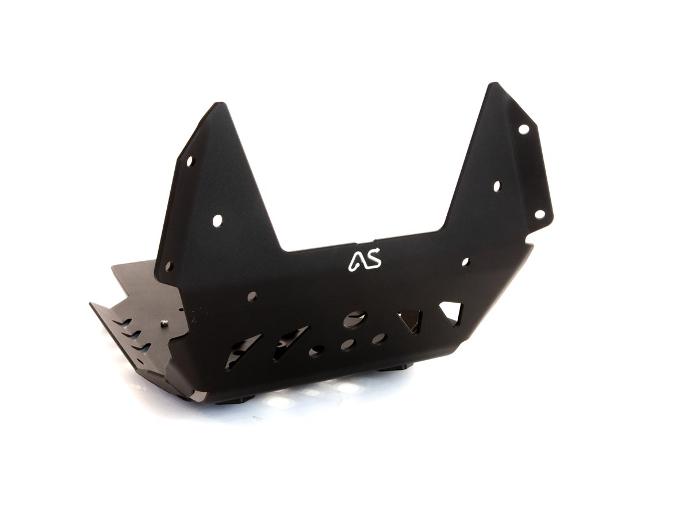 Balance of strength and weight

Made from 5000 series aluminium and weighs 2.5kg.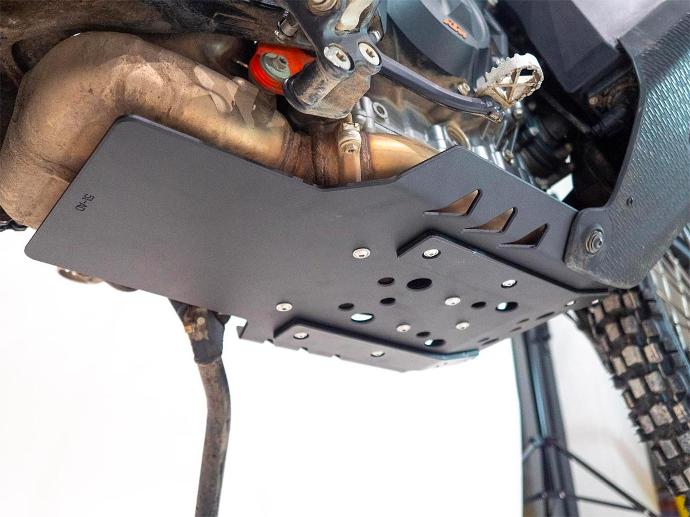 Go long

Extends the full length of the under-bike exhaust system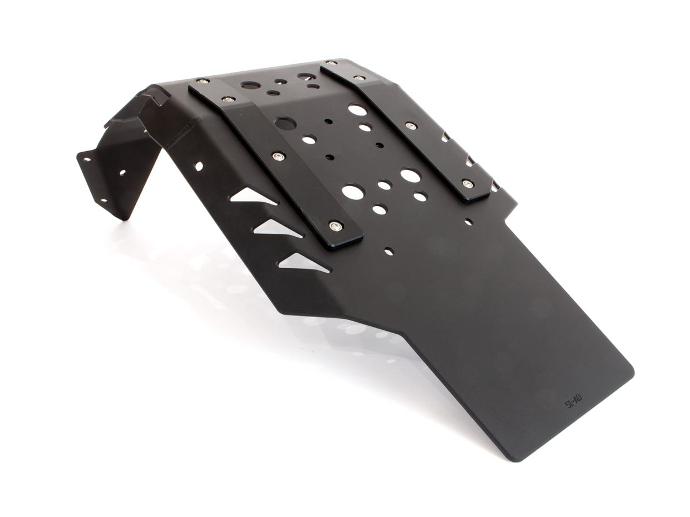 Go skid

Includes plastic skid rails to help slide over trail debris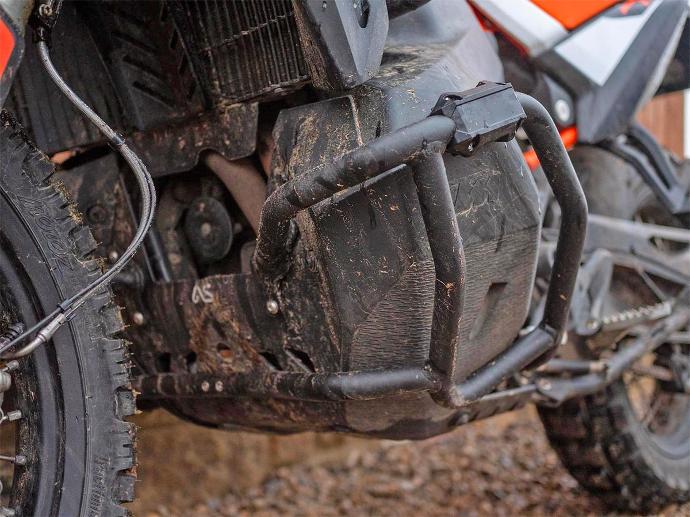 Integrated protection

Designed to work seamlessly with our 790/890 crash bars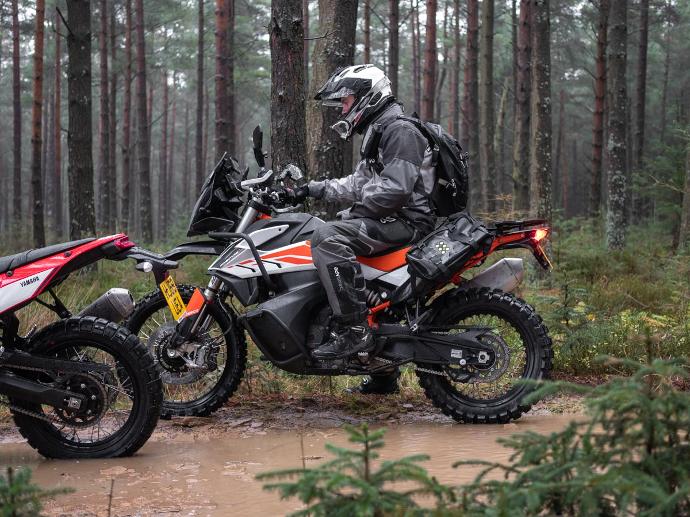 Made in Europe

Manufactured to high standards in our EU factory

When the manufacturers in the adventure riding world finally start to take notice and answer the calls of a generation of riders its time to get involved.
For many years here at Adventure Spec we (like most real world riders) have been asking for for lighter adventure bikes with 21/18 spoked wheels, a lower seat height, decent suspension and a road capable mile munching engine.
Add some pretty cool KTM design ideas to keep the weight low down (those fuel tanks…?!) and manage the engines considerable power output off-road and it's clear you have a winning combination.
However, in keeping with tradition there are a few things that we think your KTM still needs to make sure that if you ride it the way the designers intended it will come back in one piece…
The underside/sump area of any bike has always been a weak point when adventure riding as the prospect of dropping 250kg+ (bike including rider) onto a pointed rock is sadly all to real. 
Whilst in engineering terms there is no way to make the force of such a drop magically disappear we can try to spread the load over as wide an area as possible in a bid to dissipate the impact. 
In addition to this we can also do our best to prepare for those moments when the bike bottoms out and slides over jagged rocks often attempting to remove expensive CATs and rear suspension linkages (if you have one) as well as the rider!
All this said we also realise that part of the joy of riding a bike in tricky situations is keeping it light. No one ever said 'I wish my bike was heavier' at any point of a technical ride. So, the question is…how do we protect the KTM790/890 from the bangs and scrapes it will inevitably experience without adding too much weight? 
We think our new aluminium hard parts range for the KTM790 addresses these problems.
Using a lightweight high quality grade of 4mm 5000 series aluminium coupled with 6mm PEHD skid rails we have created a stiff and light long section of bash plate that will protect your engine sump and CAT from impact and slide damage whilst weighing in at only 2.6kg. 
Of course, to make sure the plate looks the part as well as remaining as strong as possible we only weld using TiG systems, we use stainless steel fittings and we powder coat the plate to a choice of coloured finishes.