Adventure Spec KTM EXC 2017-19 4 stroke Bashplate
Light is Right. And as far as adventure bikes go the KTM EXC is one of the lightest out there.
This razor sharp enduro machine has long been the choice for adventure, trail and dualsport riders who value weight and performance above all else. It really is the most focussed 'go anywhere' machine out there. 
But out of the box, it's certainly more 'ready to race' than 'ready to ADV'. 
To make the 450/500 EXC more suitable for multi-day adventure riding we've developed a range of lightweight, strong and well considered hard parts designed to add protection where you need it and give you more options for mounting a range of luggage and accessories. 
To protect the engine we have taken our many years of experience and applied it to developing this Bashplate / Skidplate. Constructed from 4mm thick aluminium and at just 1350g / 47.6oz it is a great balance between strength and weight. 
It is super easy to fit, it will 'hang' off the rear mounting point for access when required. Strategically located holes on the underside allow for easy access to your oil drain / sump bolt without removing the bashplate. 
It's design provides extra protection in high risk areas and is cutaway to reduce mass in where possible. 
This rugged bashplate gives your KTM EXC the best chance of getting home with all engine casings and fluids intact. 
Add the Adventure Spec KTM EXC Radiator Brace and you have the essentials covered.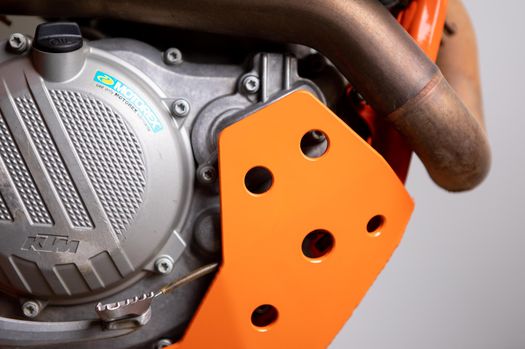 Cut to fit
Extra protection where you need it
LIGHT. STRONG
5mm Aluminium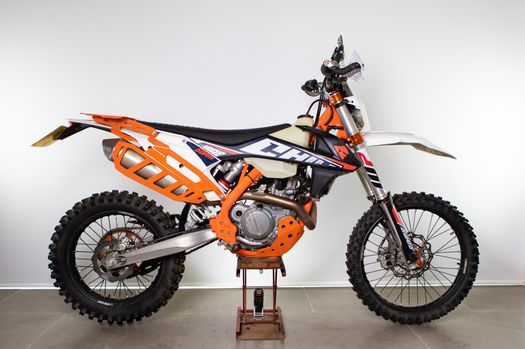 THE FULL PACKAGE
Part of the full EXC Kit