Adventure Spec KTM EXC 2017-19 4 stroke Rear Rack
Adventure Spec KTM EXC 2017-19 4 stroke Rear Rack
---
Rear Luggage Rack Plate for your KTM 450 / 500 EXC-F (2017 - 2019 models). Lightweight Aluminium luggage plate perfect to strap a duffel/roll bag to, or a tool/fuel pack. Side luggage supports match up perfectly and are sold separately. Rated for luggage not exceeding 4kg. Weight = 1250g / 44oz
---
Light is Right. And as far as adventure bikes go the KTM EXC is one of the lightest out there.
This razor sharp enduro machine has long been the choice for adventure, trail and dualsport riders who value weight and performance above all else. It really is the most focussed 'go anywhere' machine out there. 
But out of the box, it's certainly more 'ready to race' than 'ready to ADV'. 
To make the 450/500 EXC more suitable for multi-day adventure riding we've developed a range of lightweight, strong and well considered hard parts designed to add protection where you need it and give you more options for mounting a range of luggage and accessories. 
And mounting luggage on enduro bikes has always been a challenge. The bikes are so trim there's simply so few places to bolt anything onto. 
Our engineers worked hard to take our experience of creating Luggage Supports for bikes such as the CRF450L, CRF250L and T700, and apply this to the KTM EXC. 
Our KTM EXC Rear Luggage Rack is constructed from 5mm aluminium and weigh 1250g / 44oz. They are mounted directly onto the bike via the seat bolts and the fixing bolts found underneath the rear fender. No adjustments to your bike are required (no plastic or frame drilling). The rack sits proud of your rear fender plastics. 
The Rear Luggage Rack can be used on its own or pair it with the Adventure Spec KTM EXC Rear Side Luggage Supports for a full luggage mounting system. 
The Rear Luggage Rack provides multiple mounting points for soft luggage, tents, rollbag, or water/fuel storage. It is load rated to carry weight not exceeding 4kg. We find it fits the Kriega OS 6 really well. 
NOTE:
This Rear Luggage Rack is designed for weights not exceeding 4kg. For more information about why you shouldn't overload your rear rack read this. 
NO DRILLING REQUIRED
Mounts using existing fixings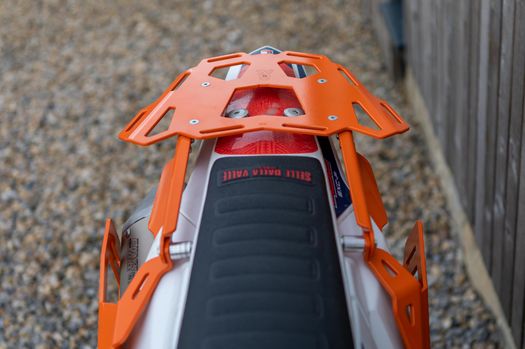 versatile mounting
Plenty of options for mounting luggage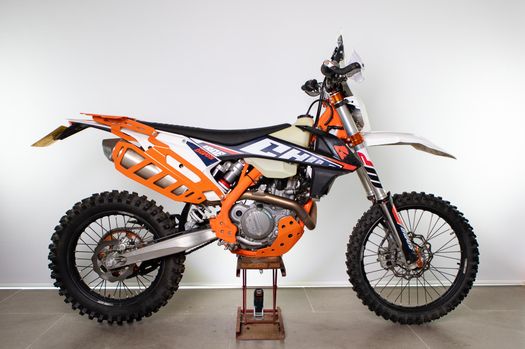 THE FULL PACKAGE
Part of the full EXC kit