Adventure Spec KTM EXC 2017-19 4 stroke Radiator Braces
---
Aluminium Radiator Braces to protect your KTM 450 / 500 EXC-F (2017 - 2019 models) cooling capability in the most extreme environments. Ultra slim design works well with large capacity (IMS) and regular tanks so radiator shrouds are not forced out widening the bike. Weight = 600g / 21.2oz
---
Light is Right. And as far as adventure bikes go the KTM EXC is one of the lightest out there.
This razor sharp enduro machine has long been the choice for adventure, trail and dualsport riders who value weight and performance above all else. It really is the most focussed 'go anywhere' machine out there. 
But out of the box, it's certainly more 'ready to race' than 'ready to ADV'. 
To make the 450/500 EXC more suitable for multi-day adventure riding we've developed a range of lightweight, strong and well considered hard parts designed to add protection where you need it and give you more options for mounting a range of luggage and accessories. 
Our aluminium radiator braces will protect your EXCs radiators from compression damage when your bike goes down on its side. The unique design keeps the weight super low, just 600g / 21.2 oz, and provides extreme lateral strength.
They are super slim so can be used with the OEM radiator shrouds and front facing plastic guards. They will also fit underneath larger oversized tanks. 
Installation is easy, you can either remove your radiators to fit them, or we have found that with some careful manoeuvring they can be installed with radiators unbolted but still attached to the bike via hoses. 
Light, simple, easy to install. Add the Adventure Spec KTM EXC Bashplate / Skidplate  and you have the essentials covered. 
NOTE: Our aluminium radiator braces are designed to protect from lateral forces. They will not provide any protection from impacts at the front of your radiators.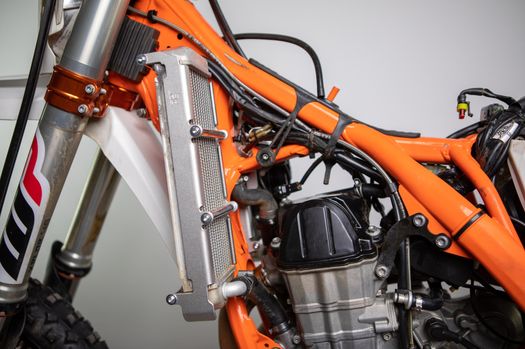 LATERAL PROTECTION
Prevents your radiator from getting crushed
PERFECT FIT
Does not affect OEM fitting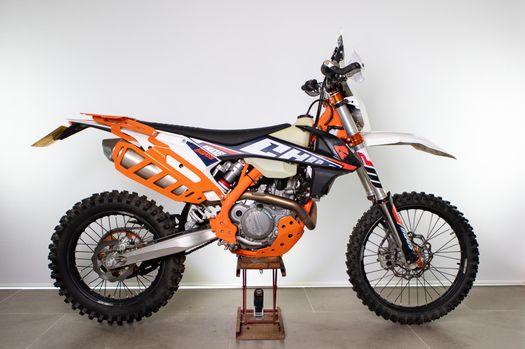 THE FULL PACKAGE
Part of the full EXC kit