Singletrack Pant
---
The Singletrack Pant is a highly durable, lightweight waterproof overpant designed for poor and wet weather adventure and trail riding. It is constructed from a three-layer fabric that features a blend of Nylon 6-6 for high abrasion resistance, and PU film for extreme water resistance and breathability. Additional kevlar panels protect knee and hip zones. It is built to accommodate large MX style boots and uses a velcro and buckle lower leg closure. The Singletrack Pant is not CE certified and does not come with any armour pockets. It is designed to be worn over your protective motorcycle armour. Our CE certified waterproof alternative is the Gravel Pant. Weight = 1410g / 3.1 lb (size 32 R).
---
The waterproof off road pant
Keeps you warm and dry in the toughest wet weather dirt adventures.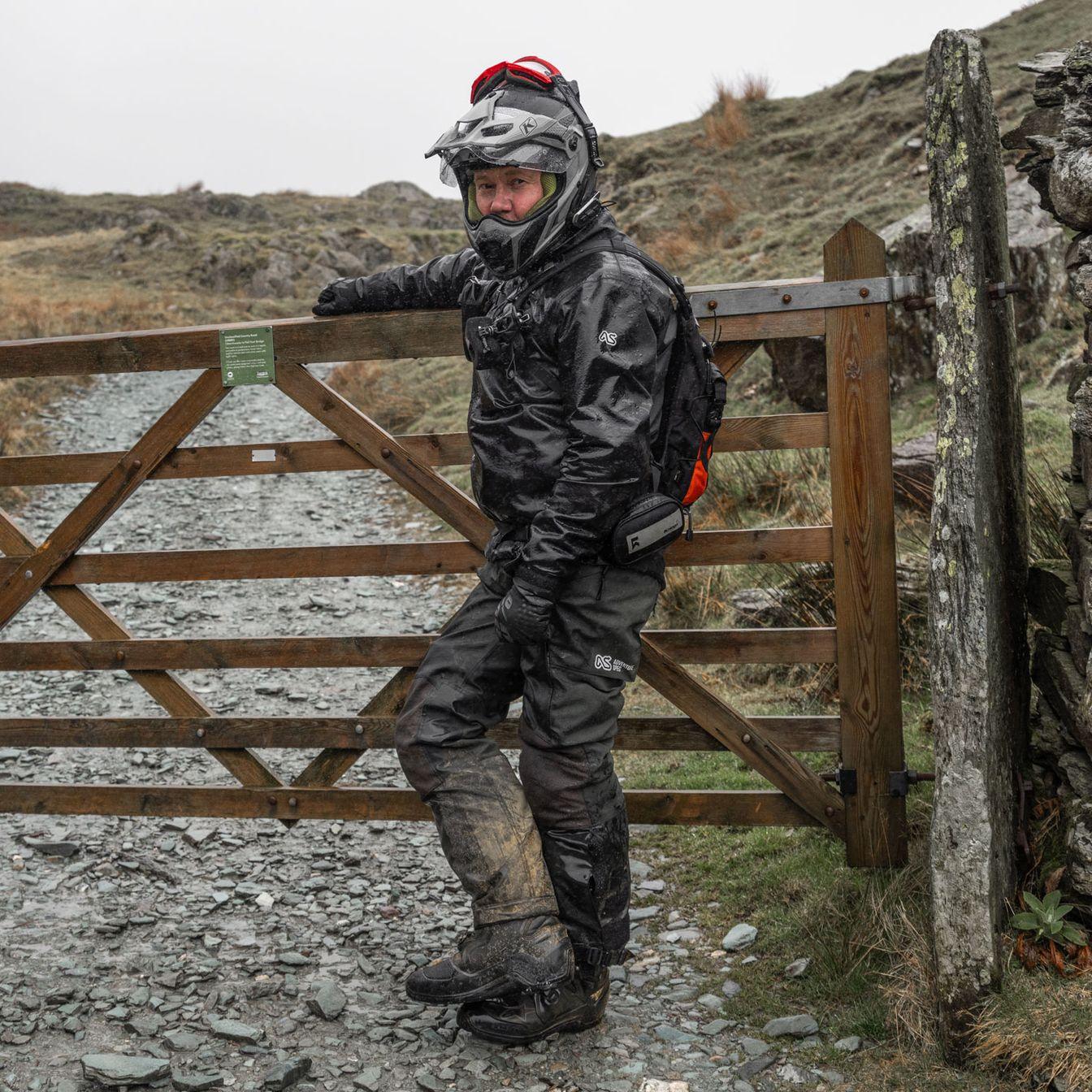 Built for rain

Designed as the go-to riding pant for a wet and windy British Winter/Autumn where the conditions are consistently damp. 
Tested and performed well in conditions from 2°C to 24°C / 35°F to 75°F.

Rupert also wears the Aqua Pac Waterproof Jacket.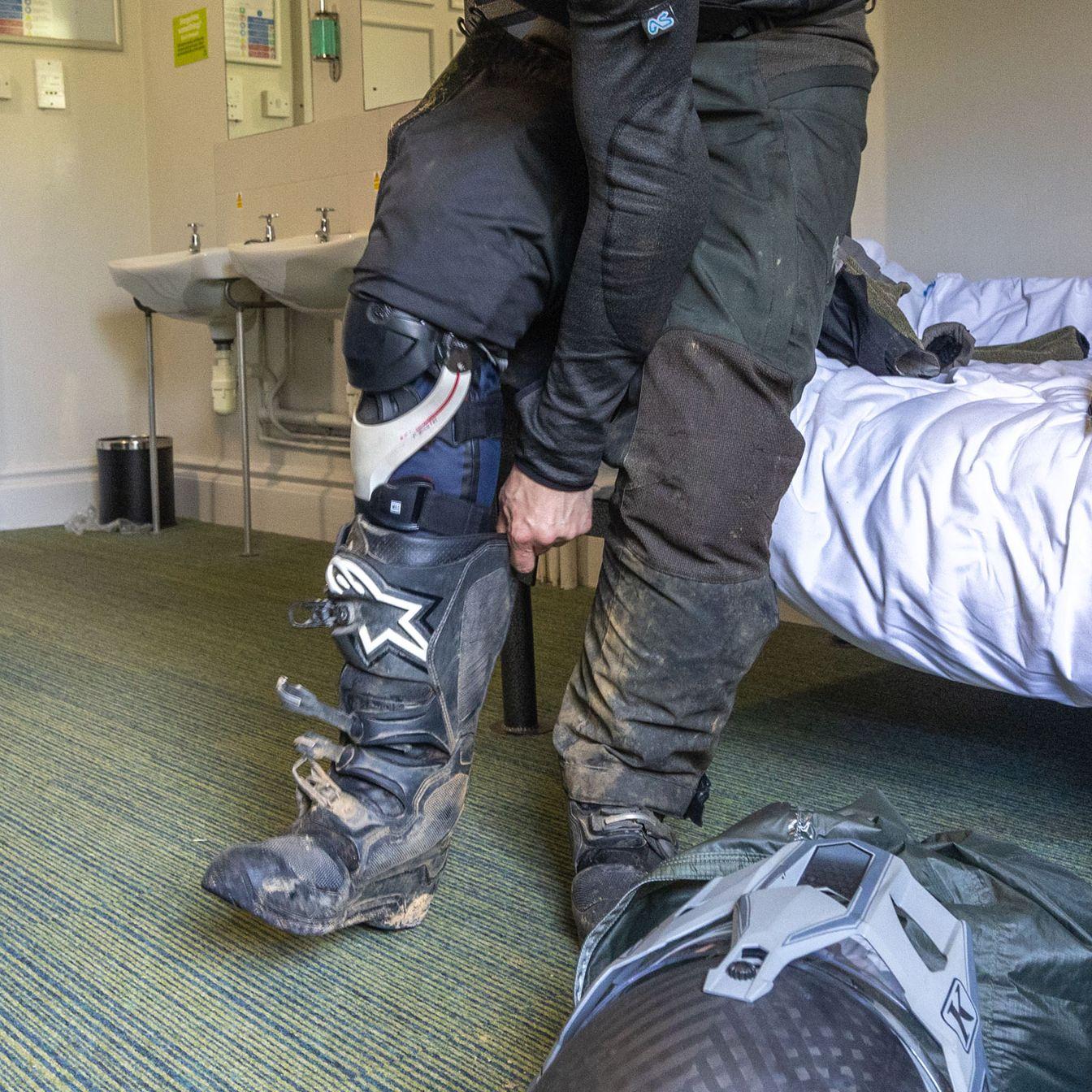 Fits over your knee braces

The Singletrack Pant is cut to fit over your own protective armour. The knee area is a relaxed fit and designed to accommodate large knee braces underneath.

"I just bought the Singletrack Pant. Where do I start? I ride in all weather, any conditions, so need to stay warm and dry and these trousers are it! 163 miles on the first run and completely dry. That's just what I need. I'm out 3 to 4 times a month, 500 to 600 miles every month, the Singletrack Jacket is definitely next."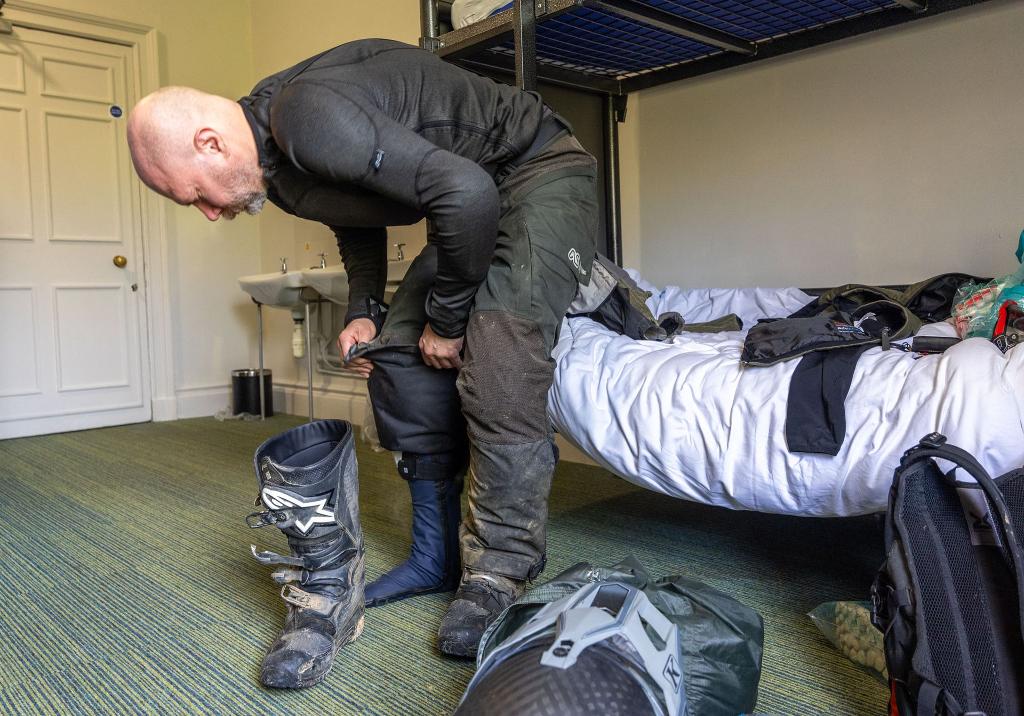 Fits over MX boots

The lower leg features a generous opening that will fit over MX boots such as Tech 10s.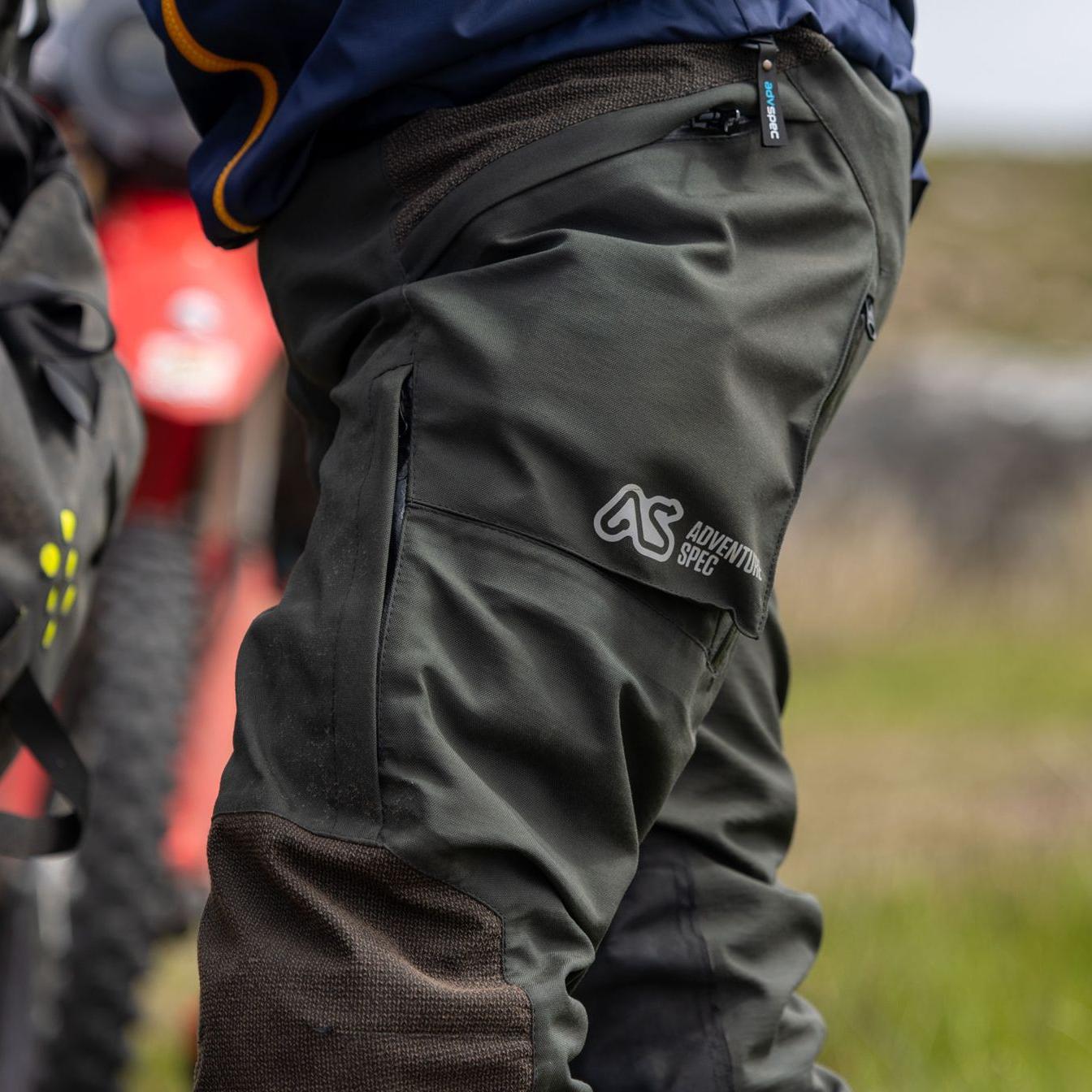 3-Layer protection

The outer layer is constructed from extremely tough Nylon 6-6 and provides abrasion protection. Mid layer is a Polyurethane (PU) film and provides high water and wind resistance without sacrificing breathability. Inner layer is a Nylon knit for comfort. All these layers are laminated together to create a tough, waterproof and breathable fabric.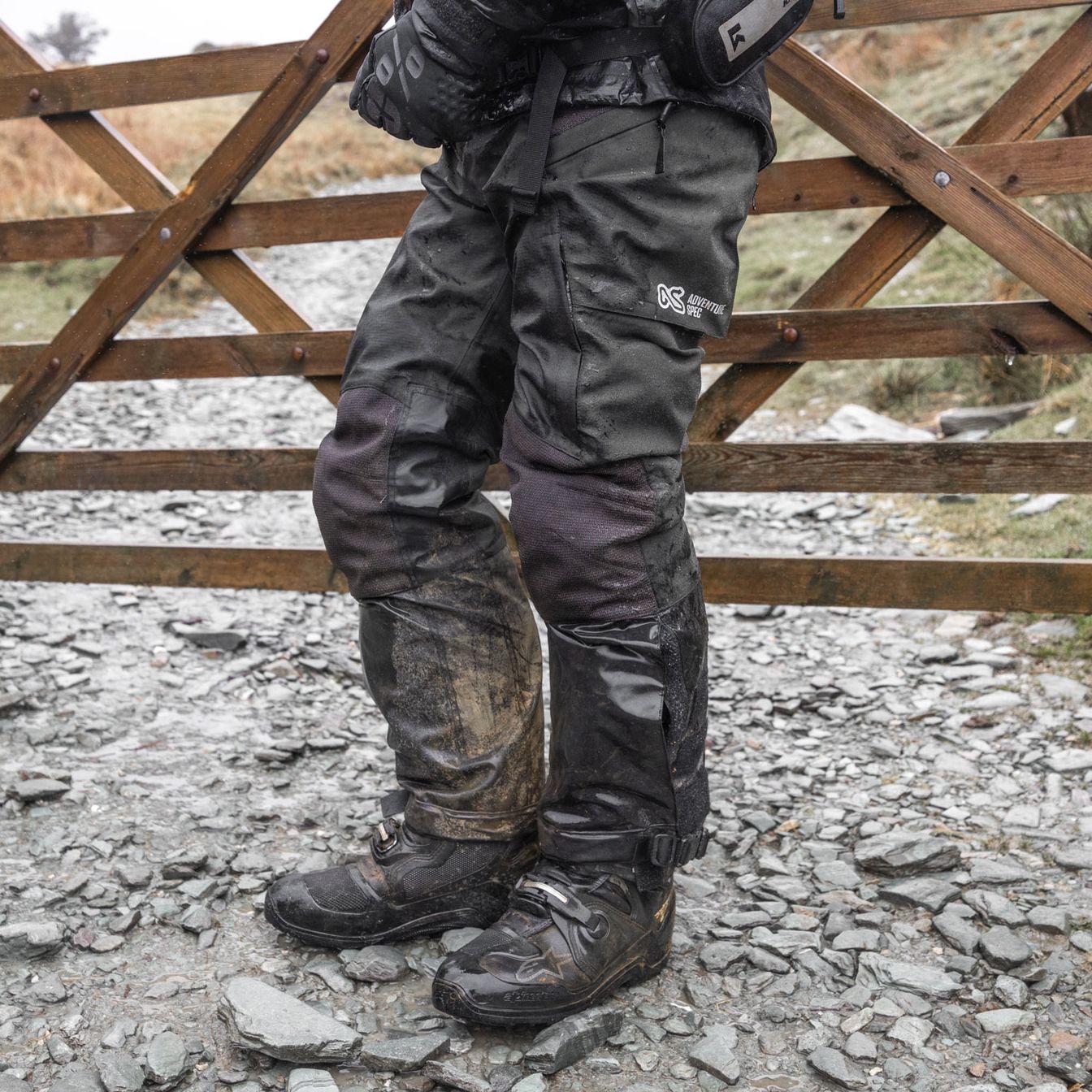 High Hydrostatic Head

The 3-layer laminate fabric has a hydrostatic head of 30,000mm for high water repellency.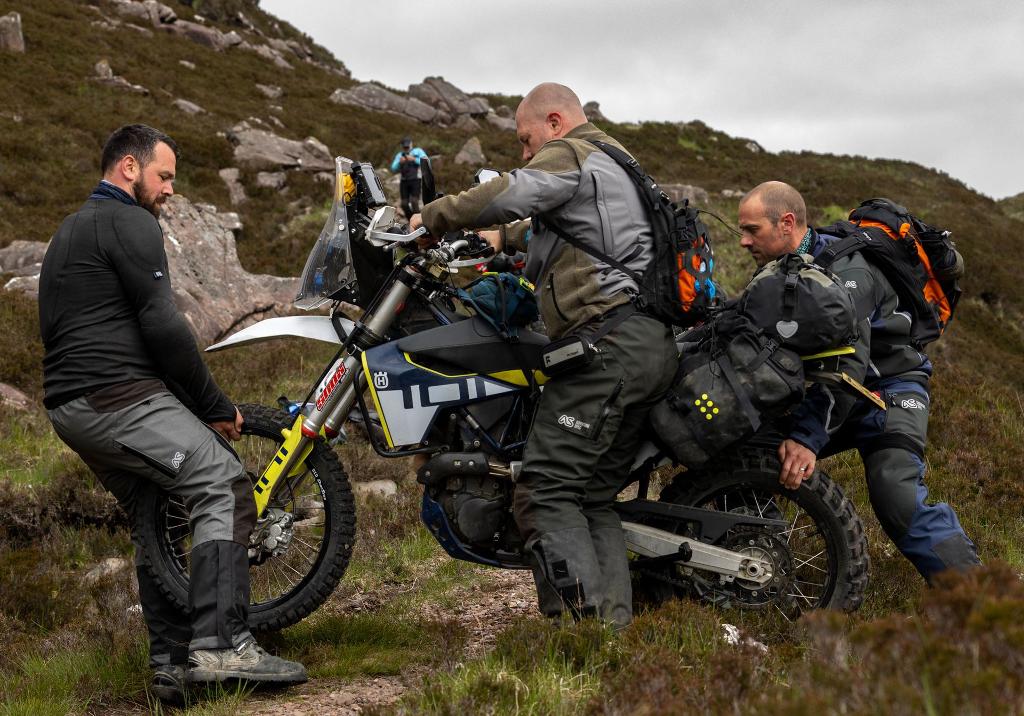 Breathable
When the trails heat up the breathable 3-layer fabric and generous vents help regulate temperature.  
Rupert also wears The Linesman Jacket. 
"The trousers are comfortable, easy to wear and I like the removable braces. When standing up, they felt good and easy to move around in. Overall, I like them. They have a quality feel about them, they are warmer than the Mongolia pant for mixed UK weather and feel just as robust."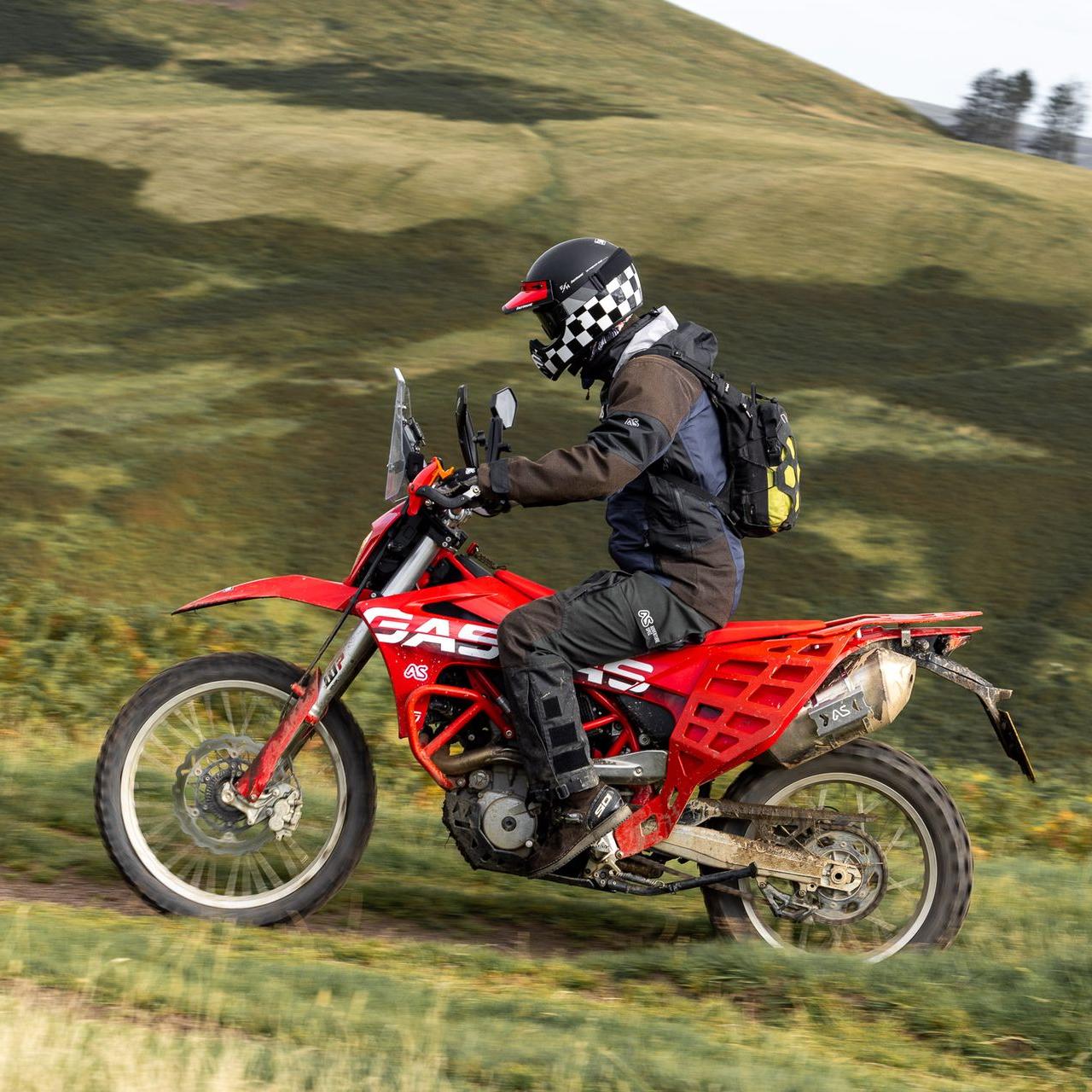 Extreme trails

Built around Adventure Spec's heritage of creating tough gear for riders who push their limits. 
Chris also wears the Singletrack Jacket.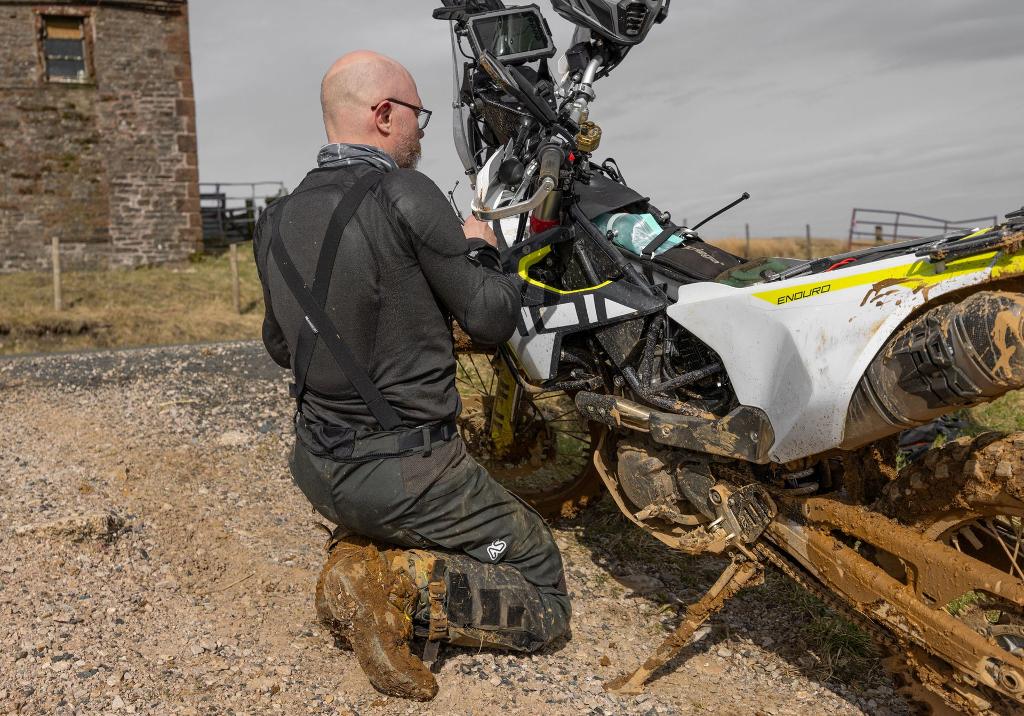 Kevlar protection
Kevlar panels on knee and hip abrasion zones for protection and durability.
Rupert also wears The Supershirt.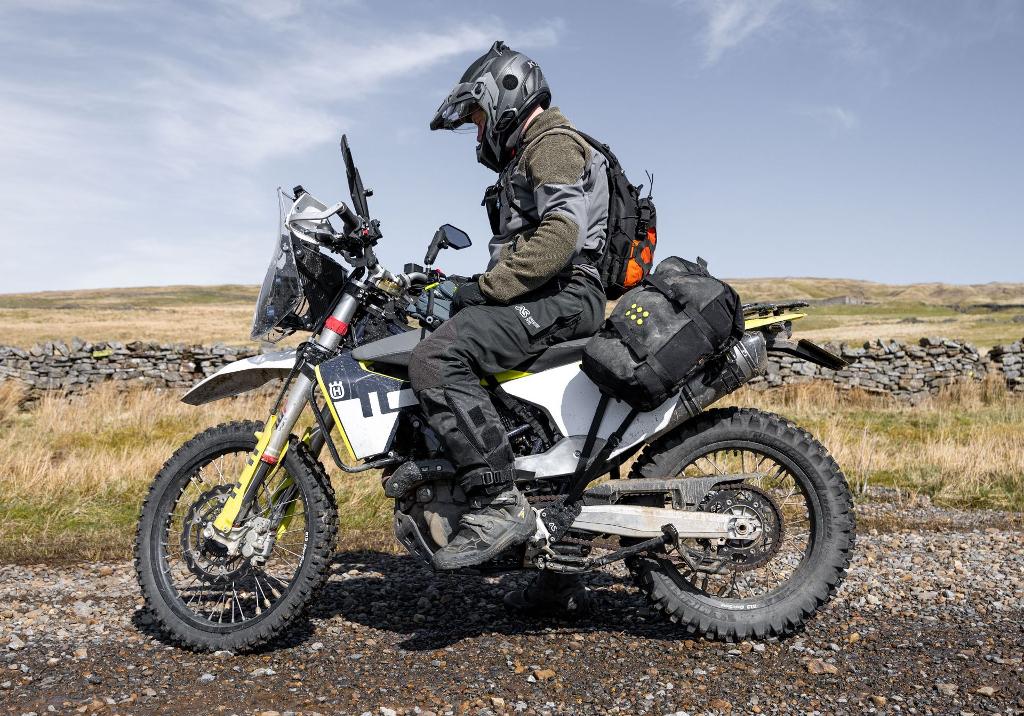 Built to last
Nylon 6-6 outer fabric is durable and built to withstand tough adventure, dualsport and trail riding.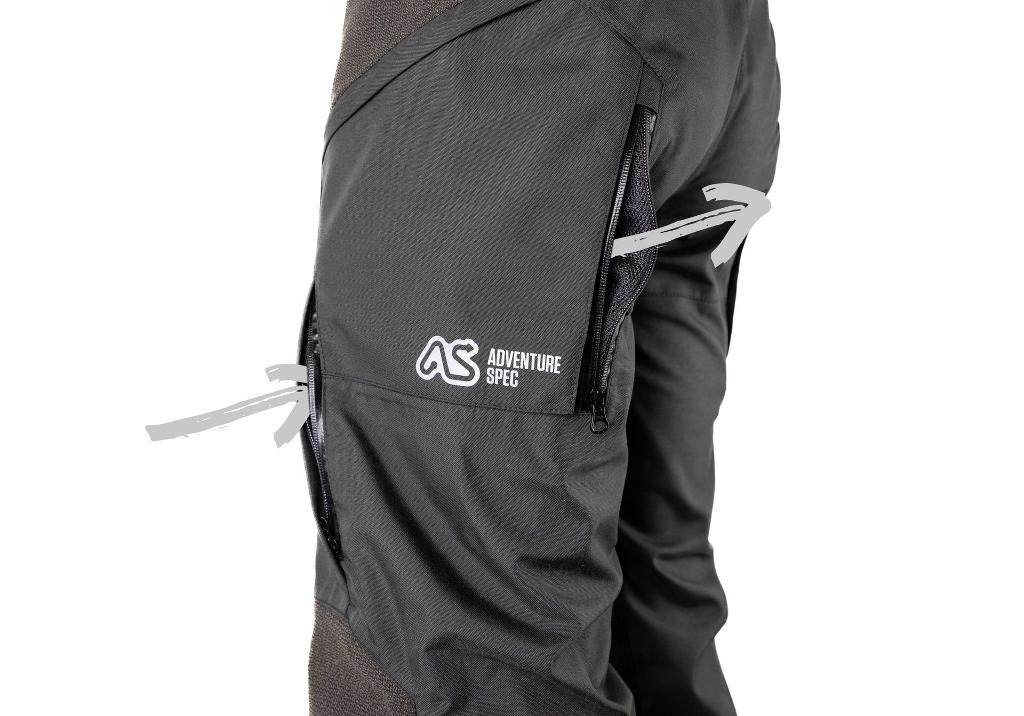 Breathe easy

Large thigh zip vents allow for plenty of ventilation when required, while smaller exhaust zip vents around the back of the thigh help promote air flow.

Stays up

Includes removable elastic braces / suspenders that help keep the pant exactly where they should be. Or use the integrated belt if braces are not required.
Chris also wears The Supershirt.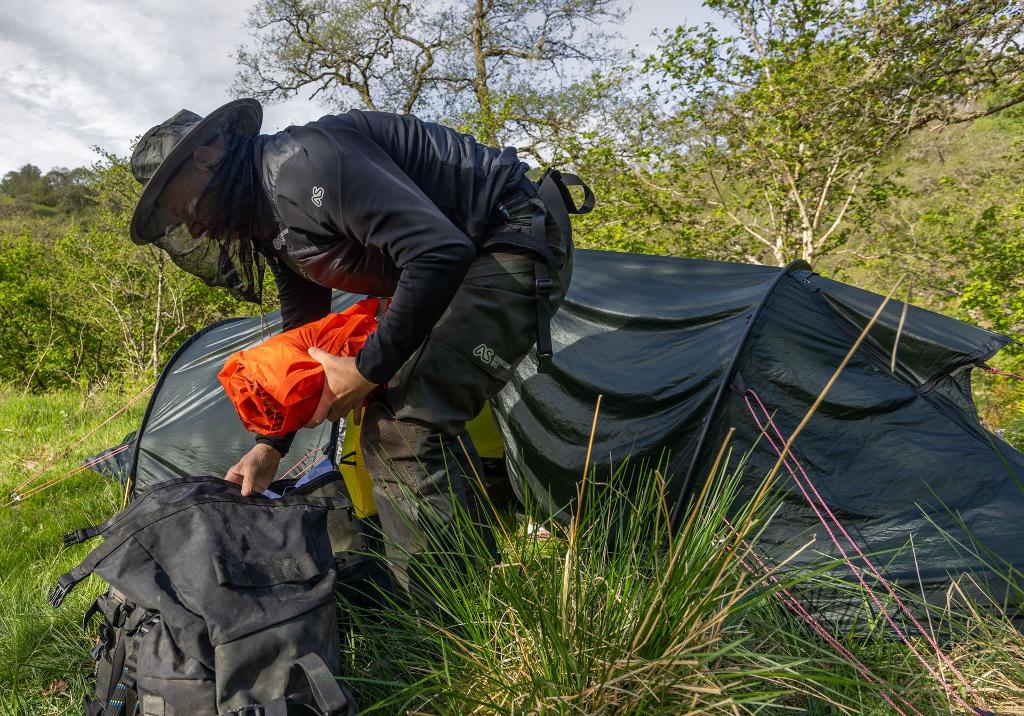 All day comfort
The Singletrack Pant is designed to be put on at the start, and taken off at the end of a hard days riding.  Perfect for multi-day trips in colder conditions where rain is expected. 
Rupert also wears the Baltic Hybrid mid layer jacket.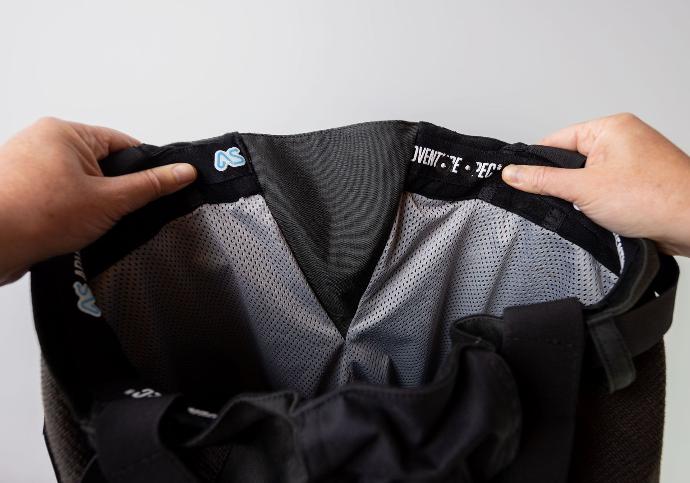 Mesh lined
In addition to the three-layer laminated waterproof fabric, the inside of the Singletrack Pant is mesh lined with a light, breathable fabric for extra comfort.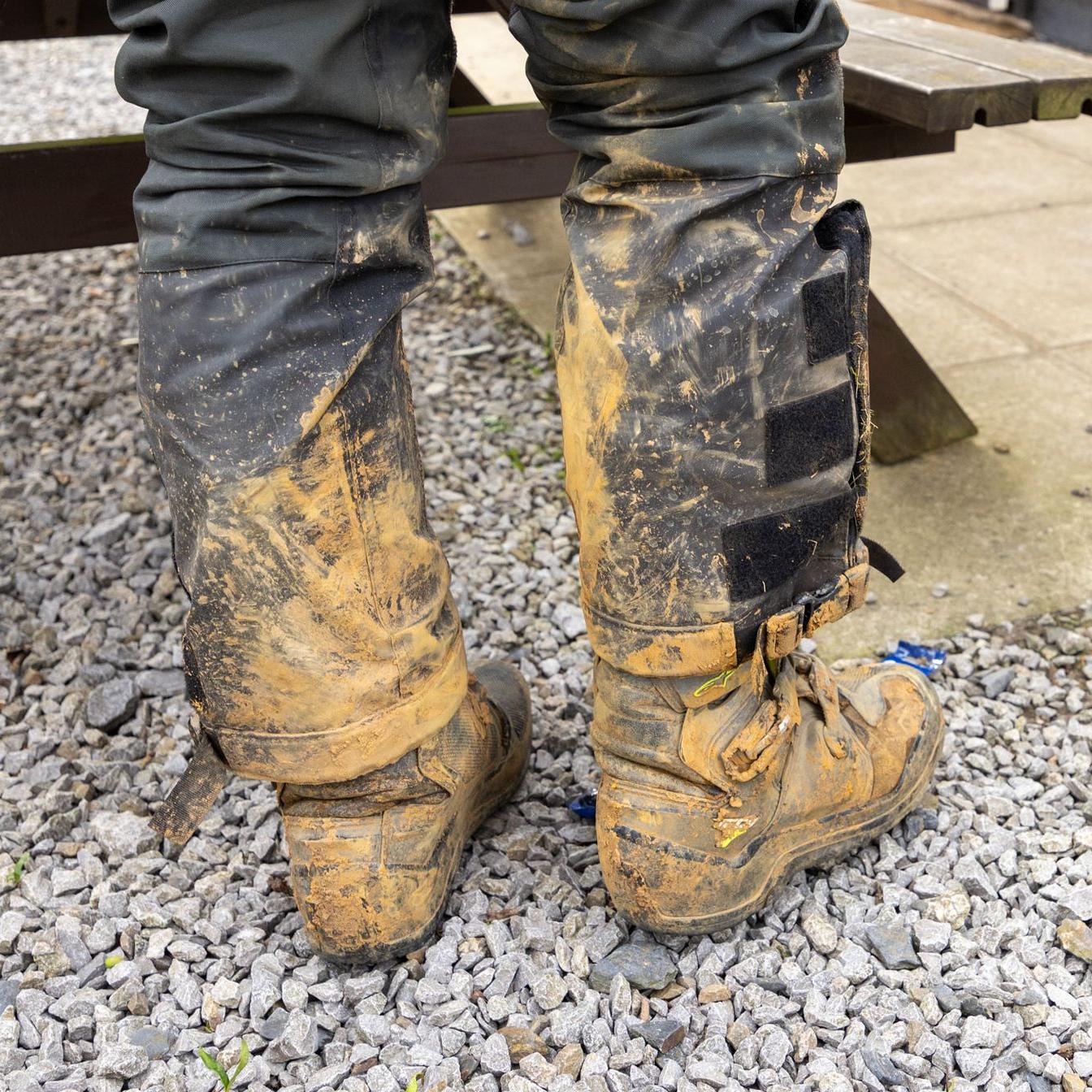 Mud proof

Velcro closes the pant and a strong buckle secures it and acts as a failsafe if the velcro accumulates mud. The buckles are easily replaceable.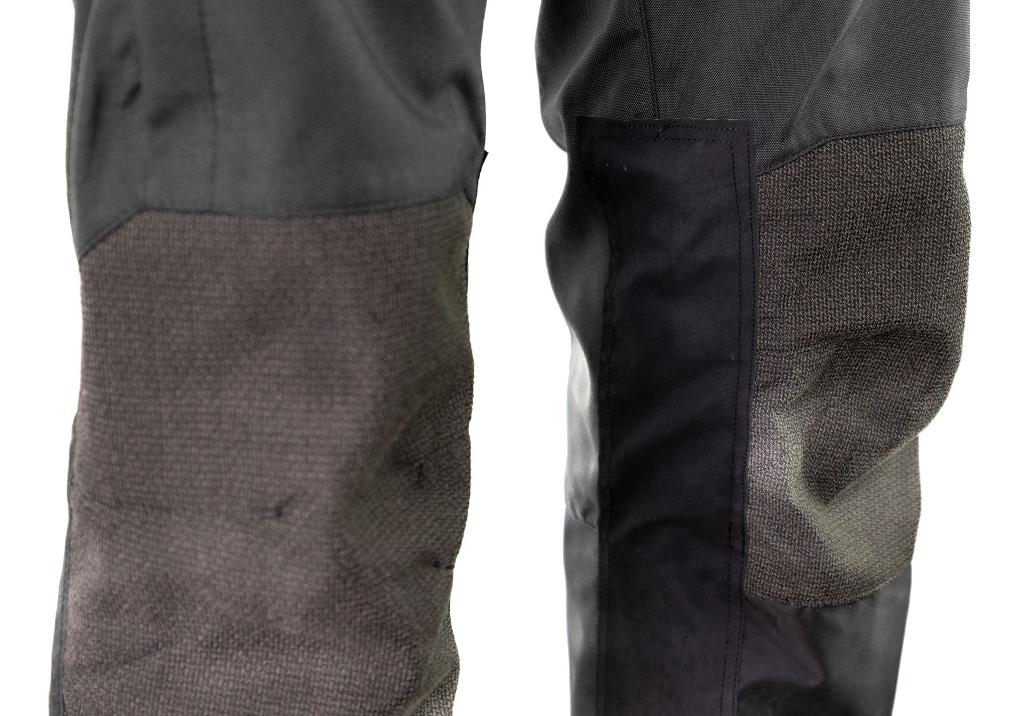 Won't degrade in the wash

The Singletrack Pant features heat resistant Hypalon fabric on the knee and inner leg. This has similar qualities to leather but will not shrink or crack in the wash.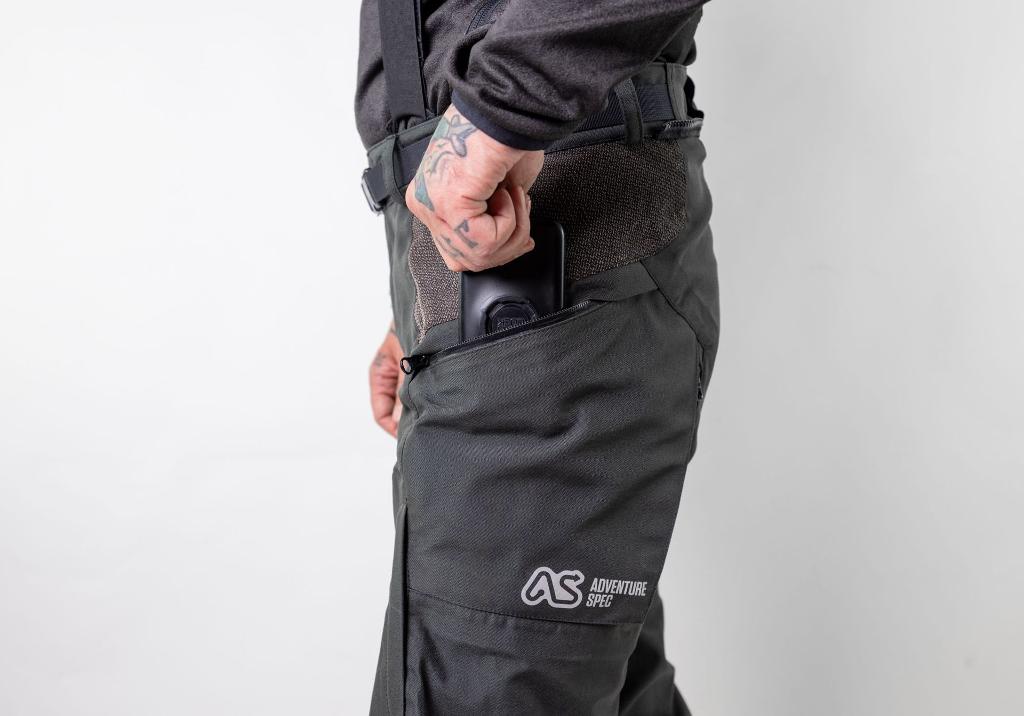 Big pockets
Designed for big phones. 
"I was always comfortable in temperatures varying from freezing to 20°C (with base layer and knee braces)."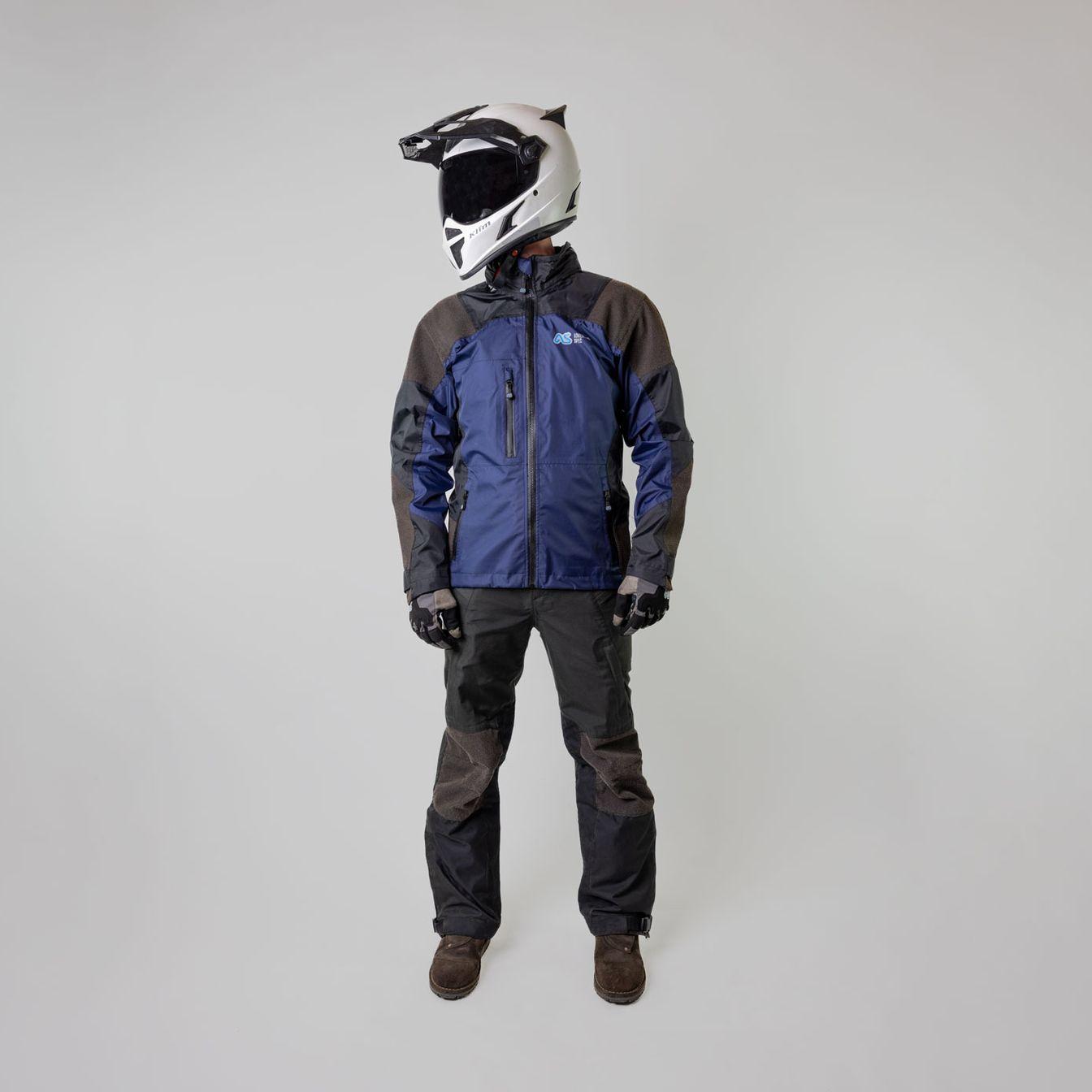 Pair it up

Designed to work with the full Adventure Spec range of clothing, including the Singletrack waterproof jacket.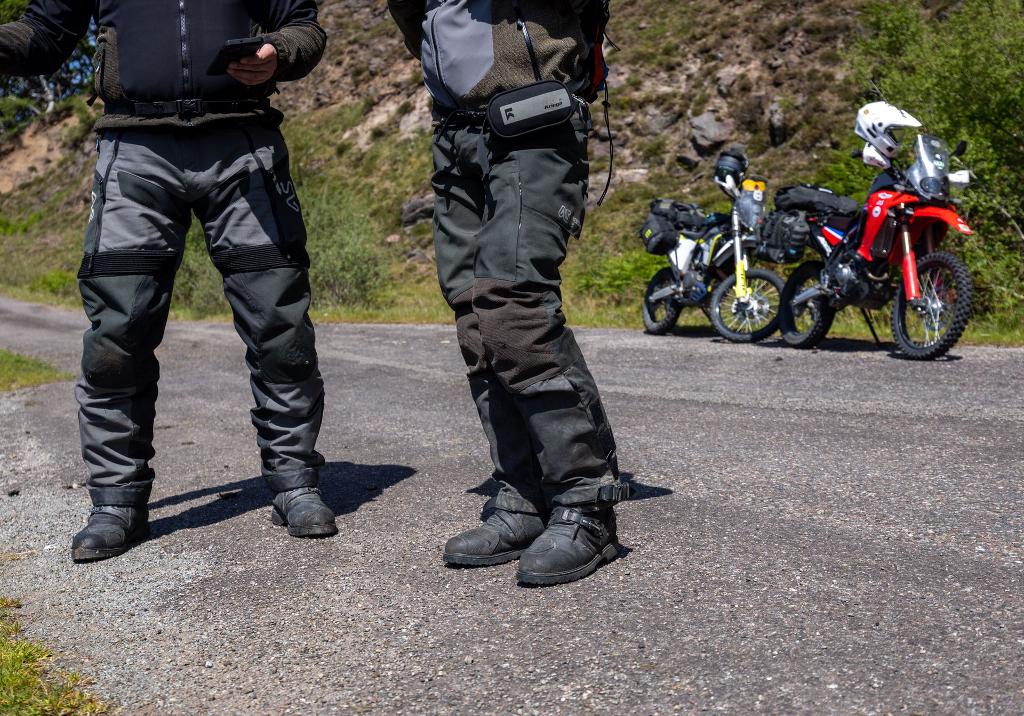 Don't need waterproof?

The Mongolia Pant is our non-waterproof adventure pant built for the Dakar rally. Or try the even more breathable Linesman Pant. 
Clive wears the Mongolia Pant (left) and Rupert the Singletrack Pant (right).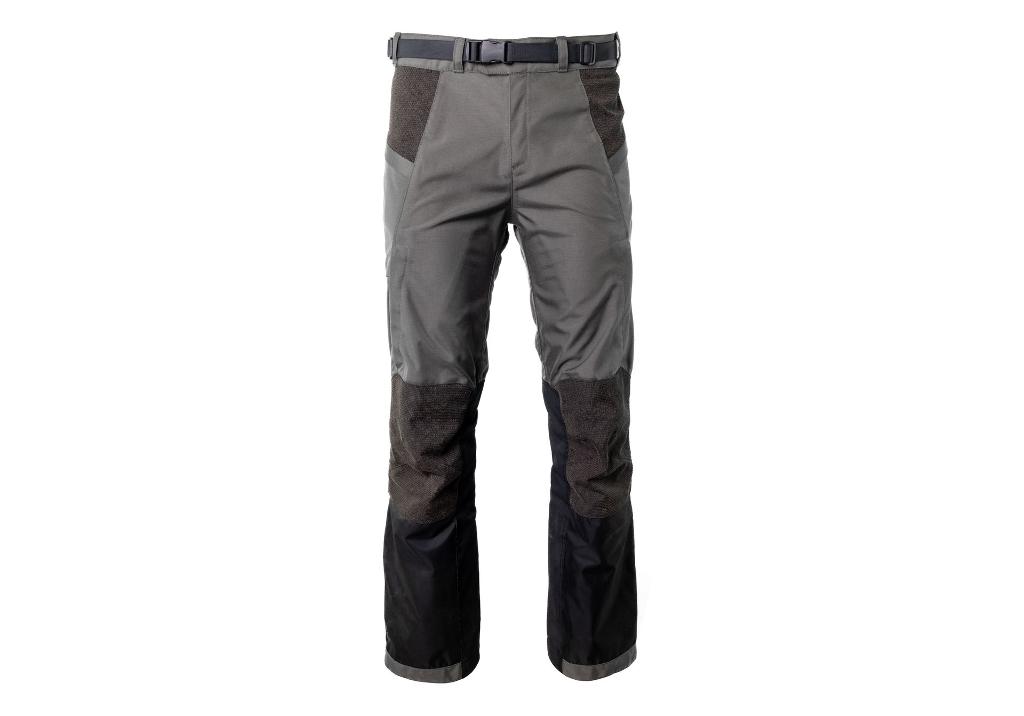 The Gravel Pant
The Gravel Pant is our CE certified waterproof pant designed for road adventures.
It is similar to The Singletrack Pant but a slimmer fit.
The Gravel Pant includes armour and WILL NOT fit over knee braces. 
The Gravel Pant is designed for adventure boots and WILL NOT fit over large MX boots.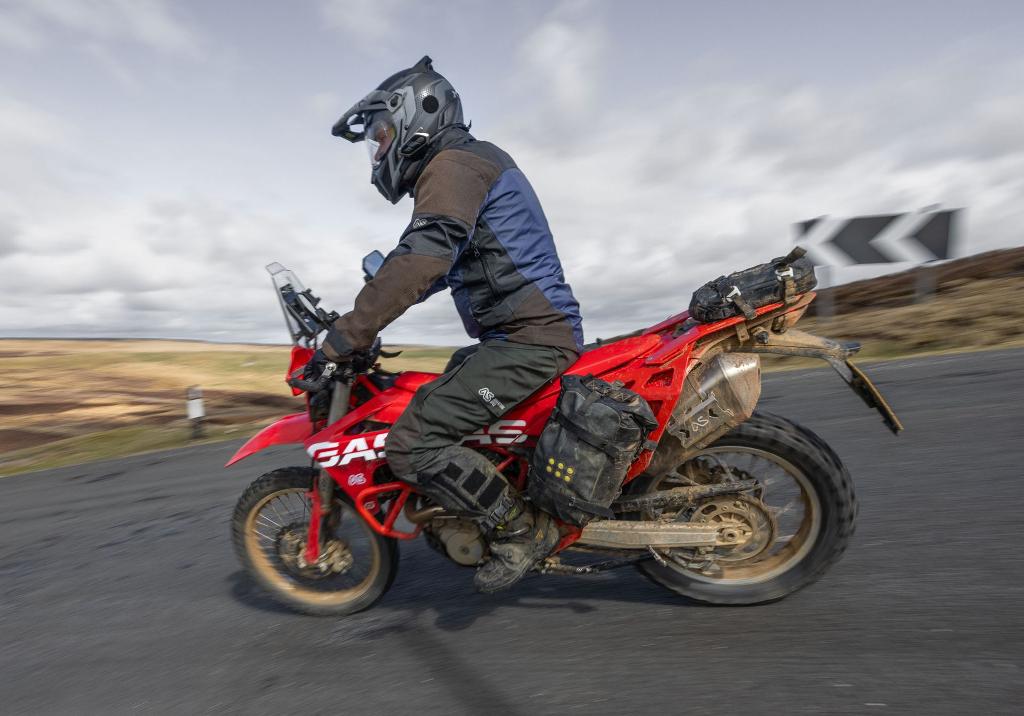 Made in the EU

Manufactured to high standards in our EU factory.
Read more about The Singletrack Jacket here.

---

The Singletrack Pant is designed for Northern European Autumn, Winter, Springtime off road adventure and trail riding where wet weather and cooler conditions are likely.

It has been tested and performed well in conditions from 2°C to 21°C / 35°F to 69°F. 
For colder conditions, layer up by adding The Core Long Leg. 

They are tough, durable and resistant to abrasion, but not CE certified, so are intended to be worn over your own protective armour such as knee braces and armoured shorts. 

The Singletrack Pant is designed to keep you warm and dry in prolonged wet weather, and works well with The Singletrack Jacket, especially when worn as an outer layer over The Supershirt or Linesman Jacket. 

If you are looking for a CE certified waterproof pant, Adventure Spec will be launching The Gravel Pant in 2024. The Gravel and Singletrack Pant are very similar, however the Gravel Pant is a slimmer fit and will not fit over MX boots or large knee armour - it is shipped with soft armour included.

If you wear large boots and your own knee armour, The Singletrack Pant is built for you.

---
Watch The Singletrack Pant on test in the wet English Lake District