Lets get one thing straight, I did not buy this KTM 450 EXC for the TET. I bought it 5 years ago as my first dirt bike and it's been used riding the green roads and dirt tracks of Northern England ever since. That said, within the great 'what is the best bike for the TET' debate, I think it holds its own.
I'm not in the position to have 2 bikes, a big one for big trips and a small one for day excursions. I also don't have the time for big trips so I prefer to have a small bike for my 'moto-micro-adventures' and adapt it for the occasional big trip. In this case it's 10 days from England > Netherlands > Belgium > France > England.
This 450 has had many facelifts over the years and I've slowly managed to dial it in to something that is less 'ready to race' and more 'ready to ADV'. The most obvious change is the addition of a larger 15ltr tank. This gives me about 200 miles which to be honest, for England and Europe is probably overkill, but as much as anything I like the way it looks. It's a bit of a statement of intent, this bike is not for a race track, it's for a journey.
The bike is also slightly lowered and I put a softer spring on the rear shock as I'm not so heavy - 67kg. Other than that the engine is totally stock. It has 400 hours on the clock and the valves are only just at the edge of tolerance now - I'll re-shim them after this trip for the first time. I'm fairly happy to run 30-40 hours on an oil change as long as it's not been worked too hard, we'll see how we get on with the TET trip. If the hours look crazy I may source some oil and do a service part way round.
The tyres in the pics are Goldentyre GT216 on the front and Motoz Mountain Hybrid on the rear BUT, I plan to swap these for Motoz Extreme Hybrid's before we leave.
I've tried to give a good overview of the gear that will be coming on the trip. I'm a fan of travelling as light as possible and a lot of the principles here have been borrowed from bike packing philosophy. We're spoilt by a big single cylinder engine, trust me if your means of propulsion is your legs then you quickly learn how to pack light!
Finally, a big source of inspiration has been the Rolling Hobo's KTM 500. His ADV project is well worth checking out. As with his bike, my 450EXC is an evolving setup and will continue to change over time as I try out different options and gear. Even within the Adventure Spec team not everyone agrees with the way I've put the bike together for this trip which I guess highlights that everyone will approach this with different needs. I don't know that the perfect TET bike exists, but it's fun trying new ideas out.
UP FRONT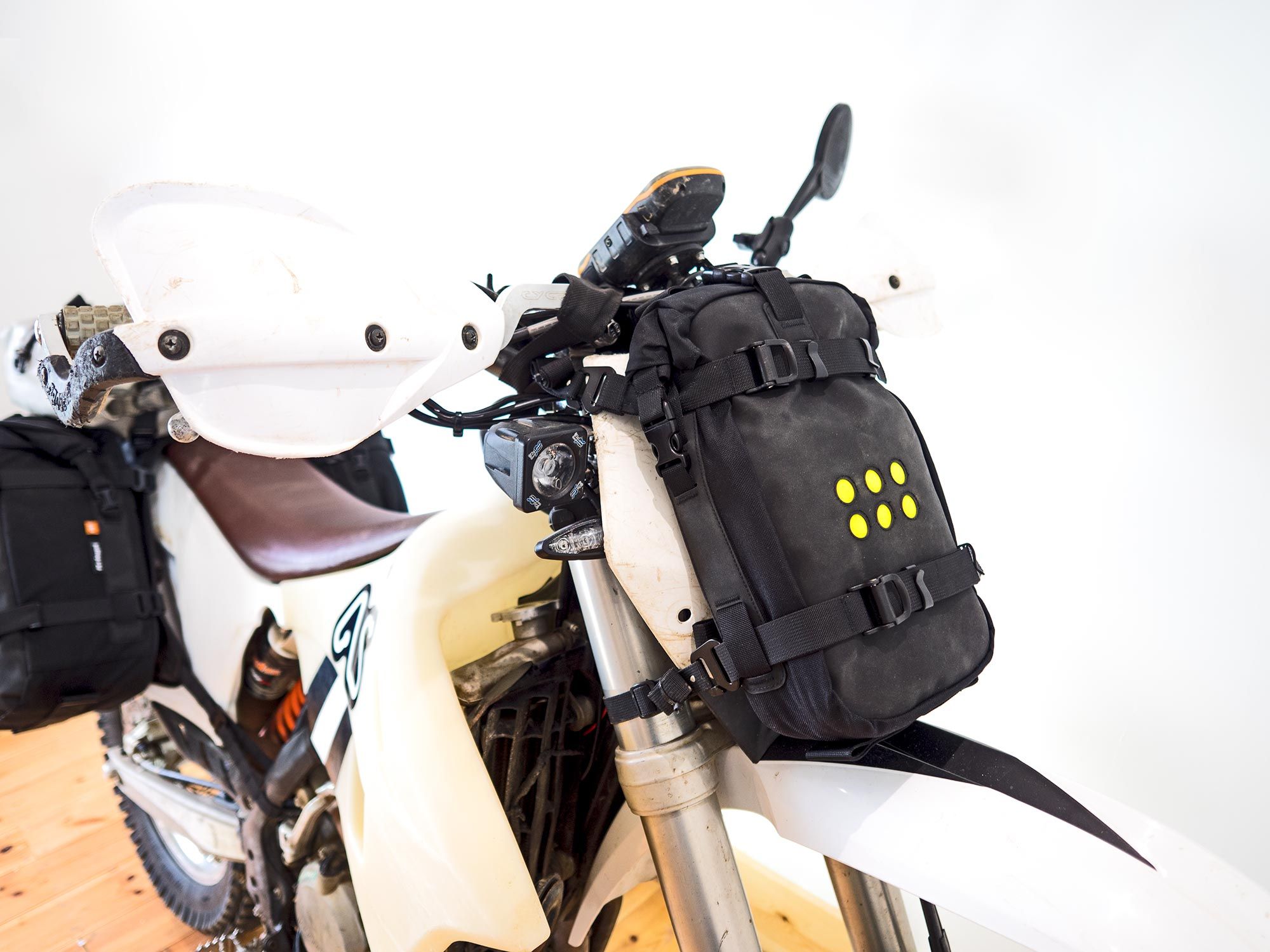 Kriega OS-6
I'm a big fan of using the front mask as an extra storage point. For the last year I've been using a Kriega US-10 to keep my tools in. For the TET trip I've moved the tools to the rear which takes the weight better and used a Kriega OS-6 up front to keep my drone and power bank in. These are much lighter so have less impact on the handling of the front end. The bag is mounted with straps on the forks, not the mask - much sturdier. What about lights? Read on...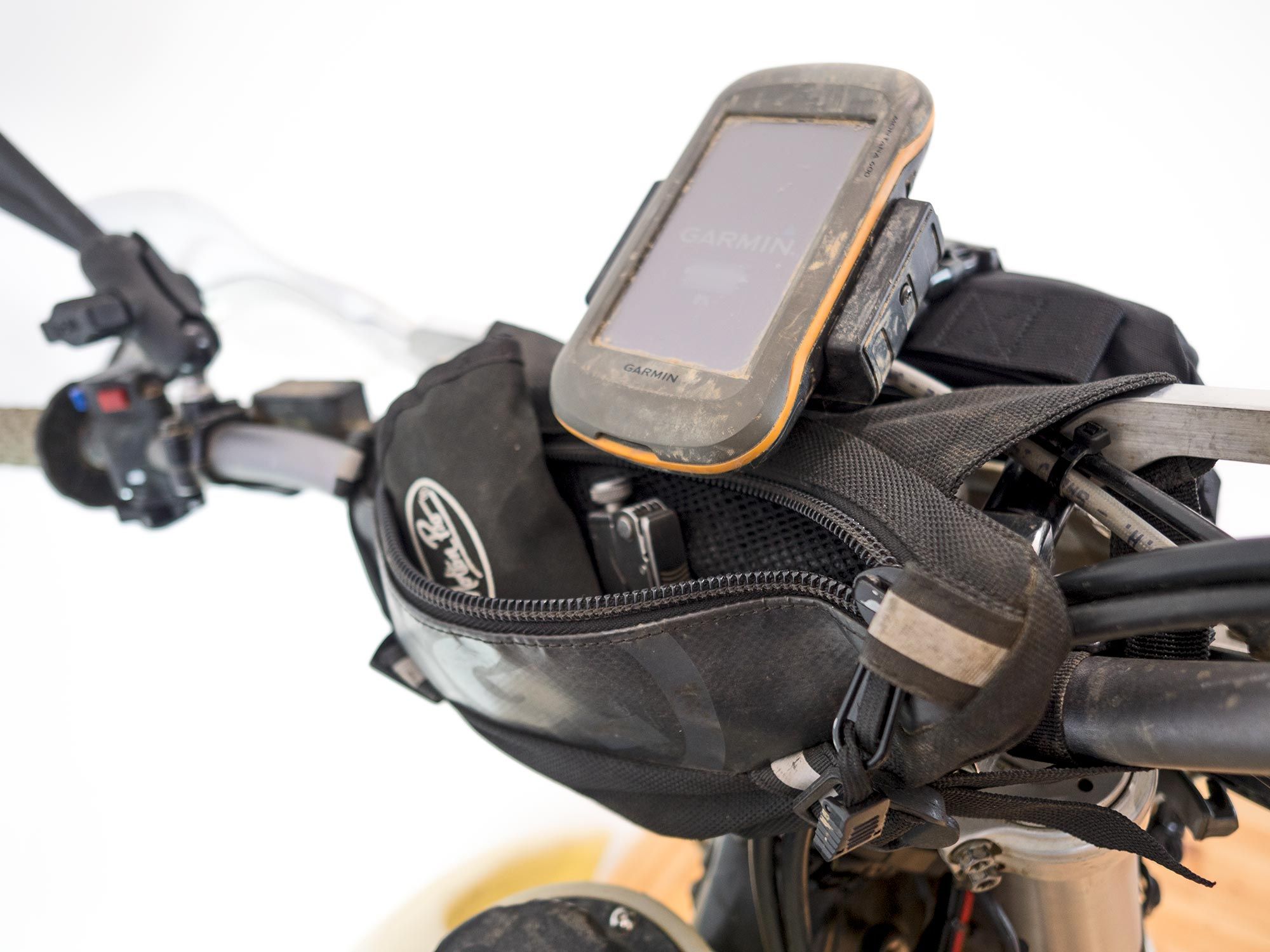 Garmin Montana 600
Solid and reliable. Time and again this tops the list of 'what's the best GPS for trail riding'. I believe the newer models come better equipped for 'Tom Tom' style directions as well as the standard OS Map route finding. I adapted the wiring from the Ram Mount to the battery by adding a quick seal connector so I can easily unplug the whole thing from the bike.
Giant Loop Zig Zag bag
I normally use this to keep tools in whilst in my Kriega US-5, but for this trip I've put it on the bars where it belongs. I've got a Motion Pro Trail Tool in there along with a Leatherman Crunch. I figure these are my most versatile tools so best keep them handy. I need to chuck some zip ties in there.
USB Socket
Filming the journey is going to be a key part of this trip. I'm running a GoPro, Olympus Tough, Panasonic GH5, DJI Spark Drone and an iPhone. That's a lot of juice! This USB is wired into the bikes battery and will be used to charge up a Zendure power bank whilst riding, which I will then use to charge gear overnight.
It's zip tied onto my Ram Mount Arm simply because I couldn't find anywhere else to put it!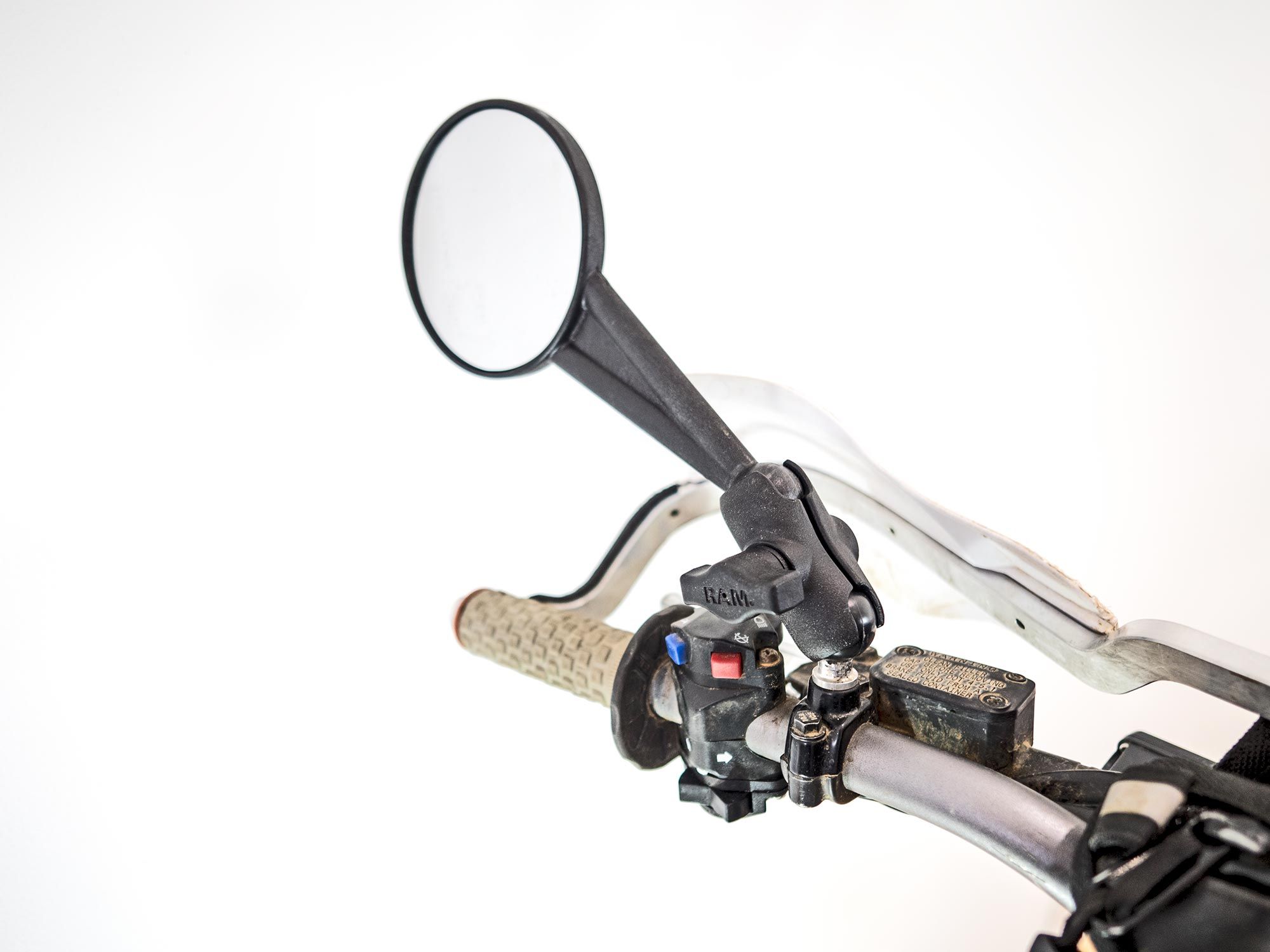 Double Take Mirror
I normally don't ride with a mirror in the UK. My bike tends to spend a lot of time on the floor. This TET trip will take us to new lands where we'll be riding on the other side of the road so I figured it wouldn't hurt to know what's behind me.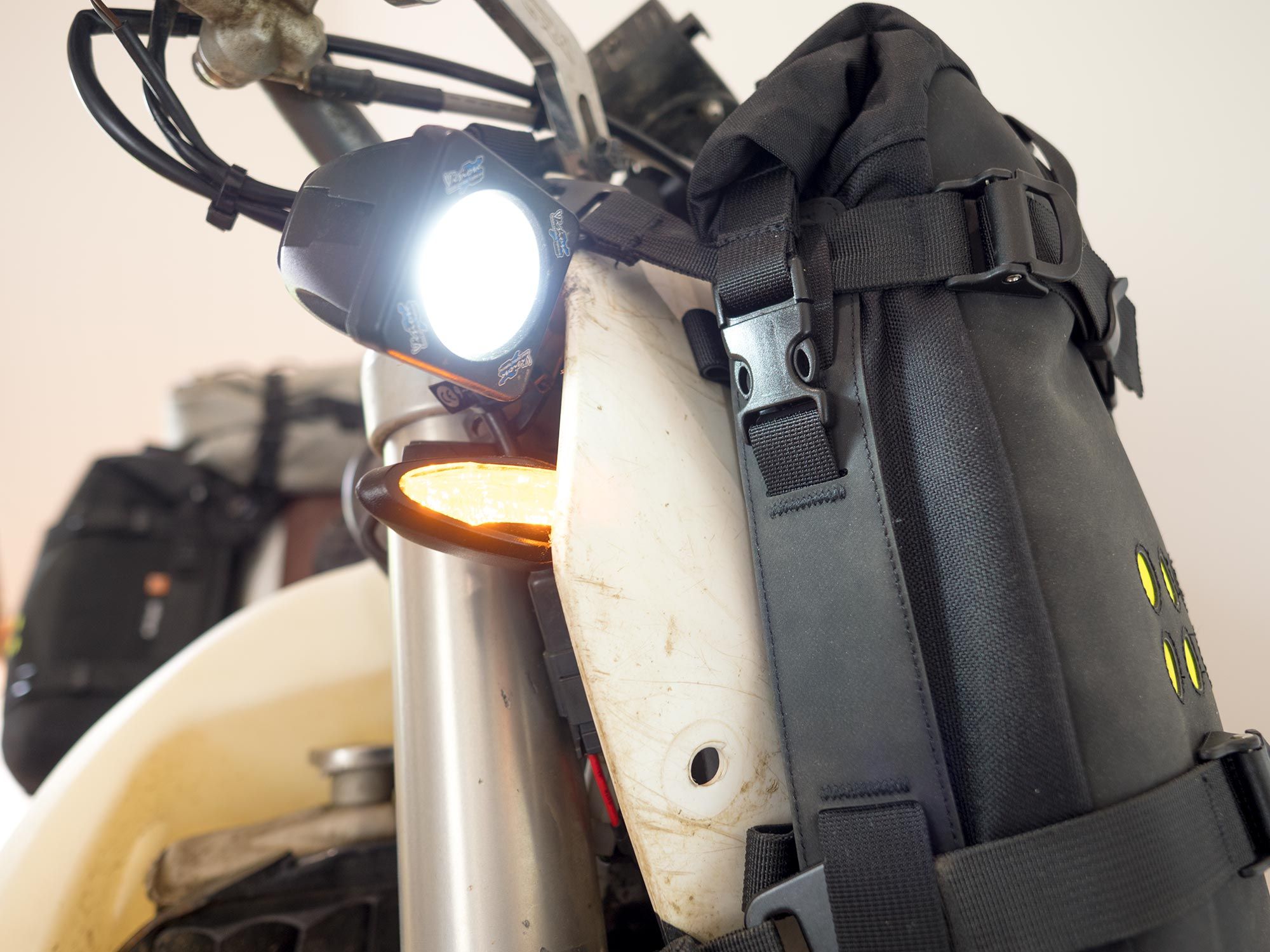 Vision X Solstice LED Lights
You may have noticed that I've got a bag covering my front headlight. Probably not the best idea if riding at night... unless you've got an alternative. I'm using Vision X Solstice LED lights mounted on the indicator bracket behind the headlight mask. One is a spot and one is wide and they are wired into my main and dipped beam so I can have one or both on. They are a HUGE improvement on the stock KTM light and draw very little current.
LED Indicators
I wouldn't normally run indicators for the same reason as I don't usually use a mirror. But we're heading into foreign lands and I can't figure out what the law is in the countries we are passing through so I figured it worth installing them to save any hassle. Whether they last till we get back is another matter! These are KTM Power Parts ones so I'm hoping they will go the distance. They came with a plug and play resistor so super easy to install.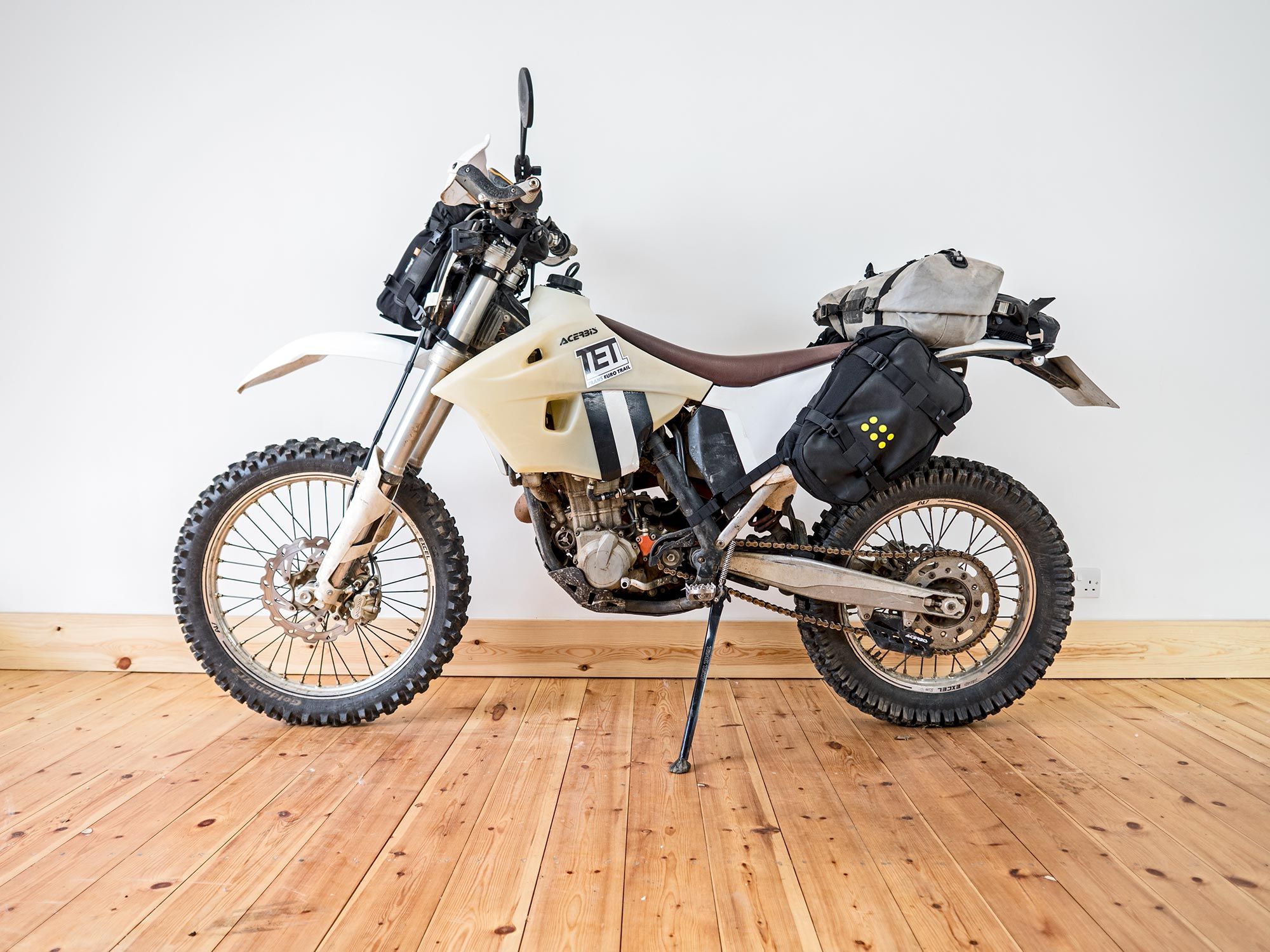 Acerbis 15ltr Tank
The big tank was one of the first things I changed on the 450 for this trip. Largely inspired by the Rolling Hobo's 500 project. The stock tank was 9.5ltrs which gave me about 90 miles before the warning light came on, I think I'll get close to 200miles out of this larger tank. It does change the handling of the bike, it's heavier up front but also feels more planted on the road. You know about it when it's full and you drop the bike though. I'm also mindful that there's less protection for the tank and to puncture the plastic would really spoil your day. I'm going to carry some plastic repair 'goo' on the trip.
ROUND THE BACK
Kriega OS-24 Base Combo
Whilst planning for this trip I tried using an ultralight setup based on a Giant Loop Mojave pannier. Light is great, but it was just too small so I upgraded to a Kriega OS-24 (2 x OS-12s) and the new OS Base. It's a neat modular system and I like the fact that after the trip the panniers aren't just for this bike, I can use them for other purposes. The OS-Base takes a little time to install but once on it's secure. I added a couple of zip ties to keep it attached to the lower plastics and stop some of the flap that is common on these types of rackless setup.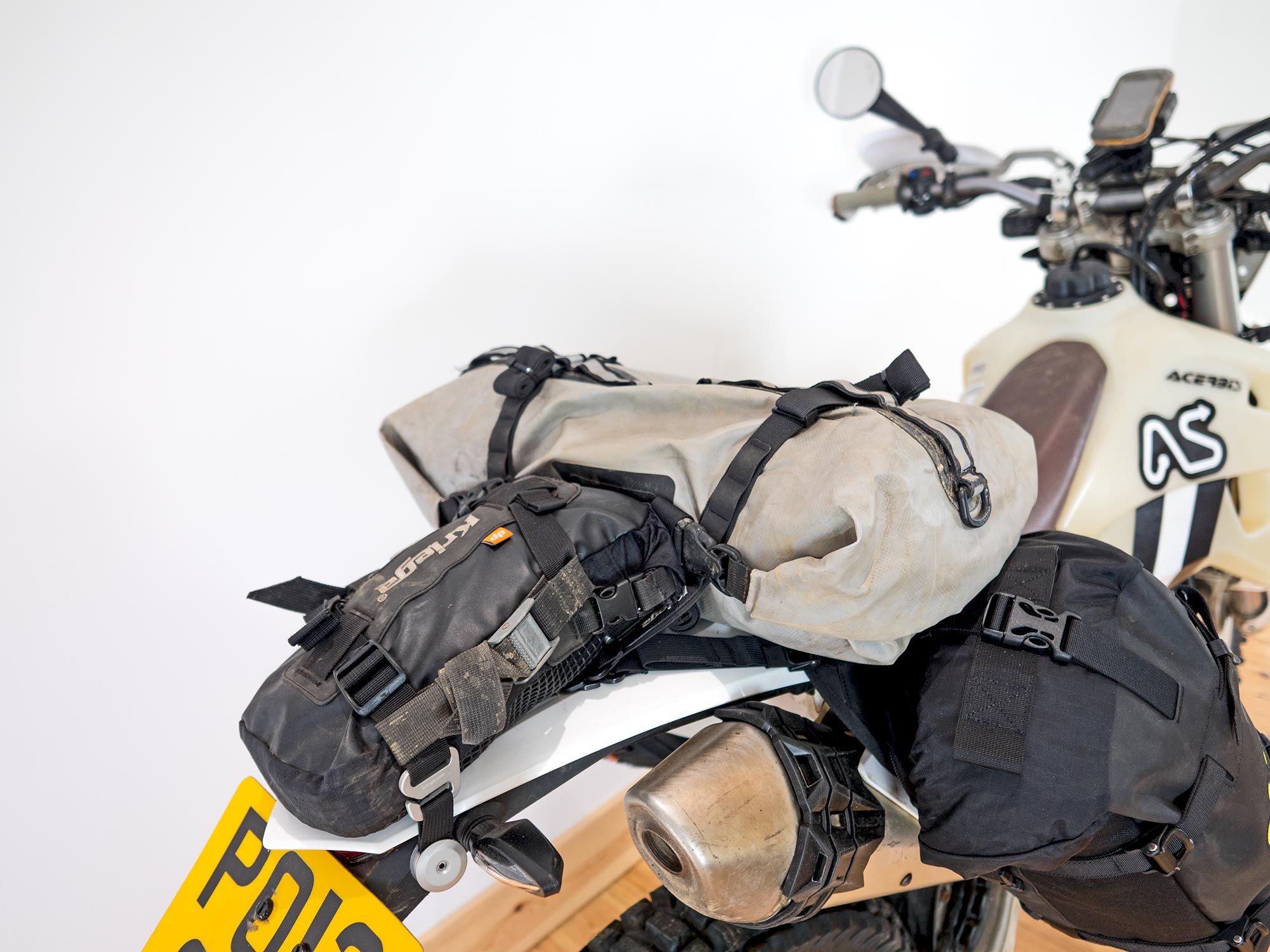 Giant Loop Rogue Dry Bag
The Giant Loop Rogue has the largest capacity of all the bags - 17 litres. I'm using it for everything thats going to get wet and muddy whilst camping so I can keep them away from dry essentials such as clothes and sleeping bag. It's housing my tent, sleeping mat, first aid kit and eventually my cook gear once I buy it. It's strapped to the rack loops with Kriega cam straps.
Kriega US-5
I really rate the little Kriega US-5 packs. They are super versatile and handy. This one has all my tools in it and is strapped to the bike via Kriega rack loops. I like the way it makes the most of all available space on the back of the bike. It's a little heavy so I'm going to keep an eye on it and make sure it doesn't vibrate loose.