Super Shirt
---
The Supershirt is a lightweight moto baselayer that protects you from both ABRASION and IMPACT injuries. It provides CE AA protection in an incredibly light and unobtrusive package. By wearing your motorcycle protection next to your skin it gives you more comfort and freedom on your bike than ever before. Forcefield Level 1 Chest and Level 2 Back, Shoulder and Elbow armour included. The Supershirt will fundamentally change the way you think about motorcycle clothing.
---
TOUGH LIKE LEATHER.
LIGHT AS A FEATHER.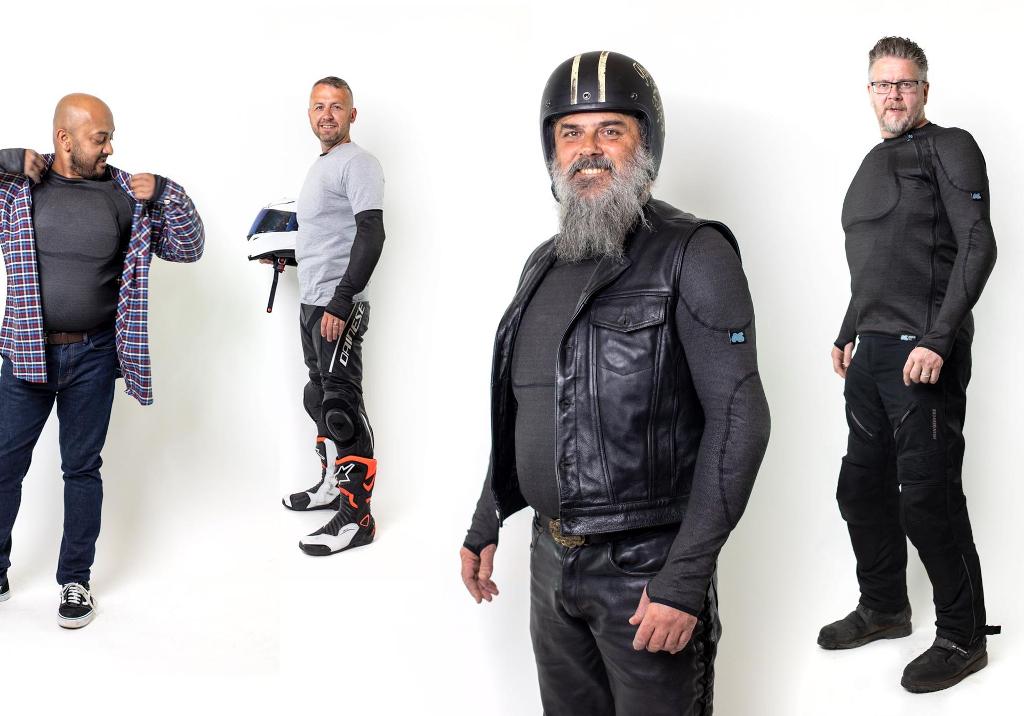 The Supershirt is a lightweight moto baselayer that protects you from both ABRASION and IMPACT injuries. 
By wearing your motorcycle protection next to your skin it gives you more comfort and freedom on your bike than ever before.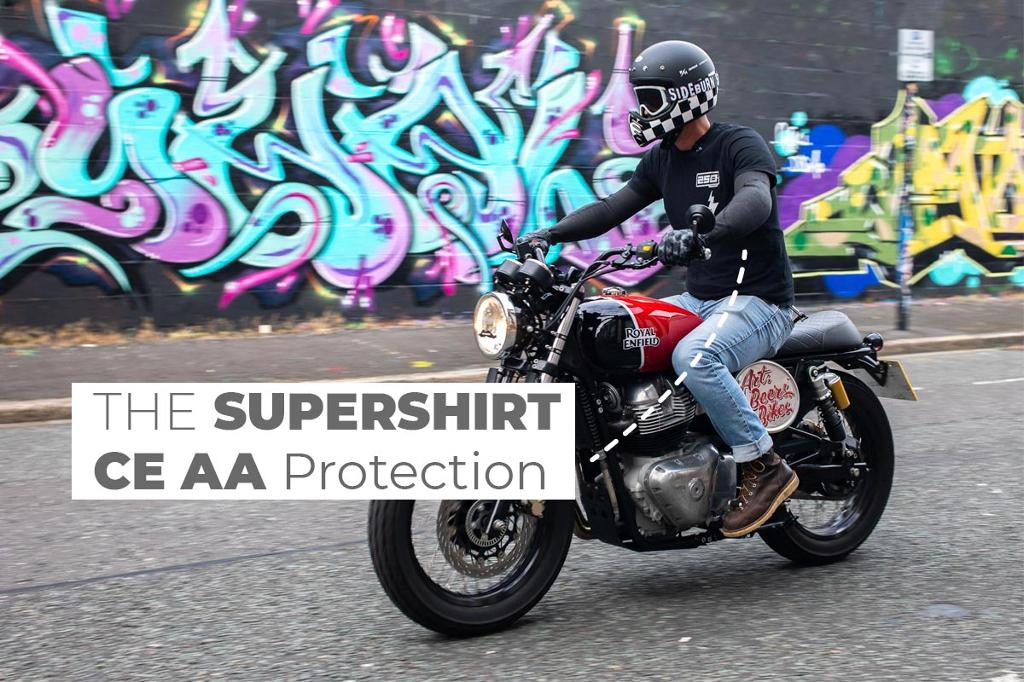 Ride in a Supershirt & T-shirt and be confident that you are as protected as if you were wearing a CE AA leather jacket.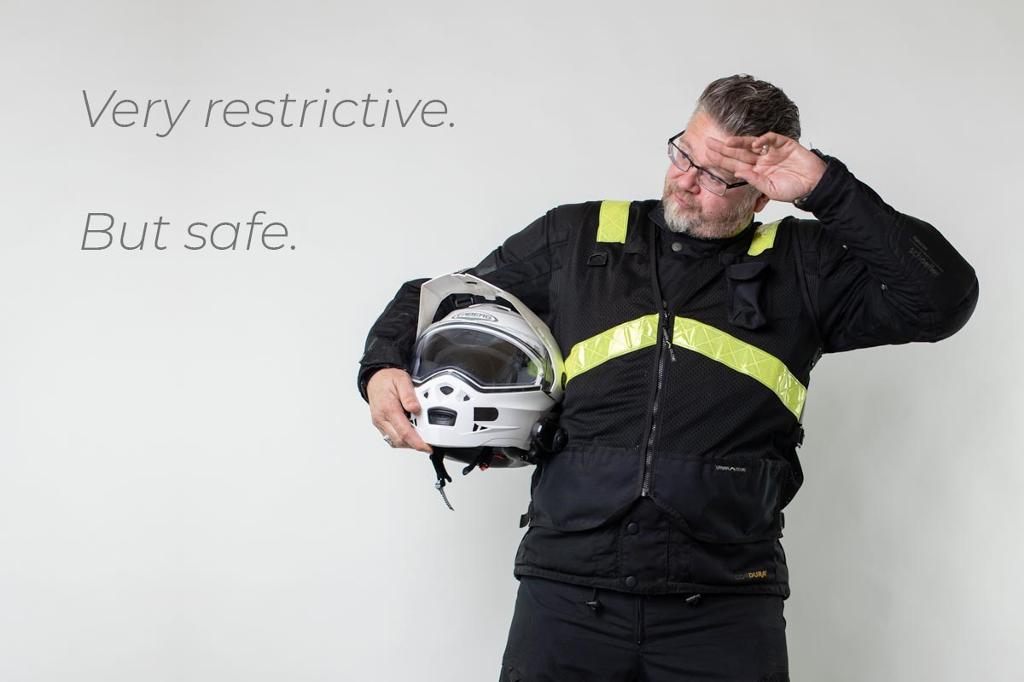 When you ride, do you dress for comfort or safety? 
Maybe you dress for safety. And to stay safe you need to protect yourself from impact injuries, as well as abrasion injuries. 
---
Up until today you had the choice of wearing one jacket that served both these purposes, probably a heavy leather or textile jacket. 
Or maybe you wear an armoured base layer, but that wouldn't survive a slide down the tarmac so you put on that leather or textile jacket over the top.
---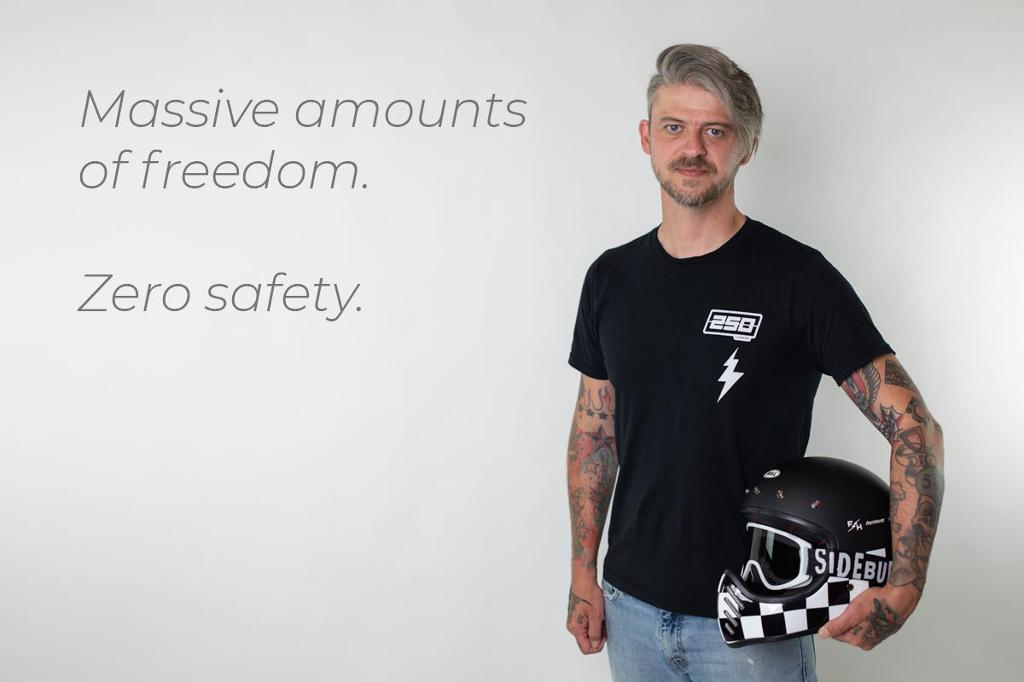 Or maybe you think, to hell with the protection! 
A T-shirt is super comfy, but boy that's a risk. 

---
HOW DOES THE SUPERSHIRT HELP?
The Supershirt gives you a new choice. A safe choice. A comfortable choice. A choice that gives you the freedom to dress however you like for your ride without compromising safety or comfort. 
The Supershirt is a CE AA rated motorcycling shirt that is worn next to your skin as your base layer.
It is constructed from a unique mix of Ultra High Density Polyethylene (UHDPE) fabric that heavily resists abrasion and a nylon blend that provides stretch and comfort. Industry leading Forcefield Level 2 Armour sits in the back, elbows and shoulders, and Level 1 Armour in the chest.  
The Supershirt is light, breathable and unrestrictive to ride in.

---
WHAT THE SUPERSHIRT MEANS FOR YOU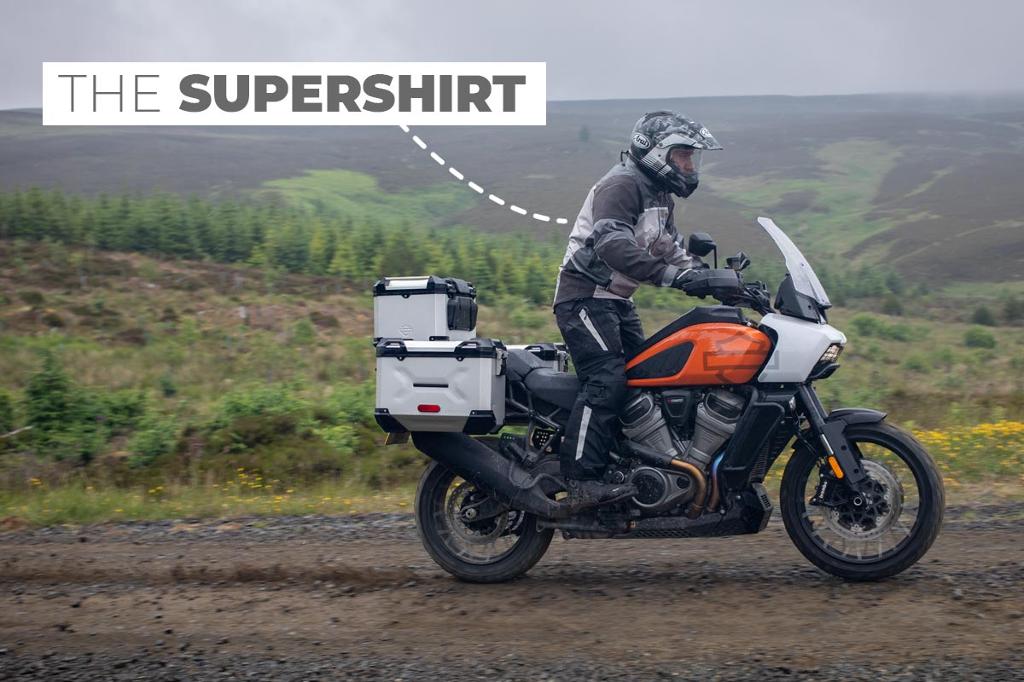 Adventure awaits?

Wear The Supershirt as your baselayer and add or remove layers as required. Cold? Add your insulated jacket. Wet? Add a raincoat over the top. All the safety of a heavy adventure riding jacket but with far more versatility. 

"When I'm trail riding on tricky rocky stuff I get really hot. But you always want that protection you know, in case you fall off.

The Supershirt allows me to strip down when I need to and then put extra layers on top for the road sections. It's really versatile." -Ryan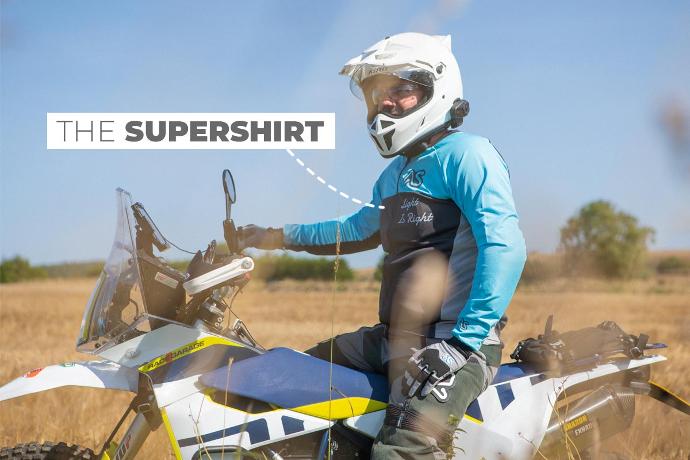 Hitting the trails?

Wear The Supershirt underneath and be free to wear as much warm or waterproof gear as you like knowing you will be protected if you fall. It's highly breathable so does a great job of helping to regulate temperature when you are riding.

"I run quite hot when riding byways so don't like to wear heavy, cumbersome kit, although I want to stay protected. I don't like to look like I've jumped out of a computer game to shoot every mofo I meet on the trail either.

Wearing some of the motx/enduro kit can have that effect, as it can make you look aggressive even if I'm not.

When The Supershirt arrived it was a great fit, cool in summer although still good for layering etc. when it cooled off.

Four weeks ago i'd gone out for a ride locally on byways for 3hrs on a Honda Africa Twin, then switched to ride a new CRF300L to see how that felt, conditions were greasy and while changing across a stoney wide section at around 30mph - I lost the front & down i went fast.

The first thing I knew about the crash was a sharp pain in my right shoulder as I had landed directly on it and then bashed my head - it really rang my bell to be honest.

A couple of days later when I could eventually move about, the first thing after checking the bike was to check the condition of my Supershirt.
I was dreading checking it as I had a serious impact on rough stoney terrain at fast enough speeds, I didn't expect much of the right side to be left intact.

The smile on my face after checking it was from ear to ear, the only marks left were some ripple marks where the cloth gathered although no holes, abrasion gaps or loss of strength in the stitching - fairplay to you all at AS that shirt is amazing and worth every penny..." - Matt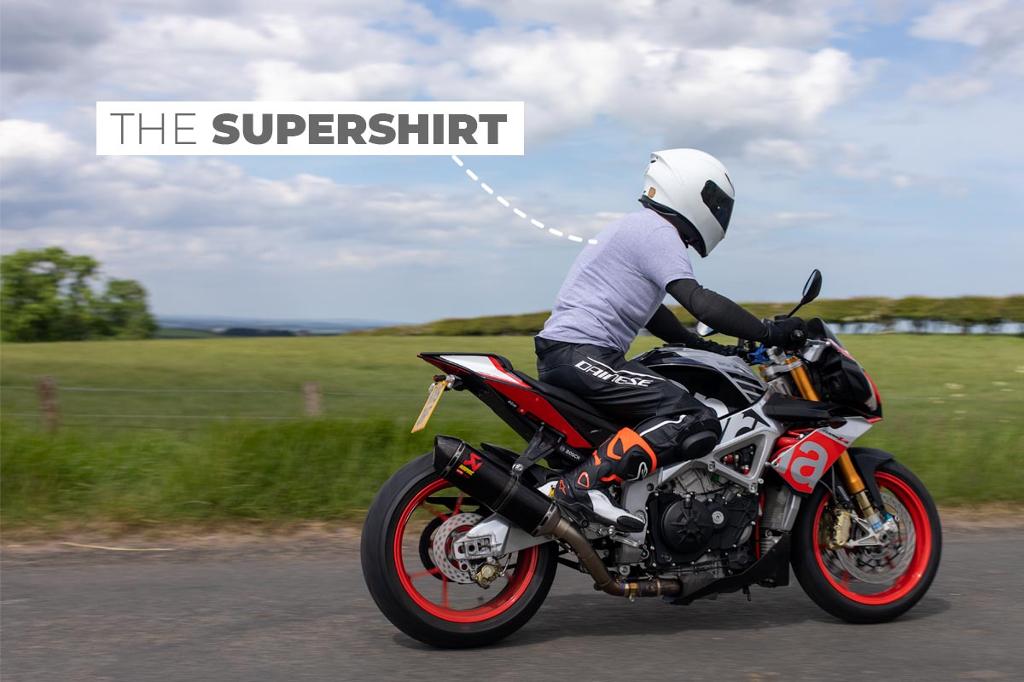 Too hot for leathers?

Wear The Supershirt underneath and you have full CE AA protection should you need it. The UDHPE fabric is light and does not absorb water so is great at wicking sweat away from your skin. 

"The thing with the custom scene is that everyone wants to look just right. The bike needs to look right and so do I when I'm riding it.

What I love about The Supershirt is that no-one knows it's there. I can put on my T-shirt and jacket, ride out to meet my mates and just be fully casual. Winner!" - Chris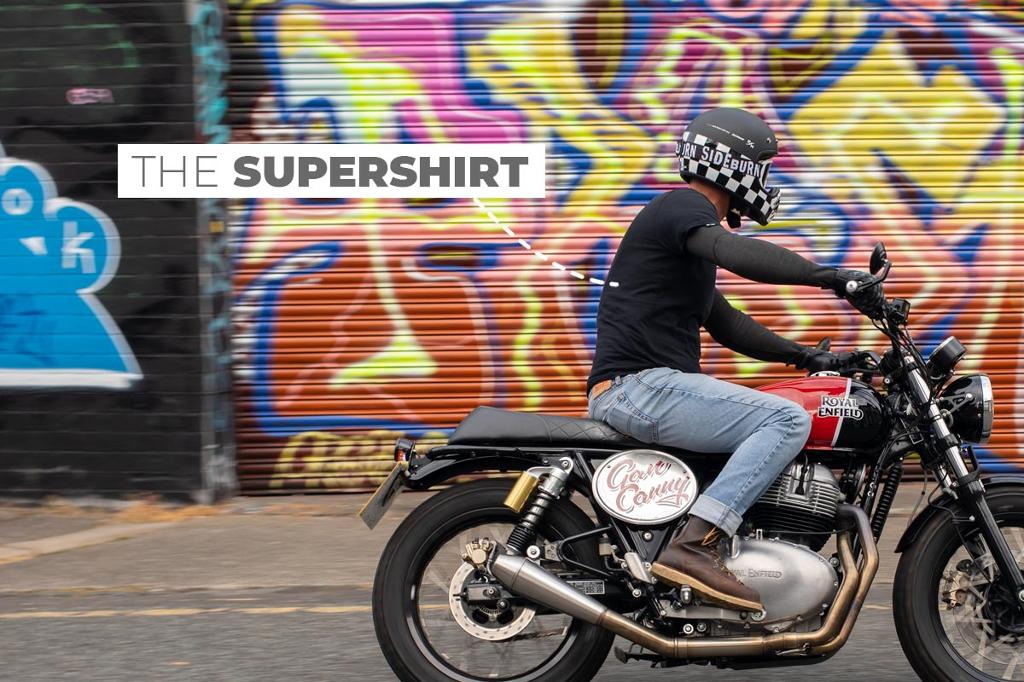 Want to look good on the commute?

Wear The Supershirt underneath your hipster T-shirt or jersey. All the style, without the risk.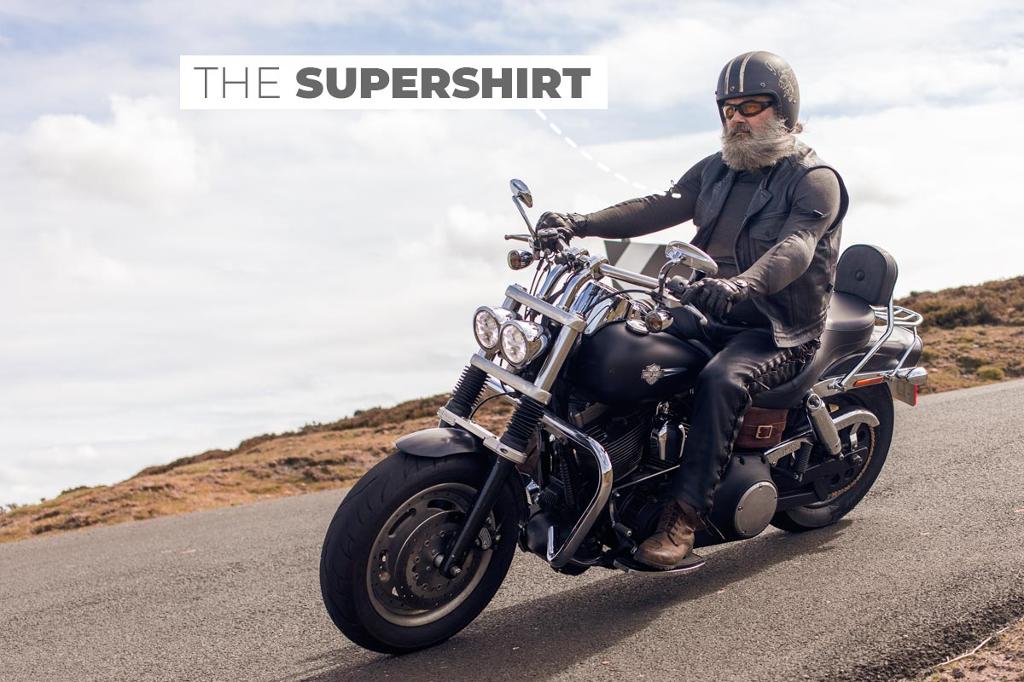 Fancy route 66 like you've seen in the movies?

Wear The Supershirt underneath your leather vest. It does a great job of allowing airflow when you are moving. 

"As a tour guide I am on the road for 8 months of the year. My kit must be durable and flexible.

The Supershirt meets both these needs.

In the heat of the desert I can wear just my leather vest over the top, knowing that I am still fully protected. Yet in the chill mornings or high mountain passes, I can easily layer up with warmer clothing that is light and easy to pack on my bike." - Simon

On a suburban mission?

Wear The Supershirt and whatever the cool kids are wearing on top. 

---
THE SUPERSHIRT TECHNOLOGY
The technology required to create materials that are light, breathable, comfortable and extremely abrasion resistant has been five years in the making. The Supershirt utilises some of the most innovative knit technology in the motorcycle PPE clothing sector.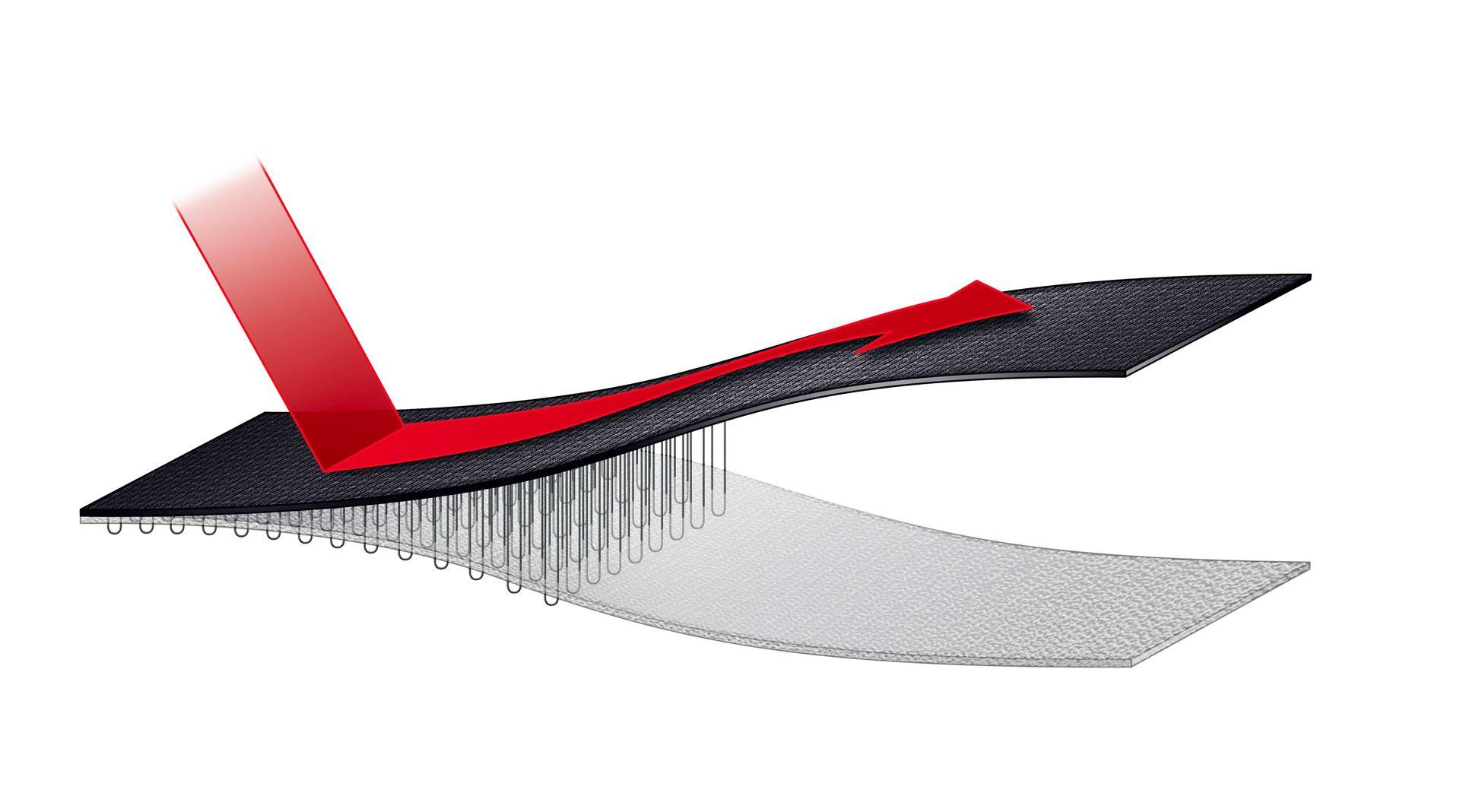 ABRASION PROTECTION & COMFORT
Up to 15 Times stronger than similar weight of steel, Ultra High Density Polyethylene (UHDPE) outer facing threads give a previously unheard of level of abrasion resistance in a fabric of this weight. 

This UHDPE is woven into a blend of nylon 6.6, elastane and silver ion yarns that create an extremely comfortable inner face fabric that can be worn next to your skin. 

The elastane provides a comfortable level of stretch and the silver ion yarns reduce bacterial build up, meaning The Supershirt stays fresher for longer.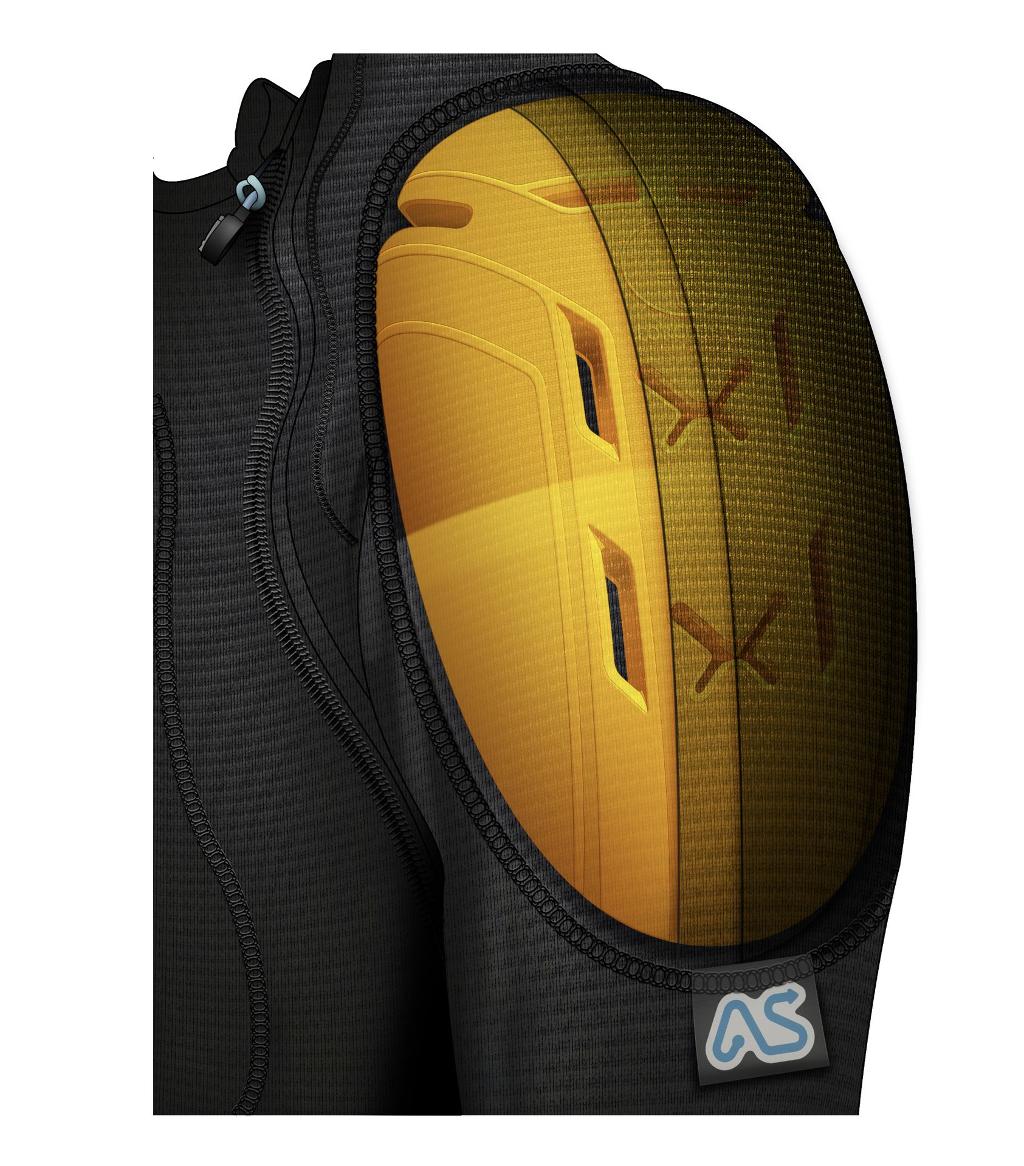 ARMOUR
The Supershirt includes industry leading Forcefield Isolator Level 2 armour in the back, shoulders and elbows. These are held in place by internal pockets and can be removed for washing. 

The chest armour is Forcefield Isolator Level 1 armour, chosen for its balance between protection and bulk. 

The zone 2 shoulder and elbow abrasion areas are all double layered with UHDPE fabric, providing extreme abrasion protection and ensuring The Supershirt meets CE AA certification.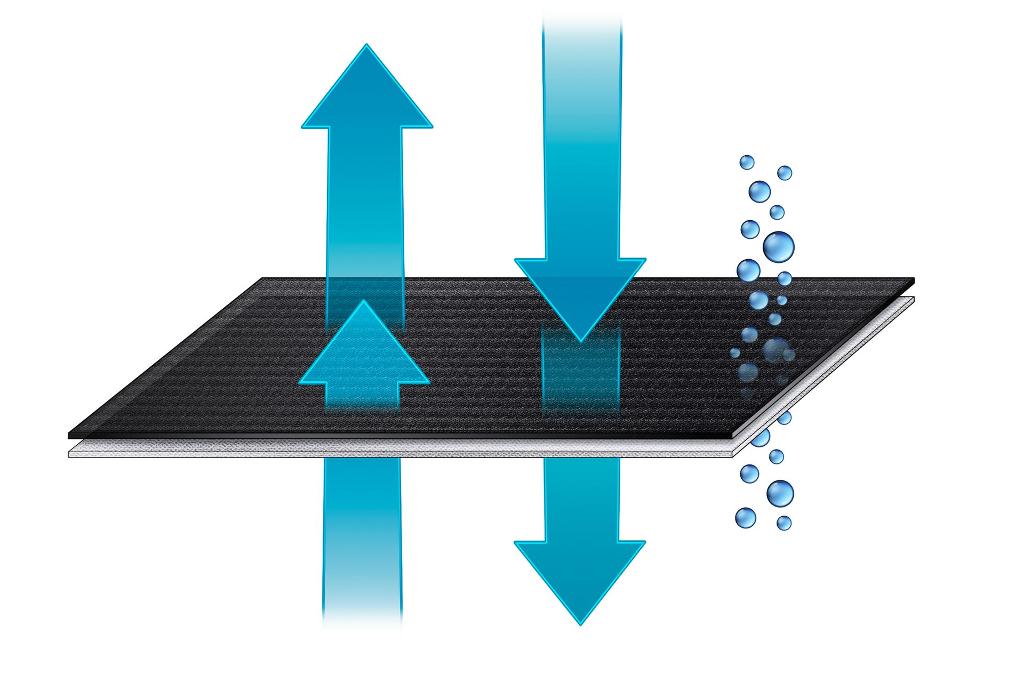 BREATHABILITY
The Supershirt benefits from an open knit material construction that allows air to flow freely through the garment. When you are riding you feel the air flow against your skin. 

The UHDPE material used is hydrophobic, it does not absorb water. Sweat build up passes through the shirt and wicks away. 

The protective outer layer and comfortable inner layer are woven together which means that the material will not delaminate after washing. The Supershirt can be washed without armour at 30 degrees C.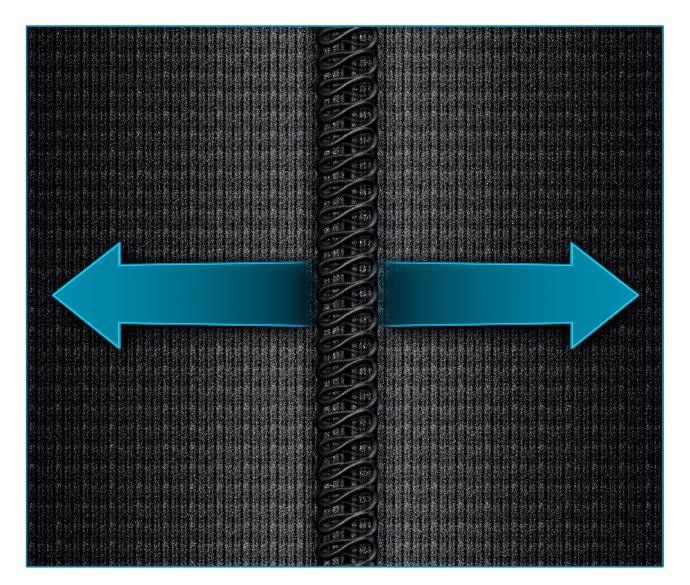 SEAM STRENGTH
All seams on The Supershirt are double stitched for strength and tear resistance. This is a required element for passing CE AA certification. 

---
LAB TESTED
EN 17092 is a new testing standard for motorcycle personal protective equipment (PPE) developed by the European Union and now internationally recognised as a way to compare the performance, fit and environmental impact of motorcycle clothing. Find out more about EN 17092 testing here. 

The testing broadly falls into three areas.

Certified clothing must prove its environmental impact is minimal and proportionate to its intended use, so you can be sure that any certified product you buy is complying with the latest regulations on chemical usage, emissions and the environmental guidelines for manufacturing followed within the EU (even if the product is manufactured elsewhere).

In addition, all clothing is tested for form, fit and armour protection rating* in each size ensuring that there are no obvious irregularities present in the overall design. * (if applicable)

Finally, a number of physical tests are carried out on all garment materials and seams. The outcome of these laboratory experiments are used to 'grade' different areas of the clothing into different performance levels, eventually allowing the customer to see a final overall rating showing the likely range of protection each clothing piece offers. 

The safety ratings available are AAA (highest), AA, A, B, C (lowest).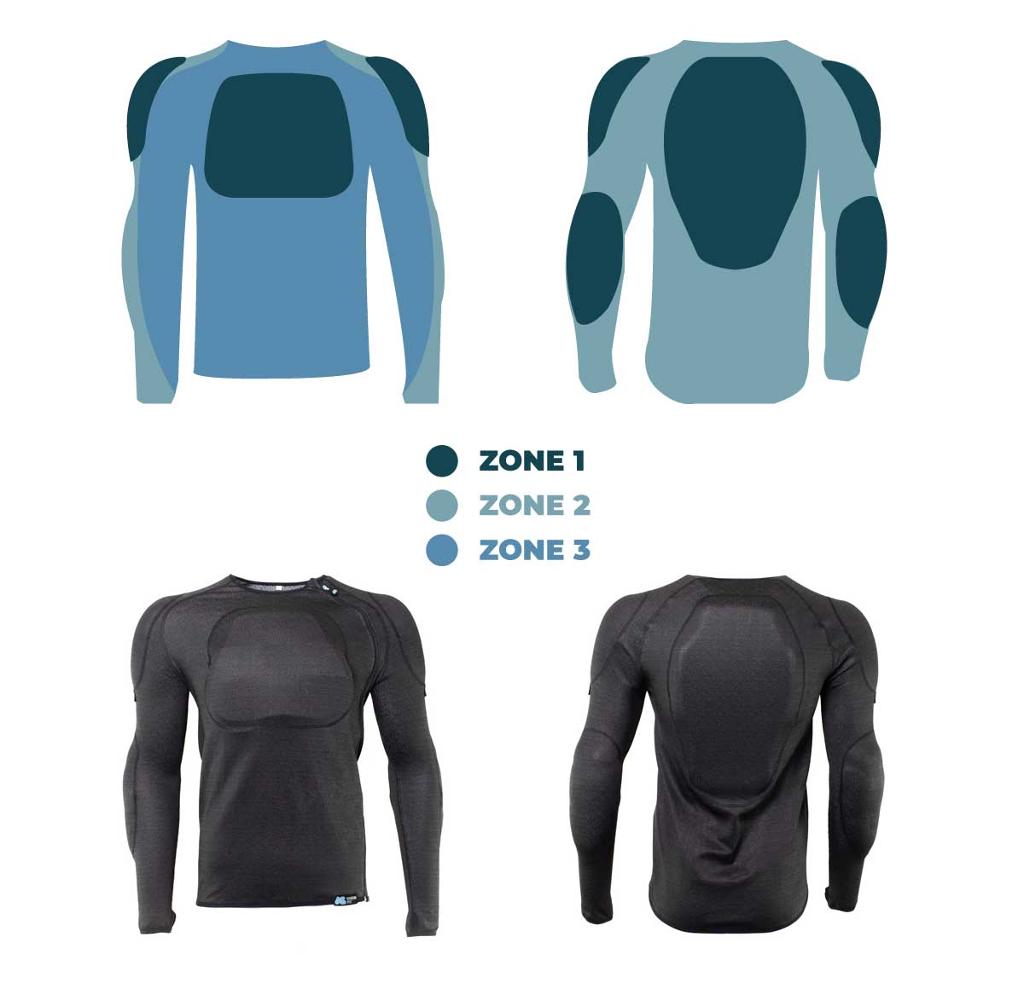 The Supershirt passed all seam and tear strength tests to CE AAA standard for the entire garment.
It passed to CE AAA standard for abrasion tests in all Zone 1 areas.
It passed to CE AA standard for abrasion tests in Zone 2 areas.
It passed to CE AAA standard for abrasion tests in Zone 3 areas.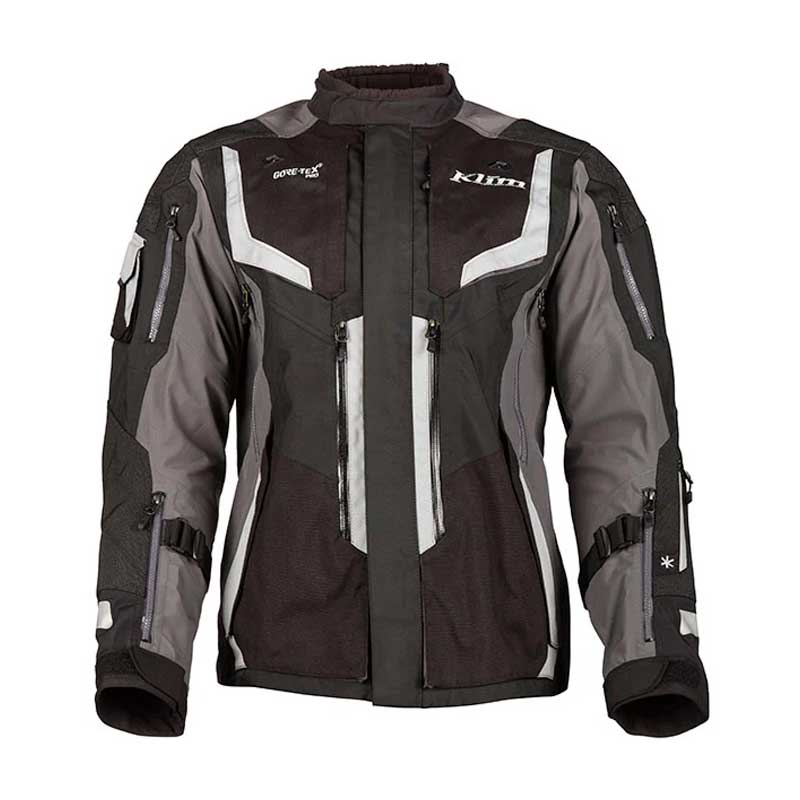 Klim Badlands Pro - CE AA Rated Motorcycle Protection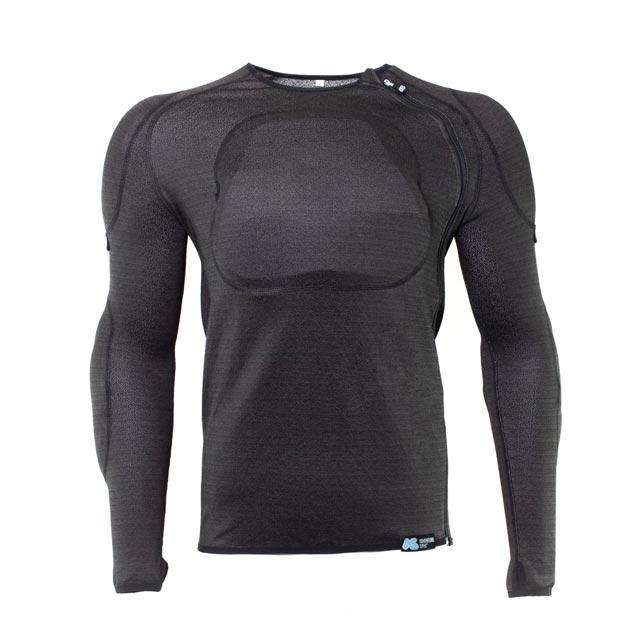 Adventure Spec Supershirt - CE AA Rated Motorcycle Protection
---
CRASH PROVEN
Lab tests are great, they give you the consumer the confidence that what you are choosing to wear to protect you has been thoroughly tested. We are super proud to have achieved CE AA with The Supershirt. 

But what happens in a real world crash? How does The Supershirt perform if you actually fall off your motorbike? 

There really is only one way to answer this question. 

We hired a stuntman to ride a motorcycle at 40mph and then fall off.

This is what happened...
---
HOW DOES THE SUPERSHIRT FIT?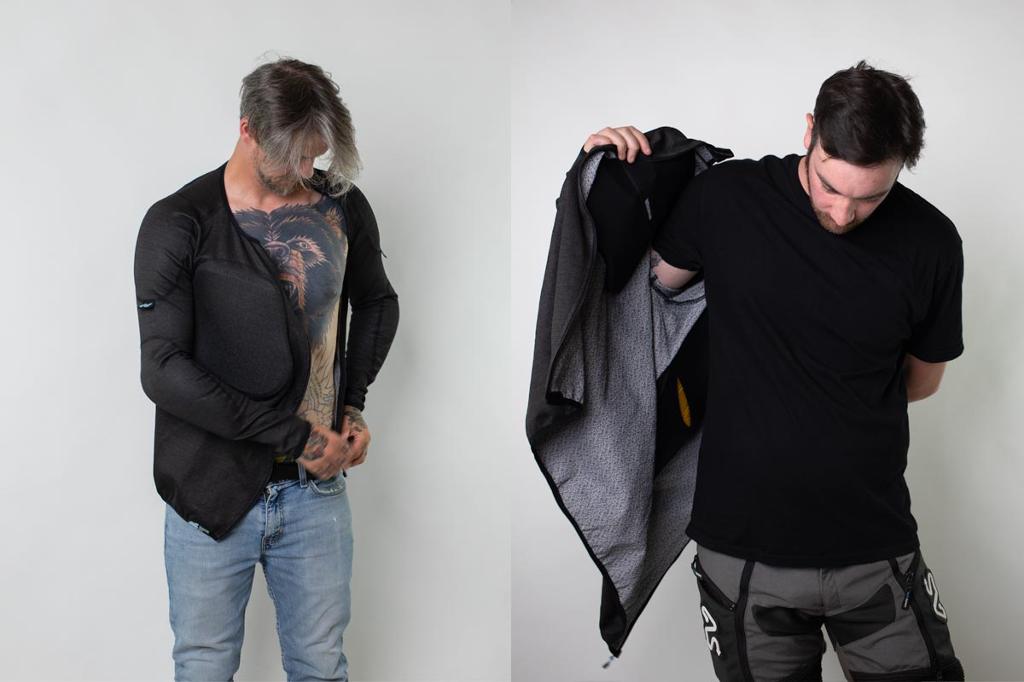 The Supershirt can be worn as a base layer, or a lightweight jacket. 

You can wear it next to your skin, or with a T-shirt underneath it.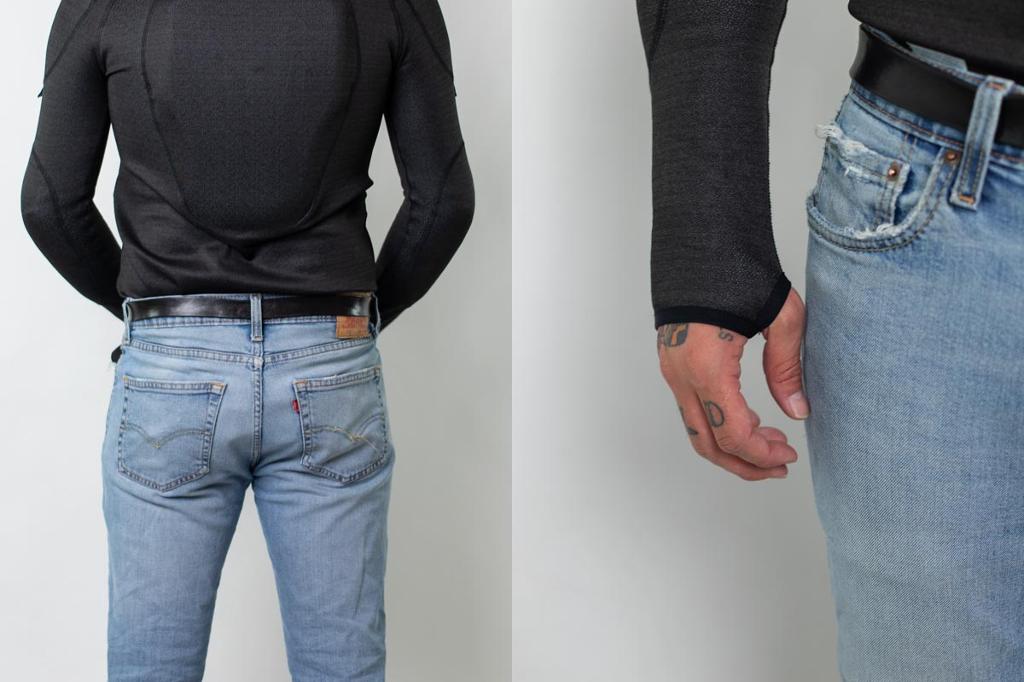 The UHDPE / Nylon material has some stretch so it's designed to be a snug fit. This helps prevent the armour from moving around.

There are thumb loops in the cuffs of the sleeves. Putting your thumbs through these prevents the sleeves from rolling up if you crash.
The cut of the Supershirt is long. This feature allows you to tuck the shirt into your riding pants and secure with a belt. The long cut is designed to allow for generous body movement / rotation whilst sitting and standing on the bike whilst remaining tucked into your riding pants.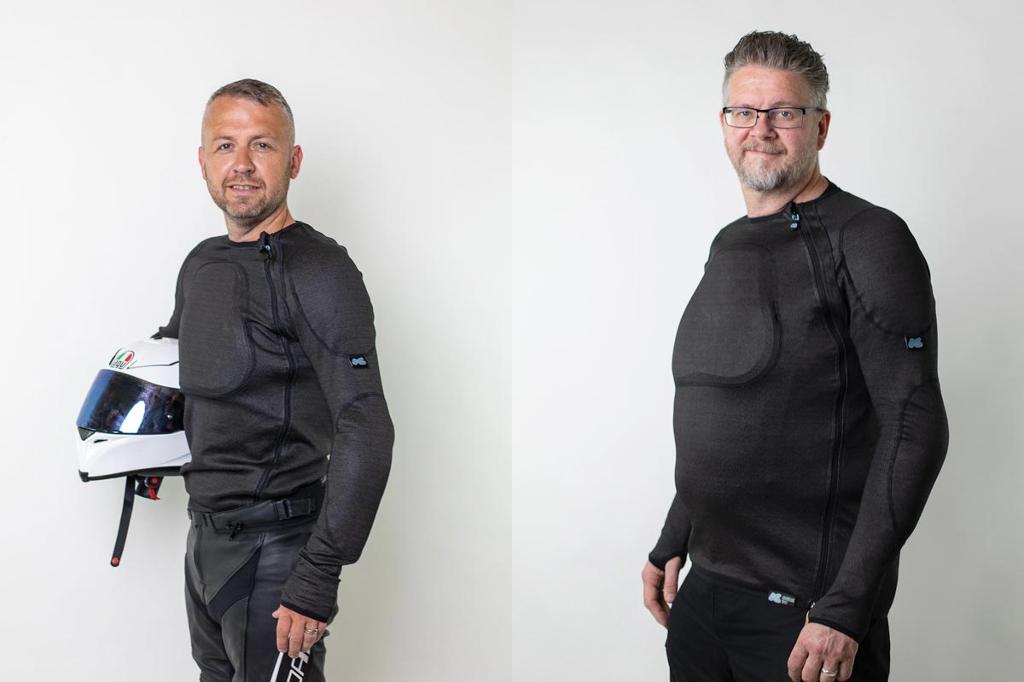 All the Forcefield armour can be removed and the Supershirt can be washed in a cool 30 degree machine wash. 

You must not tumble dry or iron The Supershirt. 

The exterior UHDPE fabric of the Supershirt is smooth and semi silky to touch. The interior nylon fabric is soft on your skin. 

The Supershirt comes in S, M, L, and 2XL sizes.

We asked five riders to explain how The Supershirt fit them on an adventure trip. 
---
THE SUPERSHIRT TEAM
The Supershirt has been designed and manufactured in Europe by Adventure Spec. If you ride adventure or trail bikes the chances are you have heard about us. We have been supplying gear to you for over a decade and are part of the team behind the Trans Euro Trail. 

If your bike is a bit more road and a bit less trail then perhaps you don't know so much about us. 

Adventure Spec was founded in the UK in 2007 by Chris Colling and Dave Lomax. We have over a decade of experience and trust working with riders travelling through some of the most challenging terrain on the planet. You can find out more about us here. 

Our early work with Klim helped to develop the Badlands Pro range of gear.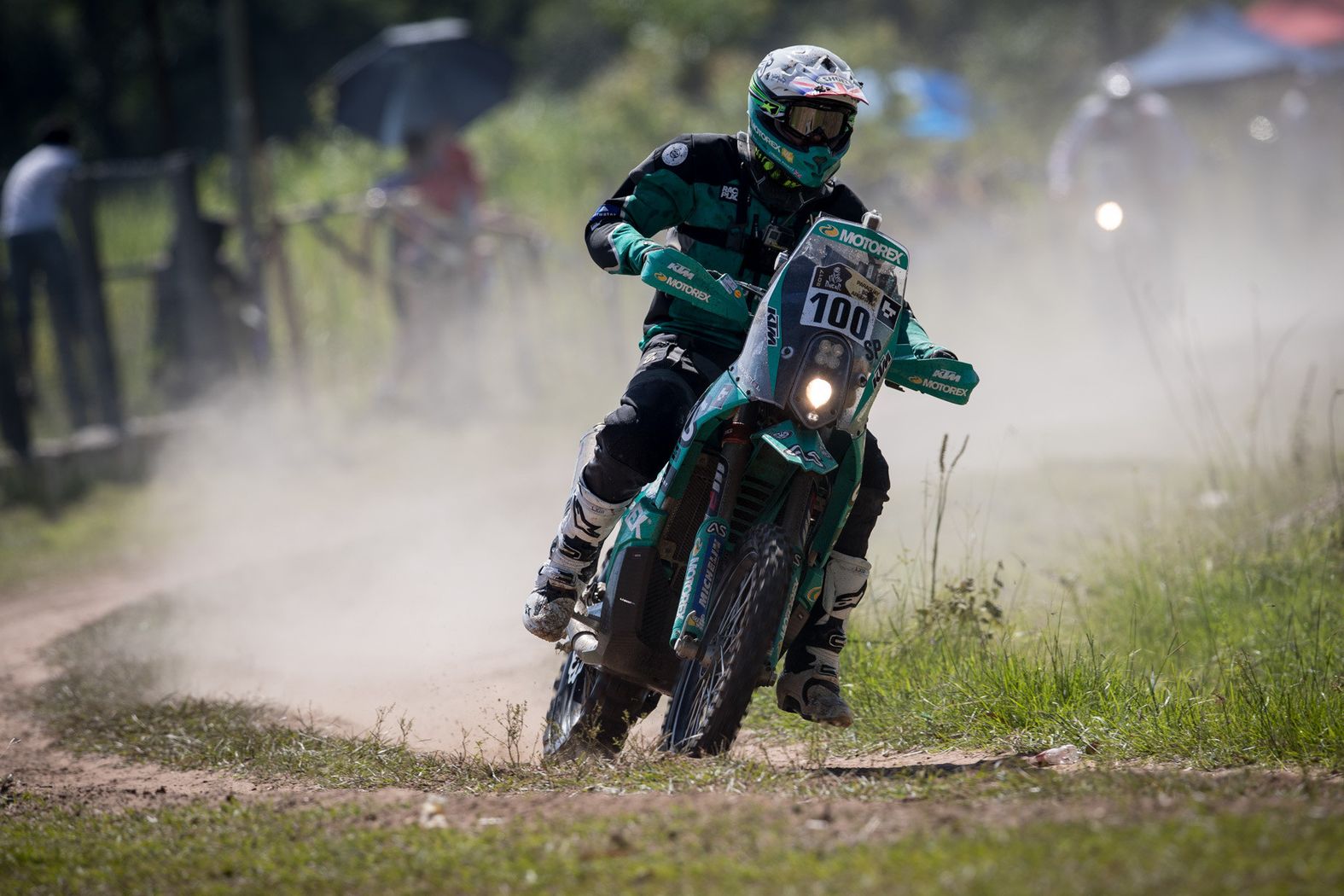 Lyndon Poskitt in Adventure Spec gear during the Dakar Rally


Our work with Lyndon Poskitt helped to develop a revolutionary new range of motorcycle clothing specifically designed to help riders get to the finish line of the ultimate adventure ride, The Dakar Rally. Lyndon has stood on the finishers podium in our gear twice, both having completed the most gruelling Malle Moto class. You can watch the film here. 

Our experience in developing clothing, hard parts and luggage for this sector has come together in the design of the Supershirt. We know what it means to balance safety, comfort, freedom of movement and weight in a motorcycle jacket. 

Our fabric design, manufacturing and supply partners have in depth knowledge of the technologies required to bring The Supershirt to life and most importantly put it through the most rigorous testing process to achieve the highest safety grade possible. 

Over the last three years we have expanded our operations to include warehouses in the UK, EU and USA. When you back this project, your Supershirt will be shipped to you from the warehouse closest to you. 

---