Adventure Spec Magadan Panniers MK3
Adventure Spec Magadan Panniers MK3
---
The Adventure Spec Magadan Panniers strong and waterproof with a capacity of 64 litres (32ltr on each side). Designed by legendary adventure rider Walter Colebatch, they are an overland adventure rider classic. They feature 1000D Codrura fabric and removable dry bags. Large side pockets can accommodate tools or water/fuel bottles. The Magadans are designed to be mounted on any rack system.
---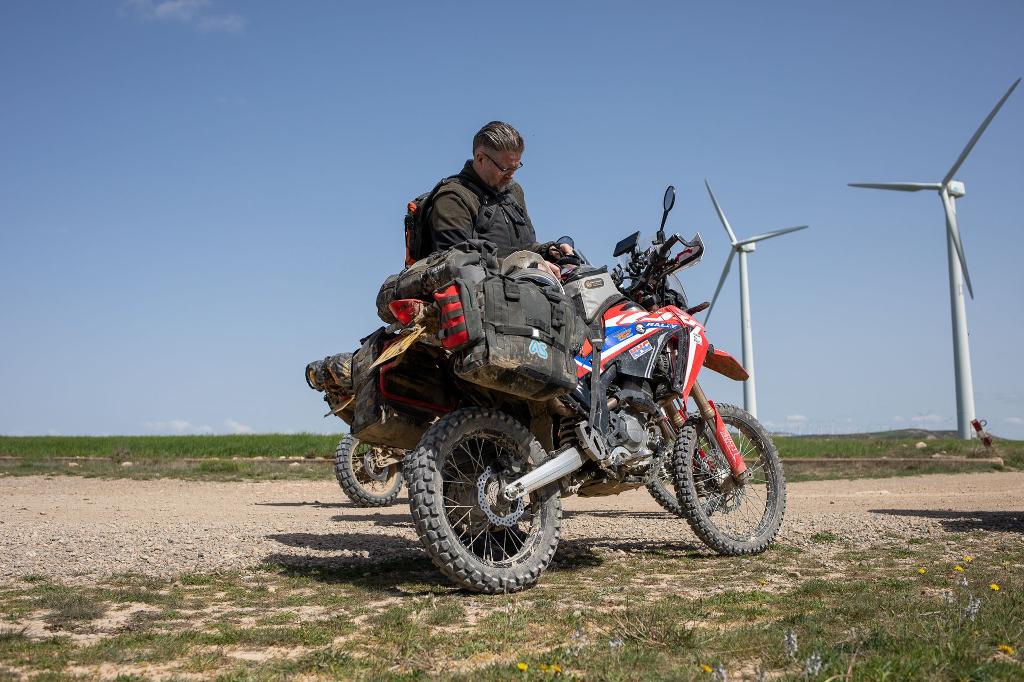 Built for a tough life
Constructed from super tough 1000D fabric (the same as our Atacama & Mongolia Pants) for long life durability.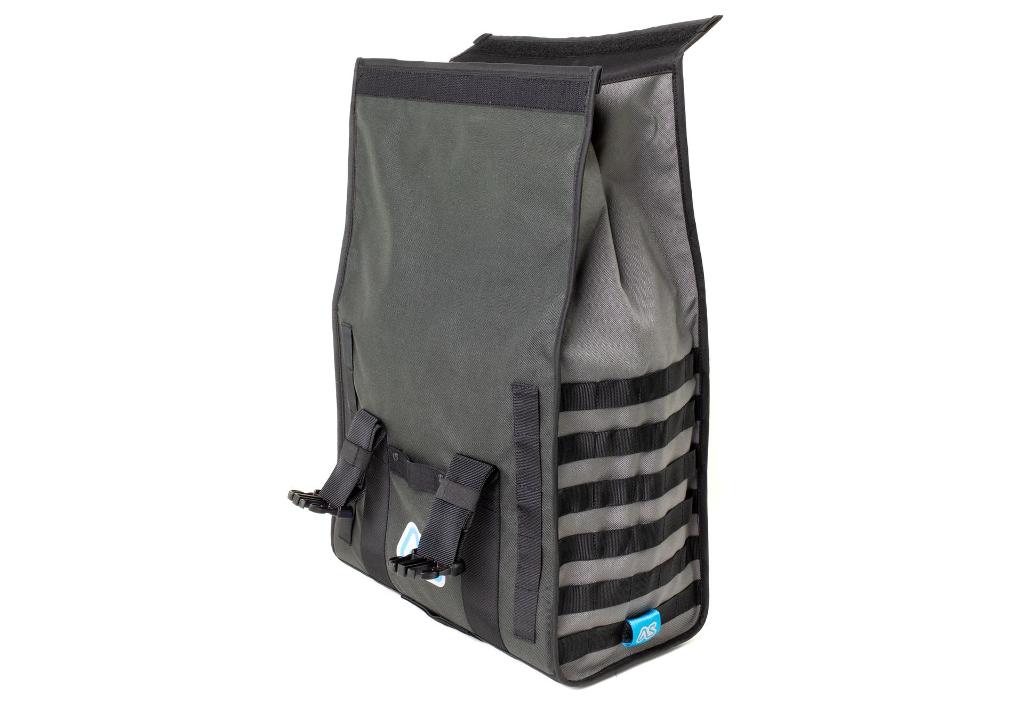 Simple is good
Back to basics simple design that favours ease of use and versatility.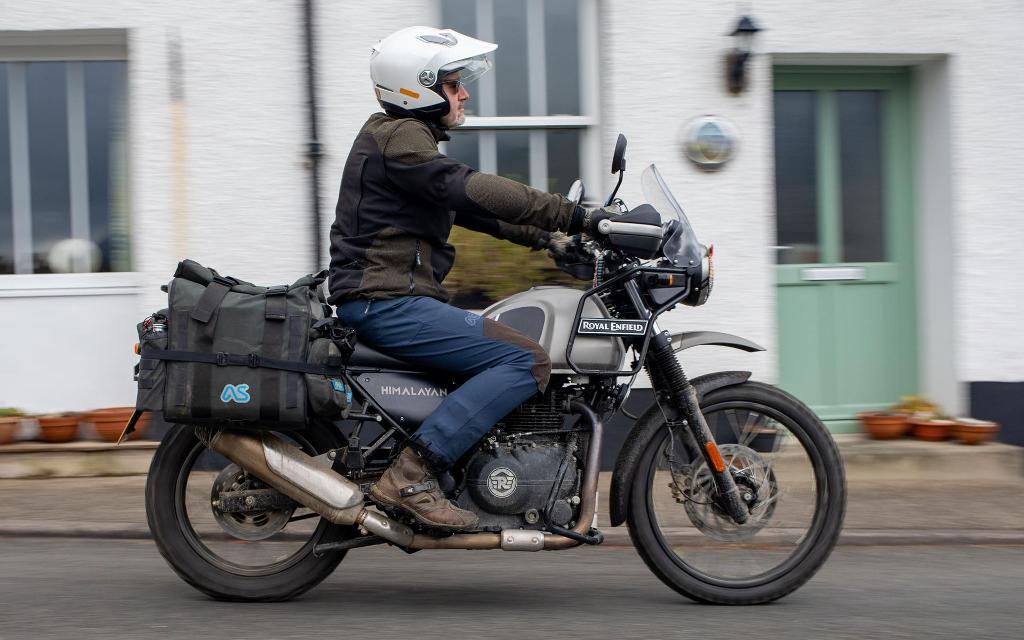 Easy to repair
The 1000D fabric is tough but if it does need attention the panniers can be easily repaired with simple sewing skills anywhere in the world.
Noel wears The Linesman Jacket and Linesman Pant (coming soon).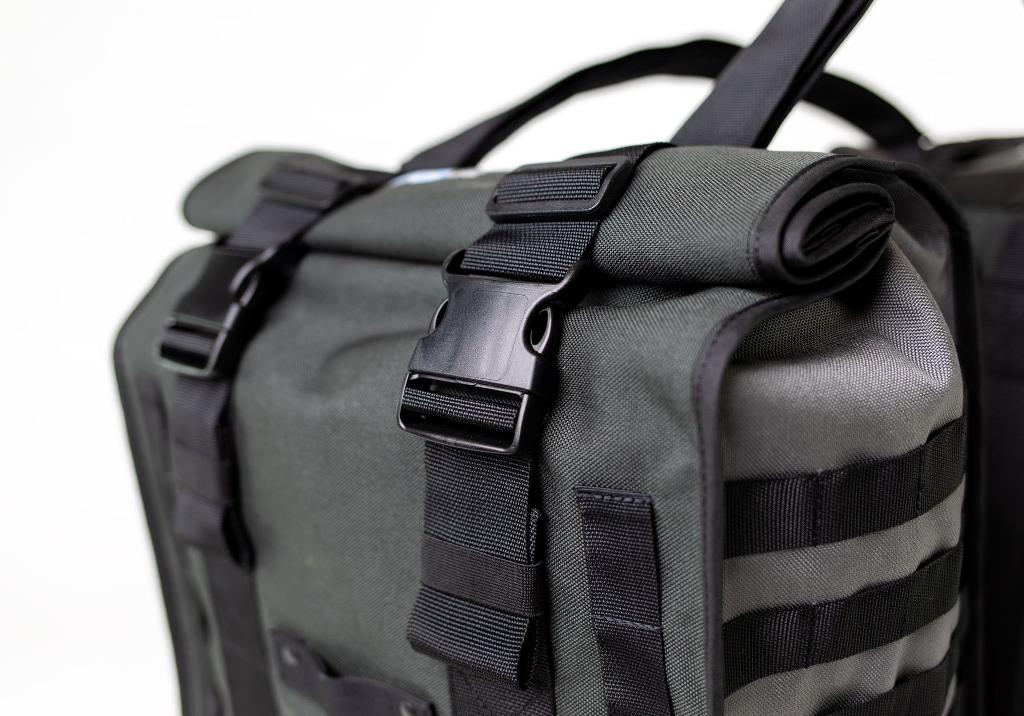 Oversized buckles
The large buckles are designed to be easy to use even when covered in dried mud. They are not stitched into the webbing so can be removed and replaced easily if required.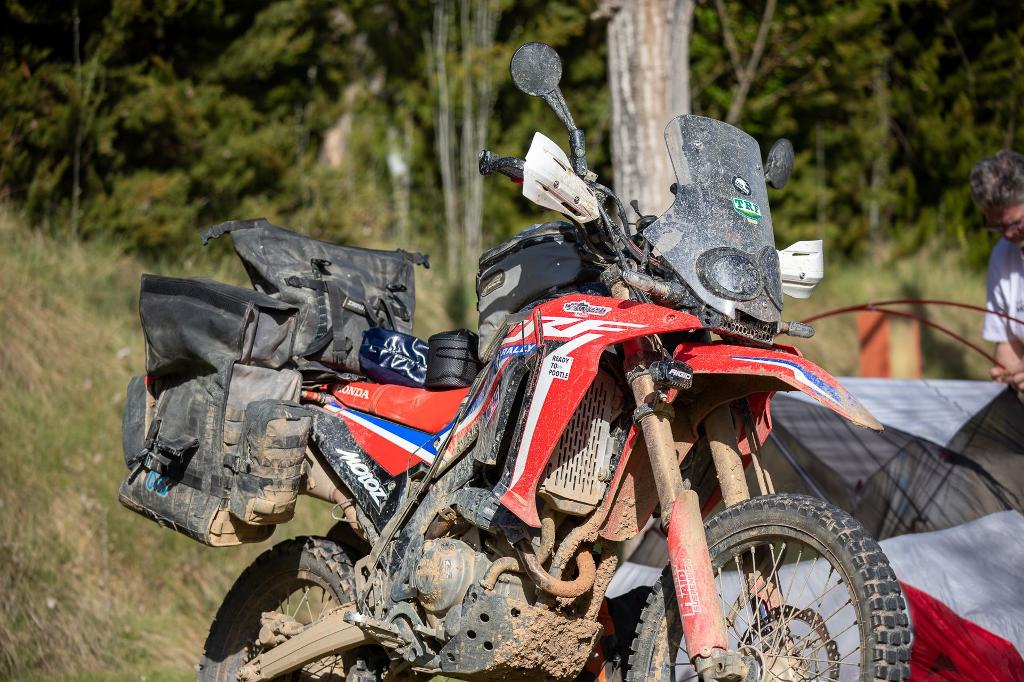 64 litres
The Magadan Panniers are sold as a pair. Each pannier has a 32 litre volume. Total capacity is 64 litres and increase this by using our Molle Pouches.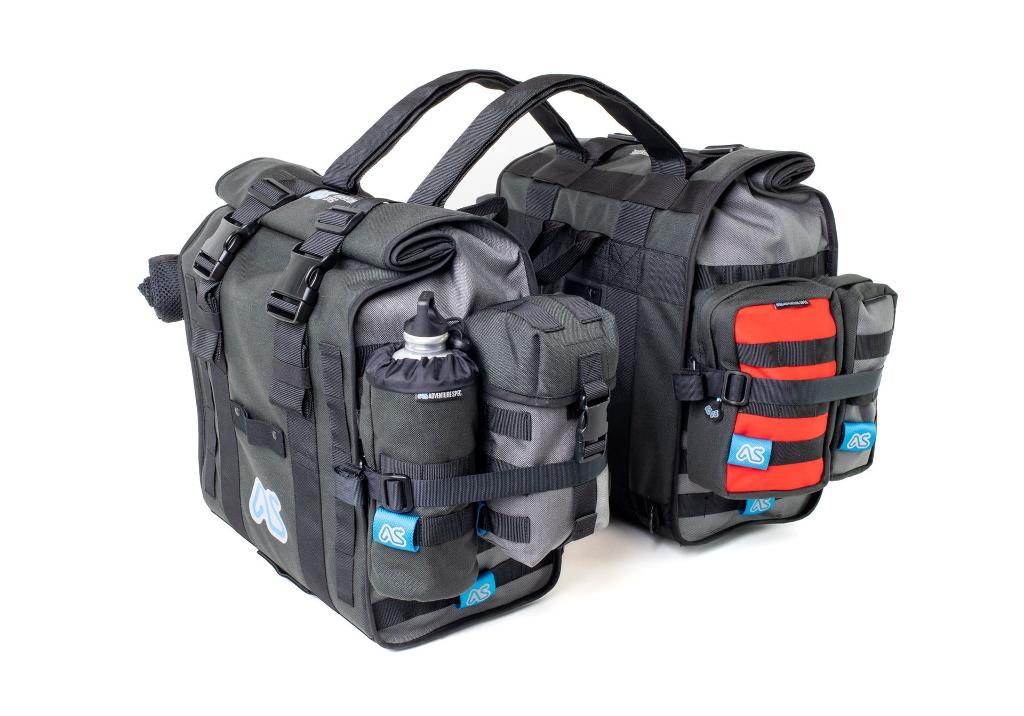 Add Molle Pouches
Molle webbing makes it very easy to add our Molle Pouches and customise your luggage system based on the journey you are undertaking. Keep it simple for a quick overnighter, or add more storage for your Trans Euro Trail and Backcountry adventures.
Special offer - 15% off all Molle Pouches when bought with Magadan Panniers Mk3!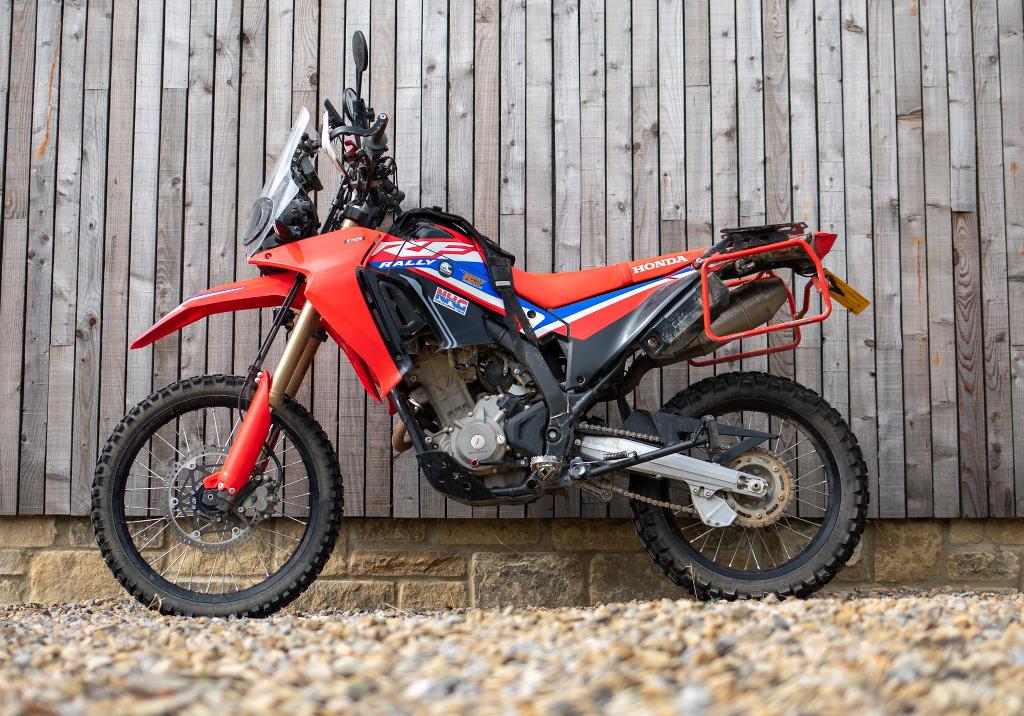 Use racks
The Magadan Panniers are designed for small, mid weight and large bikes with luggage racks.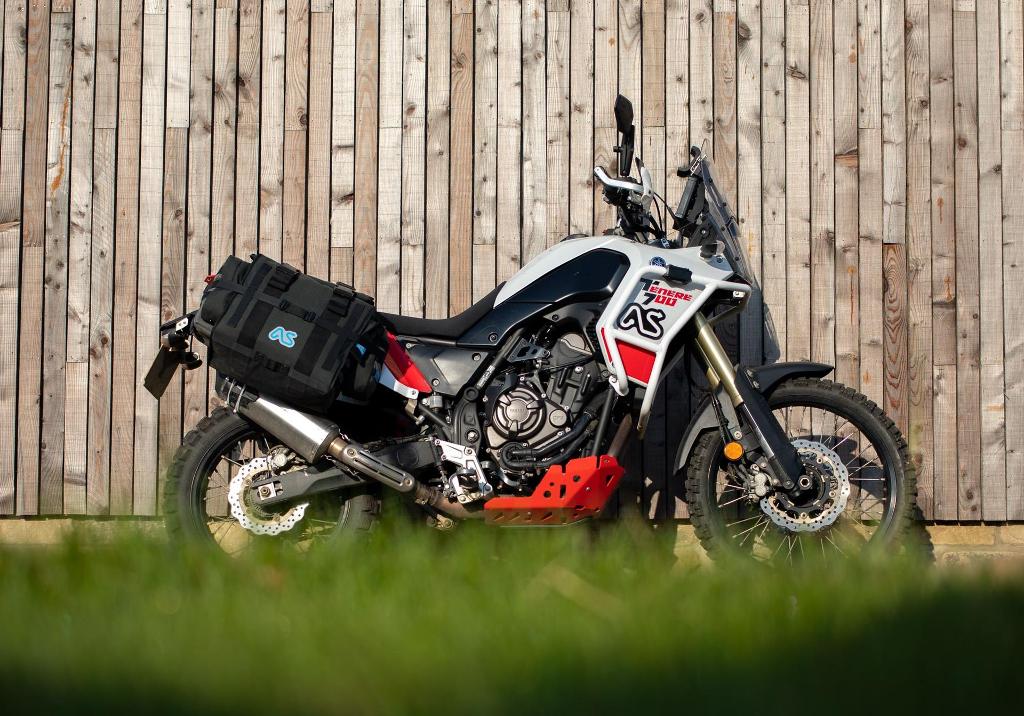 Big bike friendly
Fits perfectly on larger bikes such as the T700 using Adventure Spec luggage racks.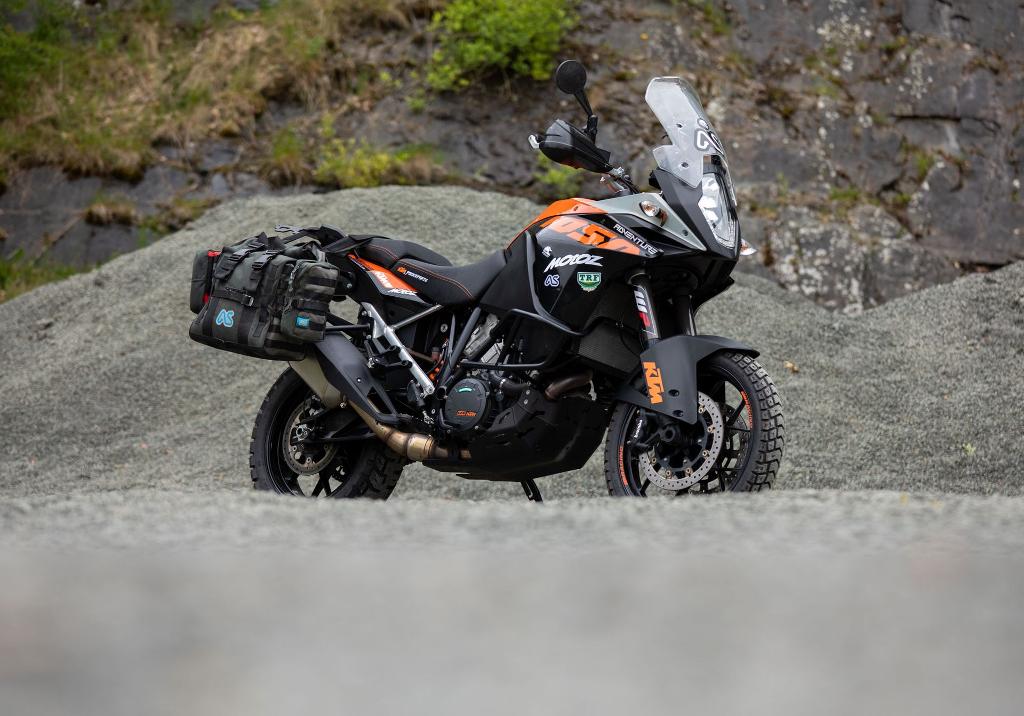 Ready for touring
Everything you need for a long distance road trip.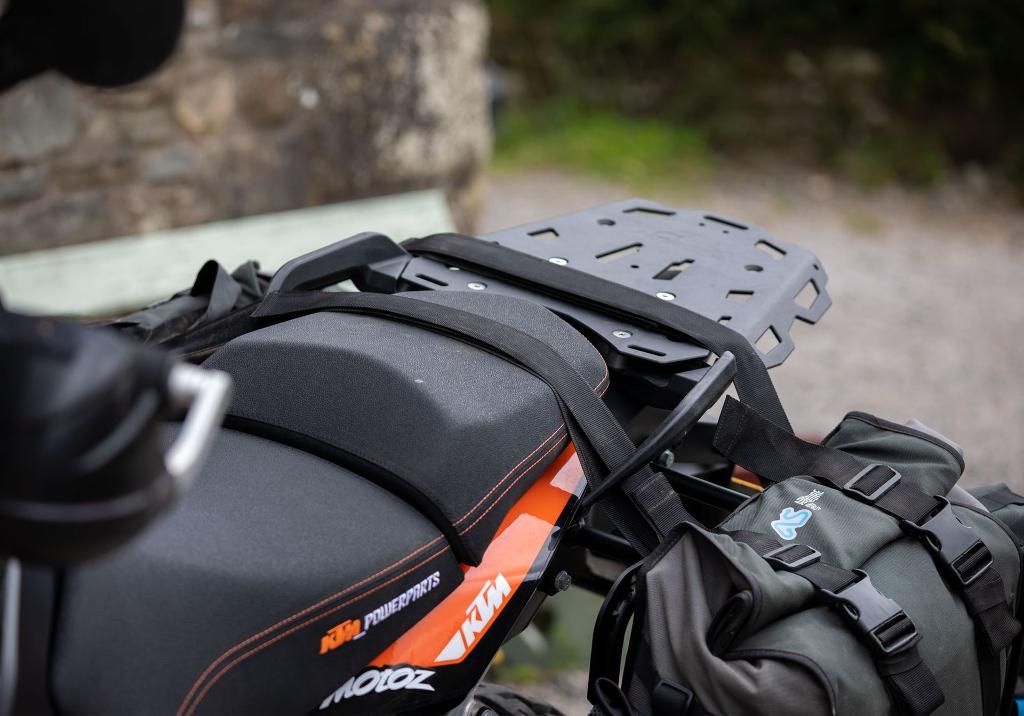 Adjustable width
Large and long saddle straps adjust to the width of your bike.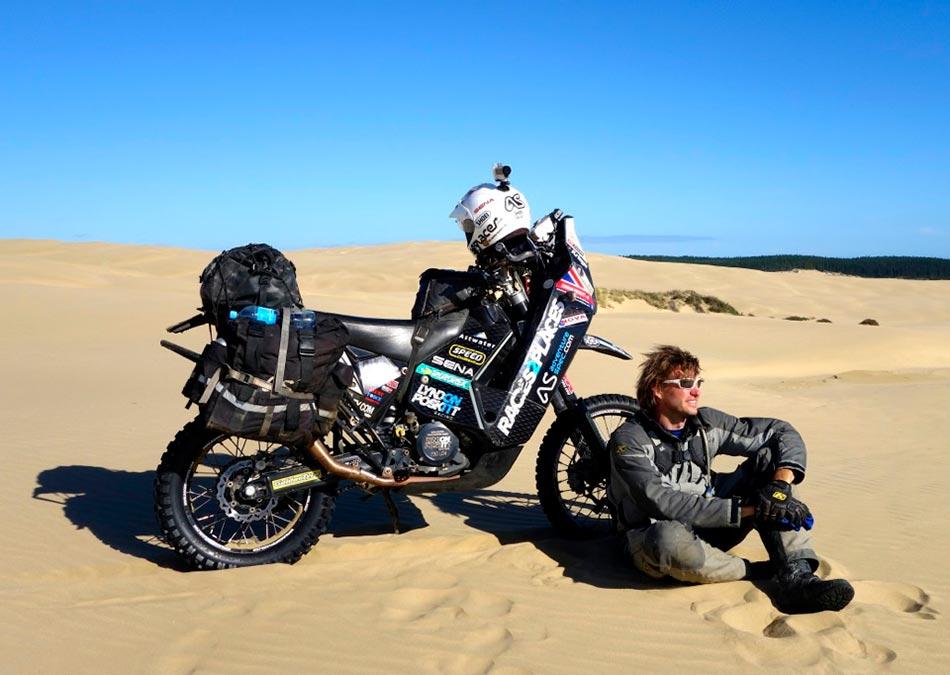 RTW Heritage
The Magadan MK1 was designed by Walter Colebatch over a decade ago and is now in its third version. The panniers have become a RTW classic, favoured by riders on long expeditions that need to be able to rely on and service their gear as they go, including Austin Vince, Chris Scott, Lyndon Poskitt and Heather Sinclair.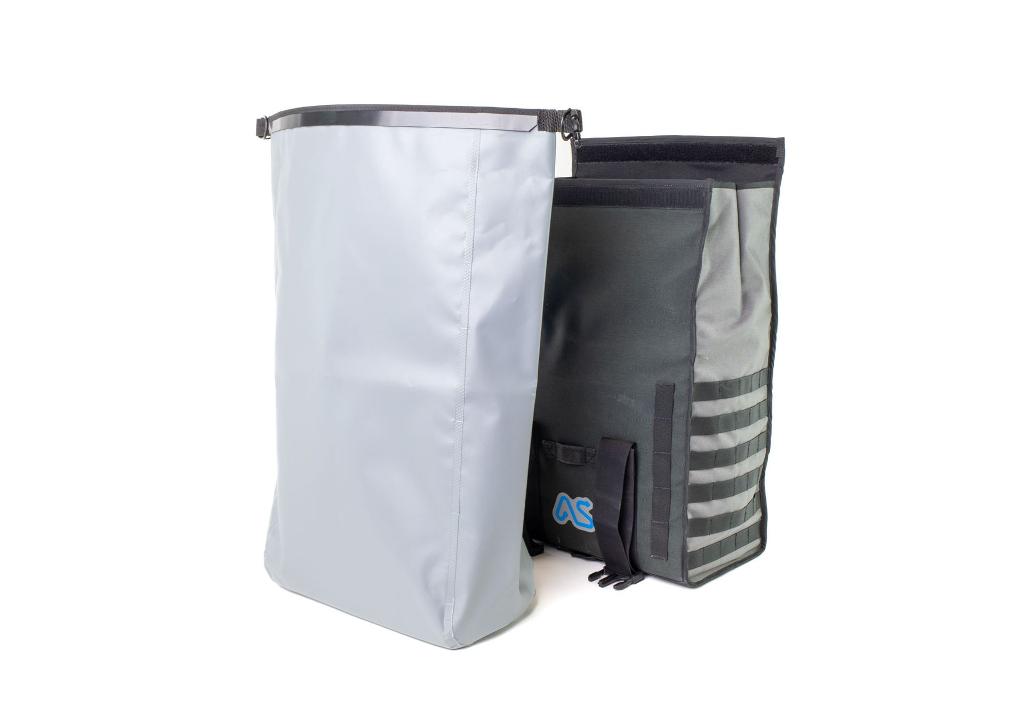 Add dry bags
The Magadan Panniers are very splashproof but not waterproof. Add our waterproof liner or use your own dry bags to add waterproofing. 
Special offer - 15% off Magadan Dry Bags when bought with Magadan Panniers Mk3!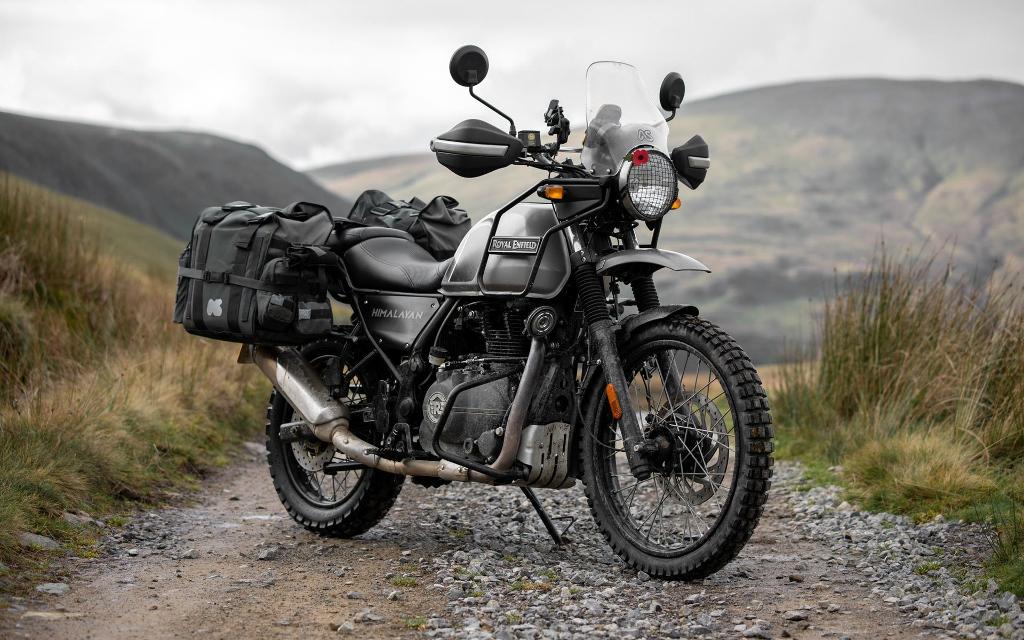 Made in the EU
Manufactured to a high standard in our European factory. 
---
THE MAGADAN PANNIERS ARE A FULLY MODULAR LUGGAGE SYSTEM THAT ADAPTS TO YOUR RIDING
The original Adventure Spec Magadan Panniers were born out of a design challenge created by renowned adventure motorcyclist Walter Colebatch.
"How do I create a set of soft luggage that is properly positioned, lockable, strong, simple and easy to maintain on the road whilst being waterproof with the look of classic luggage?" 
Walter subsequently worked with Adventure Spec to develop and test what has become one of the most popular and acclaimed soft luggage systems for ADV Riders around the world. Time and again riders choose The Magadans for their simplicity and durability.
They don't look high tech or expensive, but for many travellers riding to remote regions that's exactly the point. If they break through wear and tear, you find a helpful local with a sewing machine, fix them and then keep going. 
Truly luggage for the long distance rider. 
This is our Mk3 version of the Magadan Panniers. We've retained the classic styling and simple rugged design but added features that increase versatility. Most noticeably, these new Magadan Panniers now feature Molle webbing that is used throughout the entire Adventure Spec luggage system. This opens up a huge range of options to add Adventure Spec Molle Pouches that can be tailored to your style of adventure riding.  From RTW expeditions to Trans Euro Trail overnighters. 
FEATURES
32Ltr + 32Ltr = 64Ltr total capacity
Tough 1000D Cordura Fabric outer construction
Roll top closure
Throw over fitting designed for any rack system
Molle webbing allows bag to be used with the full range of Adventure Spec Molle Pouches
Reinforced loops for additional security straps (not supplied)
Stiff inserts to create rigidity
Large durable buckles that can be easily replaced if required. 
DIMENSIONS
H 380mm  x W 380mm  x D 220mm
WEIGHT
1570g + 1570g = 3140g
3.46lb + 3.46lb = 6.92lb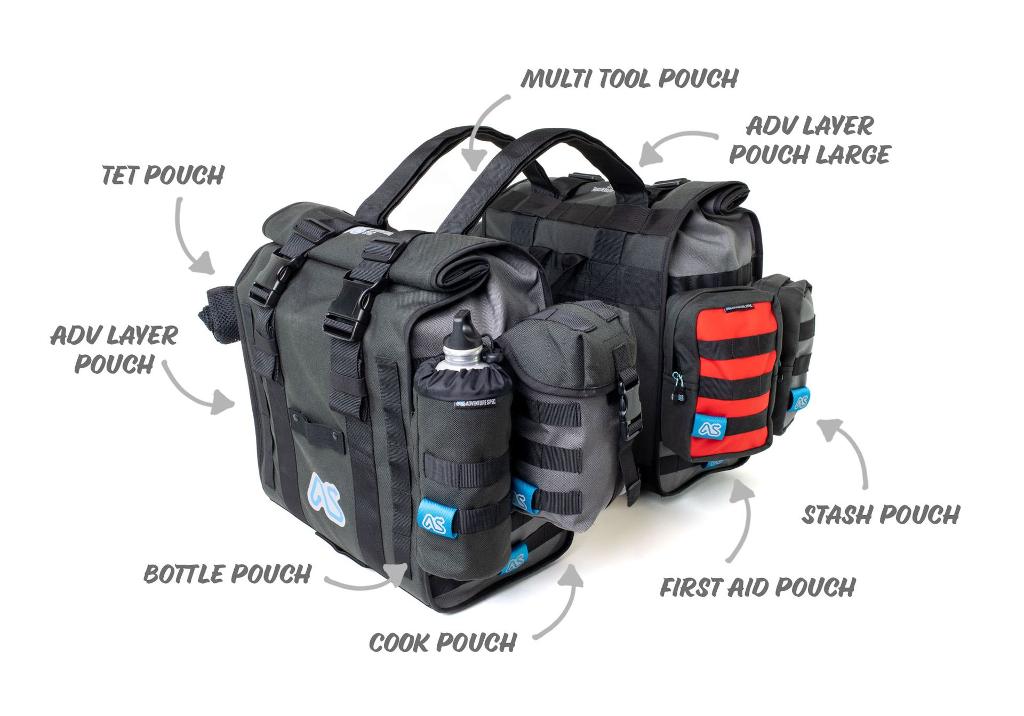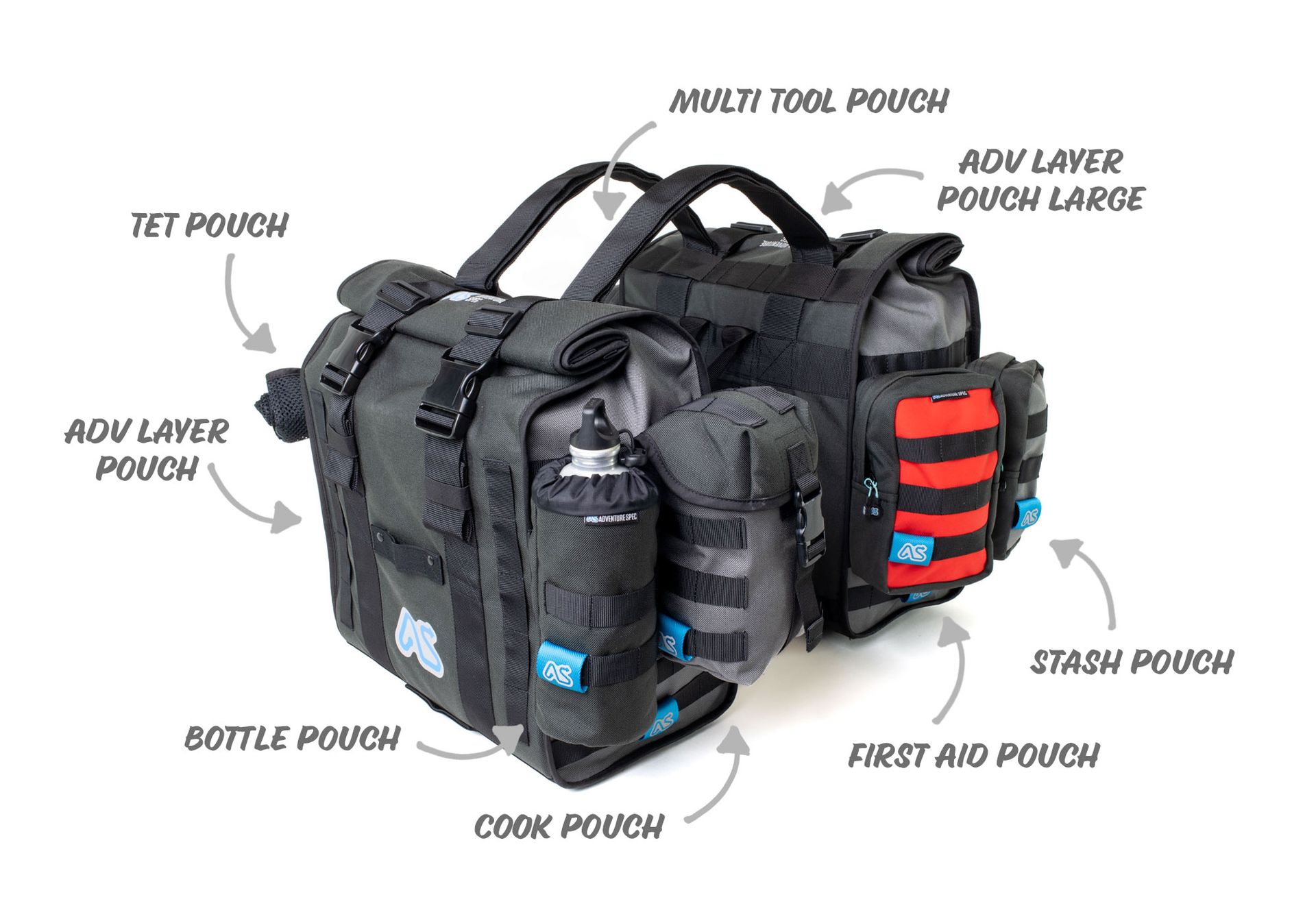 The Magadan Panniers are designed to work perfectly with our Molle Pouches. Create your luggage solution that's tailored to what you need and where you are exploring. 
"There's nothing there you don't need – other manufactures take note."
Chris Scott gives the Magadan Mk2 Panniers a thorough review in his Adventure Motorcycling Handbook and website.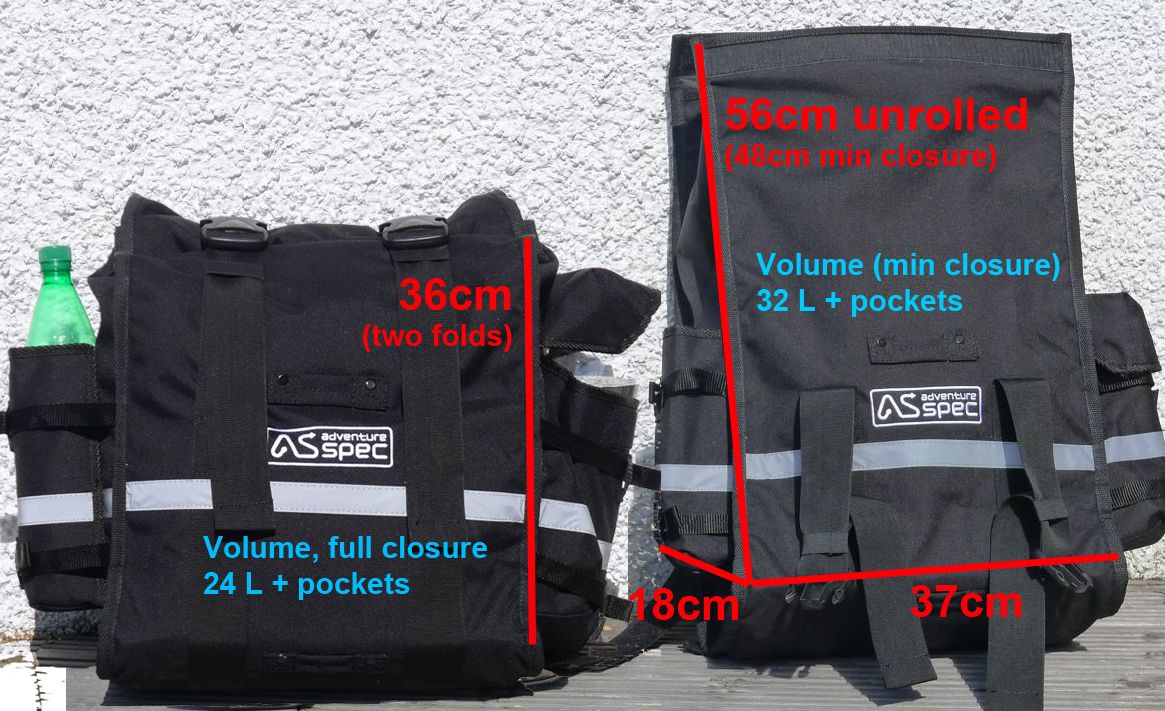 ---
Watch the Magadan Panniers in action on the Trans Euro Trail

Find out how we put Adventure Spec clothing together for multi day TET adventures