THE TET TRIP
My friend Greg was 40 recently (happy birthday, Greg), and he invited a few of us to go on a motorcycle adventure with him to Spain. Coronavirus etc. and we ended up going from Northumberland to Cumbria in a squiggly line.
I live in Cambridge; it's very flat here, and we receive the least amount of rainfall anywhere in the UK. It turns out that up north it's the opposite: there are a lot of hills, and it can be 10ºC with torrential rain on a midsummer day.
The trip was glorious, and there is a film for you to watch, and a podcast for you to listen to about the antics. We all knew Greg would be producing a film, and we all had a little part to play in helping: I was the drone guy. Enough of that though, this is about motorcycles and gear.
---
THE TET KTM 790






I was on a 2019 KTM 790 Adventure R. I only have one bike, this is the One Bike I chose because I think it compromises least in all the areas that are important to me. I have a family, and we only have one car and my motorcycle: it's my commuter; my going places without the family vehicle; my weekend trail rider; my multi day tourer. It's a big twin with a lot of electronics and some lovely suspension.
It was a fascinating mix of bikes on this trip, but mine was the heaviest and most gizmo-laden of them all. We talked a lot about the merits and inferiorities of each bike, and the 790 was subject to a lot of debate about the electronics. I like the electronics. I appreciate them as a progressive enhancement: they could all go away, and the bike would still work, but they help. I adore the quick shifter, and my companions were shocked to hear that I even use it on the trails. I used cruise control on the 250 mile ride to the start, and didn't get tennis elbow. I change the throttle map to 'Street' rather than 'Rally' because I personally find the direct throttle too aggressive: that's actually a complaint I heard a lot from moto journos when reviewing it, and I never understood why they didn't just put it in 'Street' or 'Off Road'.
Possibly the stand out gizmo on the 790 from this trip was the slip adjustment. I can instruct the traction control to intervene more or less from 1 (not at all) to 9 (minimal slip). When it got mucky, that feature, coupled with the low centre of gravity meant I could just gently tractor through. It's the same up hill: increase the intervention, and the rear tyre will try and maintain traction, something that's pretty vital for momentum. My problem with hills is that I'm too mechanically sympathetic: never enough throttle or clutch, so I end up stalling.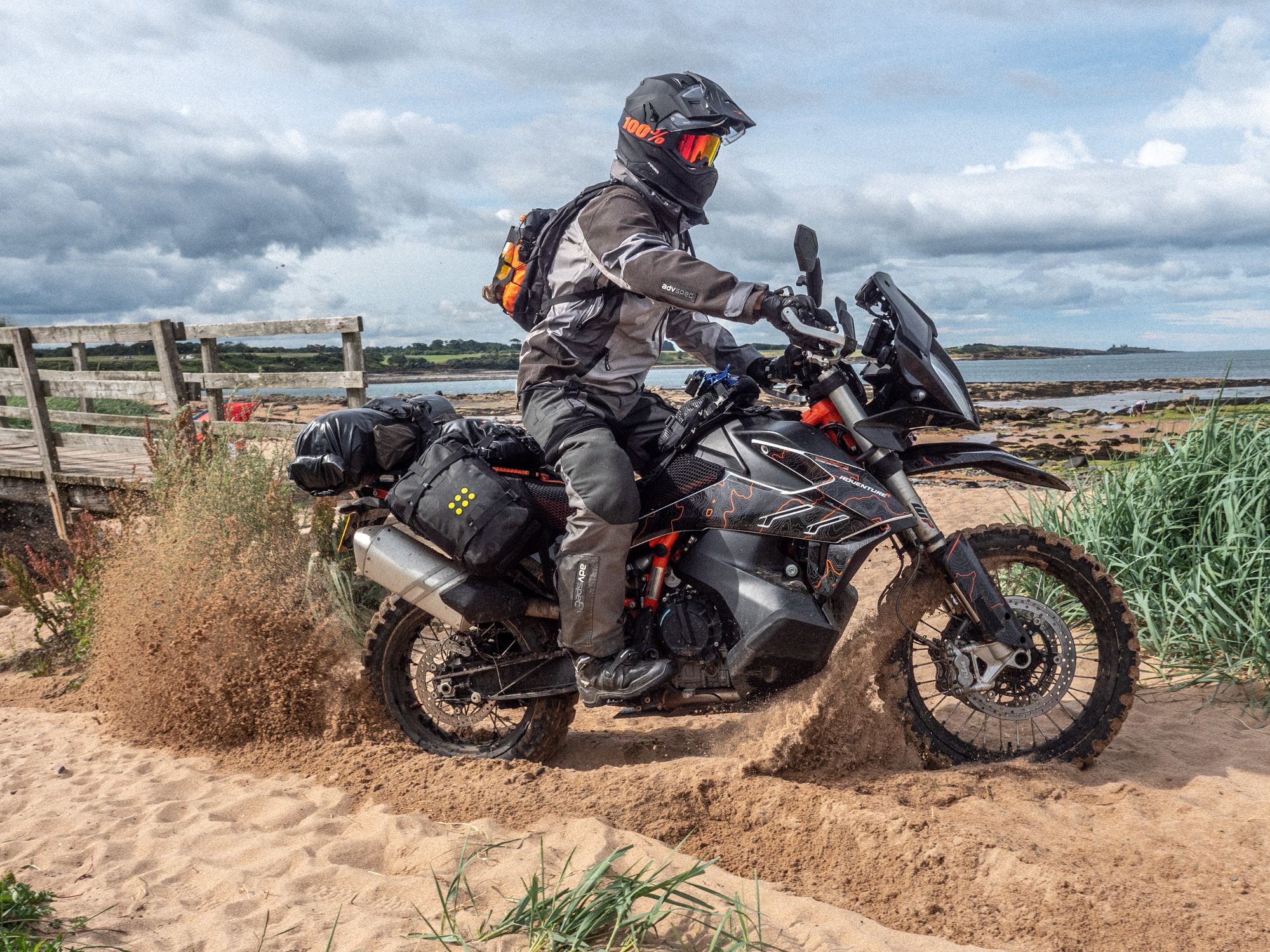 KRIEGA LUGGAGE




I managed to convince Kriega that I'd be a good tester for the new 790 specific platform and the OS range of luggage. I already have a lot of Kriega stuff, so I was confident that the new platform would be great. Here's a breakdown of what was where:
Kriega 790 specific OS platform

2 x Kriega OS-12 Adventure Packs mounted to the platform

Vango stove + 100g gas


Aeropress


Porridge + instant noodles


DJI Mavic 2 Zoom Drone


Titanium spork


Outer layer (either Singletrack waterproof, or Linesman)


Wash stuff


Mountain Warehouse towel


Tools


Whisky


3 pairs of spare pants


1 pair of spare socks


1 cotton t-shirt


Flip flops


Decathlon Down Jacket

Kriega US-10 on the pillion seat
Spare gloves

Power cable charging spare drone battery

Anker 20000mAh power bank + cables

Leatherman Wave with bit kit
Kriega US-5 with US Drypack Converter used as a tank bag
Drone remote

DJI Osmo Action Cam hooked on using Dango mount
3.75L Kriega Hydrapak Shape-Shift

Midlayer (Baltic Hybrid)

Camera

Head torch
Ortlieb 20l roll bag

MSR Hubba Hubba HP 2 with ground sheet, and porch sheet

Mountain Hardware synthetic sleeping bag

Thermarest Neo sleeping mat

Trekology pillow
The OS platform on the 790 is superb. It's easy to mount and it comes on and off quickly: I have just timed myself removing the platform and bags at 14:66 seconds. They do not however budge once they're on: it's rock solid. You'll see two things from the video, that I a) rested the bike on one, and b) submerged one a bit 😳. Each time that was the right hand side that had the drone in it, and each time the drone was dry and safe. The bike was also fine by the way, no water got in, and it's been through it's major service since with clear oil and filters and no other issues.
The bags sit quite high, but your legs never touch them even when squirming around on technical sections. Another benefit of that is whatever's at the top of the bag will never take a hit in a fall unless you're spectacularly unlucky with protuberances.
The luggage platform has been designed specifically for the 790, so it fits like a glove. An early iteration of the platform had the straps looping around the pillion pegs, but they've since changed that for two reasons: 1) who wants footpegs on an off road bike: that's a hazard. And 2) The backs of those pegs are very sharp: they'll eat whatever webbing goes around them. I'll bet you a fiver we'll see other generic solutions that use the pegs trying to solve that problem as more people take them off the tarmac. In fact, we're getting into list territory:
Very tough and abrasion resistant


Don't move, so don't scratch your plastics


Modular, so I can put my OS-18 on if I so choose without shelling out for a platform too.


Look the coolest of all luggage


Pillion pegs begone: tidier and safer


Pillion peg adapters also provide a tie down for a tank bag


OS-12 = 12L, but that's 12L of usable storage, not divided up


The simplicity translates to weight savings: they're very light


Things at the top of the bags are protected by their position


ADVENTURE SPEC CLOTHING






Britain has ludicrous weather, the north of Britain is extra-ludicrous. We went from hot and humid, to cold and sodden in one day sometimes. Here's what I was wearing, sometimes together, sometimes in pieces.
POC Spine VPD 2.0 armoured shirt


Nexx X.Wed lid with X.Comm (Sena made) comms


Leatt C-Frame knee braces


Kriega T9 backpack with 3.75l hydration pack

I run hot, and I get very sweaty when I'm trail riding. When it was hot and rainy I wore the Single Track jacket, when it was dry I was in the Linesman, when it was cold and / or wet I was in both. The layering made it easy to regulate my temperature, and stay dry. 
I found the Linesman really comfortable. It's lightweight and affords a lot of movement when things get wriggly. The pockets, vents, and stash areas are really well thought out so you can get to everything without taking it off. I've filled the built in bum-bag (insert legit name here) with cable ties, visor cleaner, and gorilla tape. The stuff you always want on you. A really nice point is that you don't feel like a burke walking into a cafe wearing it, because it's designed to look good off the bike. I think most other moto jackets are way too 'ACTION! SPORTS! MOTO!' in their look.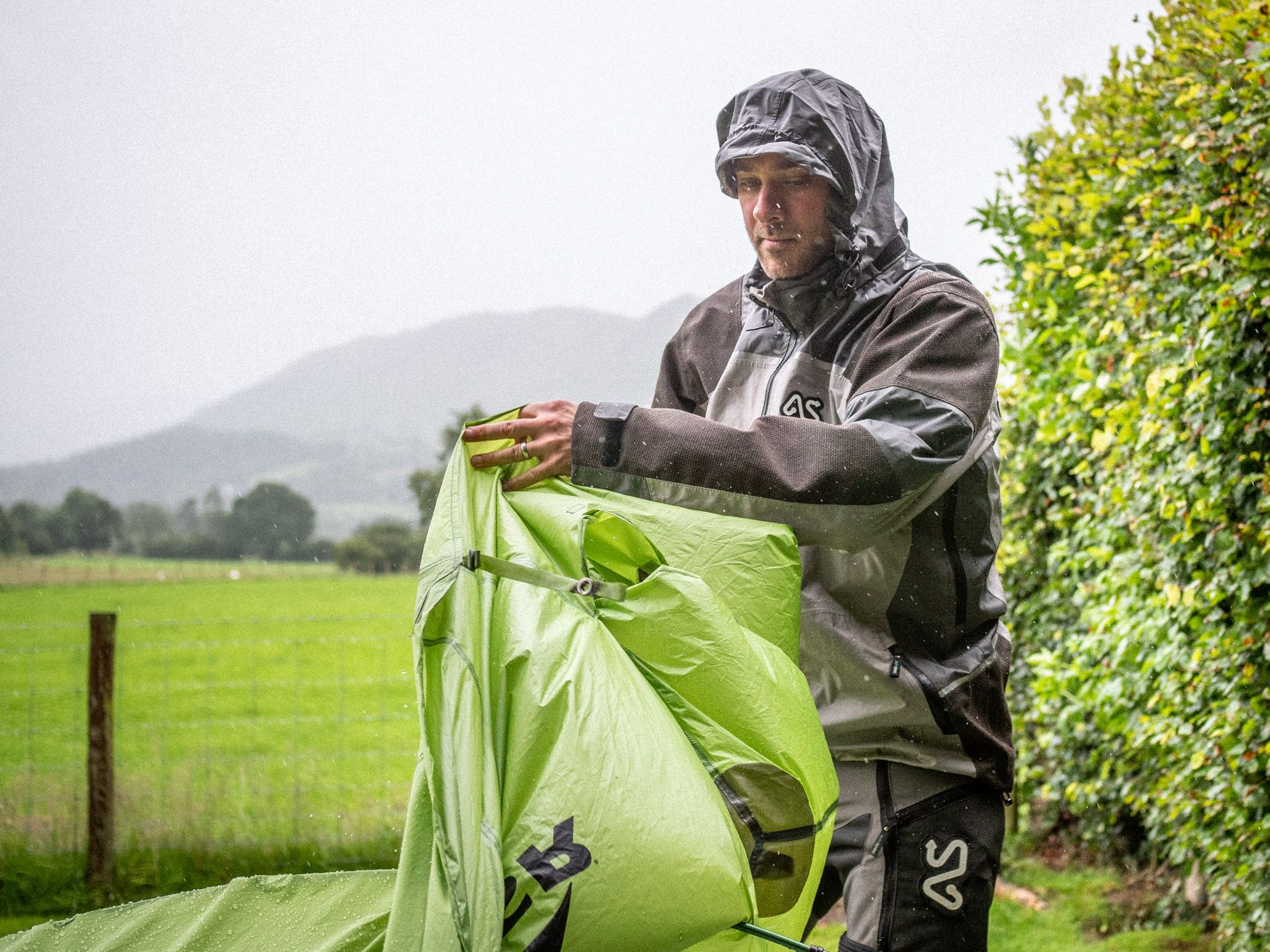 When things got wet, I pulled out the Singletrack layer. It's a waterproof with more nicely thought out pockets. The big points on this jacket though, are that it's got a hood you can wear when you're packing your tent up in a storm, and under your helmet to stop it going down your neck. It's also the only waterproof I've ever seen with abrasion resistance built in: for that reason I was wearing it without the linesman on some hot / rainy days.
Did I mention I run hot: 3.75l in that backpack was a lifesaver. I've struggled in the past with heat exhaustion and dehydration.  It's amazing how little you notice 3.75l of water in the T9. If I don't have water that I can drink whilst I'm riding, I won't drink: then I'll get sick, so a hydration pack is a must for me.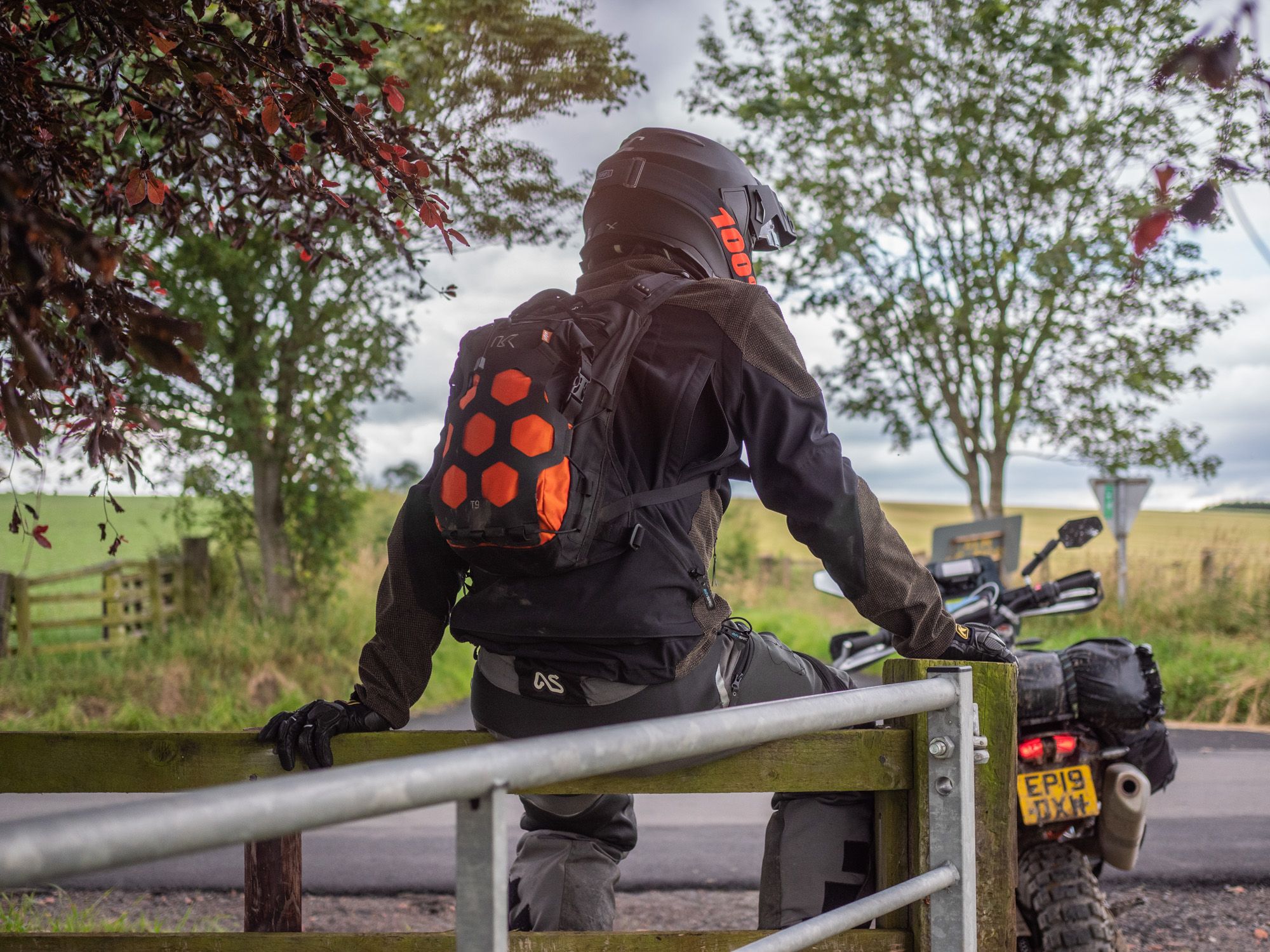 I did wear knee braces every day, all day. That usually meant 8h in them most days, and they were comfortable all that time. Only at the end of the day, when wandering about off the bike did they start to feel uncomfortable. The only other issue is that I discovered you can't get your pants down with them on, so plan your poopin' accordingly.
---